accounting tips
A Useful Template and Best Practices for Accounts Payable
BY Clancy Fossum, CPA* | June 19, 2019
As far as your financials go, it doesn't get more fundamental than your accounts payable. Your AP is a structural foundation of your enterprise, no matter how big or complex your operations might be. However, many companies still struggle with accounts payable, both in form and concept, especially as they're just starting to spread their operational wings and take flight.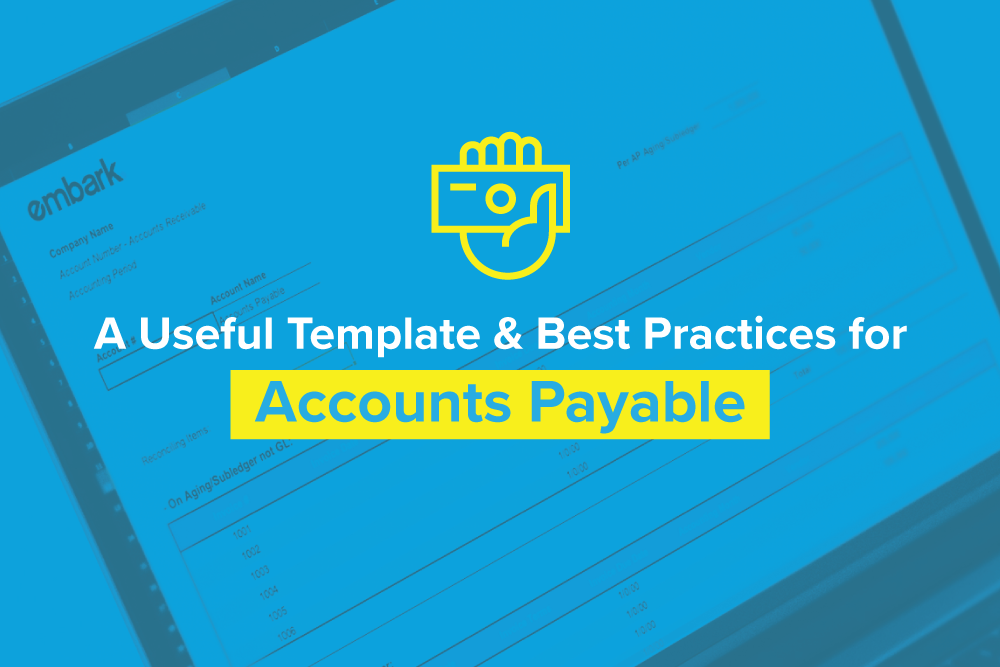 To give a little AP push to companies in need of some basic guidance, Embark is offering our Accounts Payable Excel Template to help you find your footing to accompany a few best practices to guide the way. While we in no way intend for you to use our template as a permanent fixture, it can sure come in handy as you search for footing within your accounting procedures. So take our template, bend it to your needs, and integrate our best practices into your accounts payable and see what a difference an effective AP strategy can make.
AP Basics
Accounts Payable is such a basic component of every company's accounting, enterprises often overlook its power. However, that oversight could be costing you money and opportunity if you don't have an underlying strategy to your AP. Your accounts payable isn't just about whom you owe money to, but also a well-timed and precise mechanism that can enhance your capital structure and make the most of every dollar.
As our AP template demonstrates, your accounts payable details everyone you owe money to, invoice dates and numbers, payments details, as well as all payment due dates. It's that last component in the AP equation, the due dates, that provides the bulk of your potential strategizing.
Stretch Your Capital
Invoices will stagger themselves from here to eternity, some with a quick turnaround, while other vendors are content with longer due dates. This notion only grows as both your operations and vendor list expand. An effective AP strategy efficiently juggles those different payable dates so everyone gets paid on time, but also freeing up that capital for you to use elsewhere in the interim.
While it makes sense to extend those payables as far as possible to maximize your cash flow, do so with a bit of caution. Try to find a happy medium with your AP strategy, one that gives you enough wiggle room to put your capital to good use, but not to the point where you jeopardize good relationships with your vendors.
For effective cash management, it's helpful to negotiate AP terms at least as long as your AR terms. Likewise, you want your AR terms on par or better than your vendor terms to make sure you have enough liquidity to pay your bills. Also, keep in mind that some vendors will offer discounts for early payment, a factor that might outweigh any benefits to extending those payables.
Accounts Payable Best Practices
Suffice it to say that accounts payable is more than just managing debt. It's about streamlining your finances and balancing vendor relationships with the opportunity costs of those payables. While those dollars might eventually be destined to line the pockets of your vendors, there's plenty they can do for you between now and then. Take these best practices to heart as you develop your own AP strategy that keeps you accountable for your payables but also allows you to grow and innovate as well.
Monthly Reconciliation
Before you close your books, make sure to reconcile your accounts payable balance with your general ledger, preferably on a monthly basis. Doing so ensures that you have a neat and tidy AP on the balance sheet.
Governance
An effective AP strategy can help you stay financially sound. Since AP is part of working capital, itself an important part in many debt covenants calculations, actively monitoring your AP balance through effective debt governance is essential. Further, with revolving lines of credit, depending on your company's specific terms, overdue AP can reduce the allowable borrowing base, again showing the importance of tracking your AP with comprehensive governance. Likewise, effective overall governance can minimize the impact of human error on AP entries with adequate internal controls and sound policies & procedures.
Delegation of Authorities (DoA)
Speaking of internal controls, the DoA plays a vital role in your AP by requiring different levels of review based on an invoice's dollar amount. For example, where an invoice for $25,000 or less might just require a manager's review and approval, a DoA could mandate an additional VP review up to the $100,000 level, CFO review for an invoice reaching $200,000, CEO for amounts to $300,000, and the Board of Directors above that point. As risk and financial impact increase, so does the level of scrutiny and necessary approvals.
Systems & Reporting
For businesses with a greater degree of complexity to their accounting, a centralized system with a robust AP module will foster consistency and efficiency, automating certain functions that will ultimately improve accuracy and timeliness in your payables and reporting. An integrative system also lends your accounting department a more thorough perspective of the bigger accounting picture and how the many moving parts work in conjunction with each other.
Be Detailed
Complete your accounts payable reconciliation every month for every active vendor as well as your employees and their associated expenses, incorporating the procedure into your month-end checklist as a reminder. This is a simple but very effective way to stay on top of your AP and possibly save your team a good bit of frustration and headaches down the road.


Obviously, we've designed our accounts payable template with younger companies in mind as they develop their accounting procedures and systems. At some point, you're going to want to move away from individual spreadsheets and towards comprehensive systems that encompass AP and the other components of your company's accounting requirements. Once you've reached that stage and outgrown the basic needs so conveniently filled by our AP template, remember that you'll always have a partner in Embark to help guide your growth without sacrificing a sound financial foundation.