Embark has learned a thing or two about growth and success over the last few years. While a sound, flexible strategy is essential, there's also something to be said about good old fashioned serendipity as well. Sometimes the stars just align to give planning an octane boost where, in the case of Embark, it transforms a great strategy into something downright inspiring. As evidence of this phenomena, we are absolutely delighted to introduce Andy Metzger as a new Senior Director in our Houston office.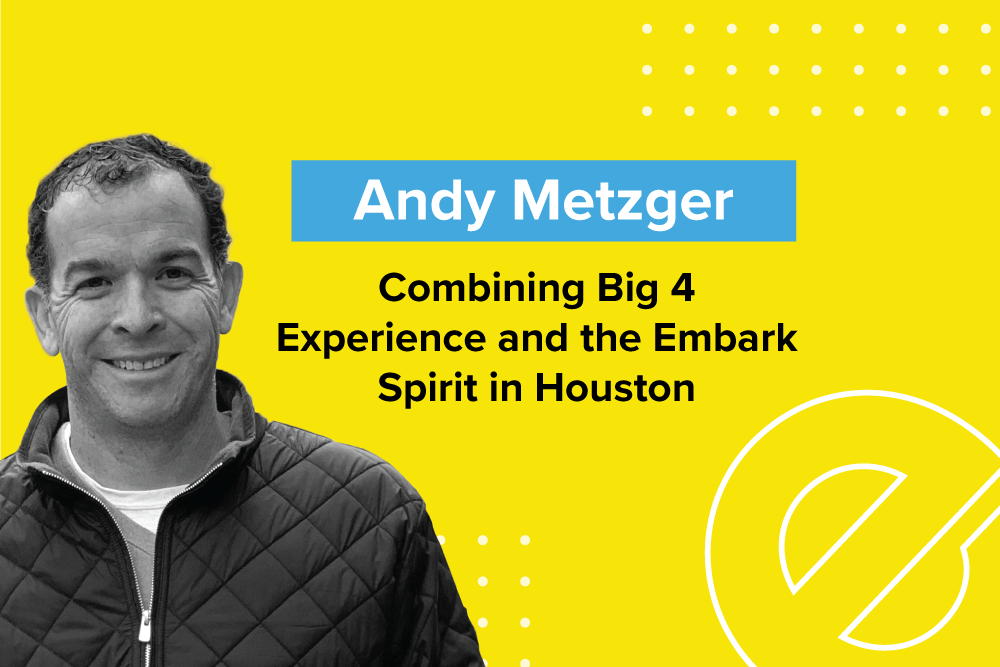 You see, sometimes things just fall into place. A native of the Philadelphia area, Andy didn't have his sights set on joining the industry's most innovative and disruptive firm when he graduated from La Salle University with a degree in Accounting. In fact, he joined the Philadelphia office of a prestigious Big 4 firm where he worked his way up, ultimately becoming a senior manager specializing in the asset management industry.
And this is where kismet, the fates, lucky coincidence, or whatever you prefer to call it kicks into a higher gear. In 2014, after over a decade working in the City of Brotherly Love, Andy and his wife were looking for something different, a new adventure in their lives. He took an offer from his former firm to become the lead Senior Manager of Global Priority Audit Client -- and, yes, that's quite the mouthful -- in Houston, where he quickly excelled both professionally and personally in establishing roots.
In his new role in Houston, Andy expertly led a team of over 35 professionals as a strategic partner for his audit clients. However, after a few years, Andy found himself wanting something more challenging. Yes, he greatly enjoyed his time with a Big 4 firm, but after much success, he knew he belonged at a place that would not only push his vast knowledge and problem-solving skills, but immerse him in an innovative, collaborative environment and culture as well. At that precise moment, Embark happened to be looking for a Senior Director in our rapidly expanding Houston office, thus completing the serendipitous circle of life. And the consulting gods smiled.
Going forward, Andy will lend his experience and expertise to Houston's business community, delivering his considerable knowledge and skills through Embark's unique prism to solve problems and unlock new value. It's that intersection of genuine expertise and robust culture that makes Embark such a dynamic force in the consulting industry, a notion that Andy exemplifies every single day.
When an engaged, empathetic, motivated workforce that loves what they do, propels authentic industry prowess, Embark is the final result. Of course, we also could've been describing Andy Metzger with that previous sentence, explaining why he's such an extraordinary fit for our team and special brand of industry disruption. Plus, he's a really awesome dude to hang out with, so there's that, too. You're welcome, Houston businesses, because if you haven't met him yet, you're going to love Andy.