Best & Brightest From The Accounting World Gather at Workiva TEC
BY Clancy Fossum, CPA* | September 1, 2017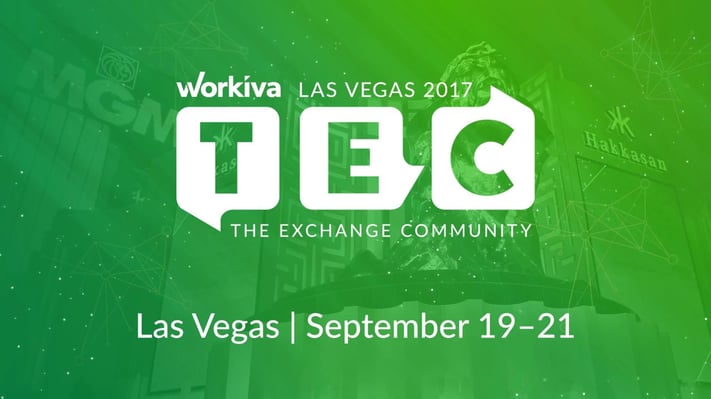 The Embark team could not be more excited about attending & being a Silver Sponsor at Workiva's annual conference, The Exchange Community (TEC). TEC is three jam-packed days of training and networking for Wdesk users, industry professionals, and accounting thought leaders.
When we use Workiva tools with our clients, everyone involved is more successful. These tools empower the Embark team to do a better job for our clients, who end up using Workiva solutions even after our projects end.
Since we have so much experience getting the most out of Workiva's various accounting tools, we've decided to host an exclusive lunch-and-learn session for accounting leaders at TEC.
Along with Embark Founder & CEO , Paul Allen, our guest speaker will be former Deloitte Audit Senior Manager, Trish McBratney, who subsequently took over as CAO of a firm and led them through the S-1/IPO process. She's now the CAO of American Bath Group and is using Embark & Workiva to consolidate processes and accounting functions within the organization.
Trish has used WebFilings and other Workiva tools in countless situations, including the IPO while at CyrusOne. She has a wealth of knowledge on best practices and efficient tips that you can take back to your team.
In addition to the Embark lunch-and-learn, TEC has plenty of other opportunities to learn from the best in the accounting world. We've laid out a few other reasons to join the Embark team at TEC:
Enhance your career development
What happens in Vegas, stays in Vegas, right? Not at TEC. There will be plenty of learnings to bring back with you. Take your career to the next level at hands-on trainings and the largest industry gathering of SEC, SOX, internal control, and internal audit professionals.
Earn while you learn
While you're soaking up industry best practices and tips, you can earn up to 15 CPE credits! Select sessions from six pre-selected tracks, or build your own agenda. Choices include breakout sessions with featured speakers, hands-on trainings, roundtables, and specialty group discussions.
Build your professional network
Chances are high that someone at TEC has already solved any problem or issue that you're facing. Meet other users and like-minded professionals to create valuable connections, and learn best practices for the evolving regulatory environment. Check out last year's attendee list here to get an idea of the companies attending.
Don't forget to have fun, too!
We mentioned this is in Las Vegas, right? You will be learning and networking with the brightest professionals in the accounting industry. We've found the best way to connect with our clients and colleagues is to have a little fun together. We don't need to tell you that there is plenty of fun to be had in Vegas.
TEC takes place September 19th through the 21st at the world-famous MGM Grand on the Las Vegas strip. Want to chat with the Embark team at TEC? Reach out to us here.