Finance Transformation
Embark & Chassi: Improving Processes and Creating Value Together
BY Erick De La Fuente, CPA* | February 15, 2022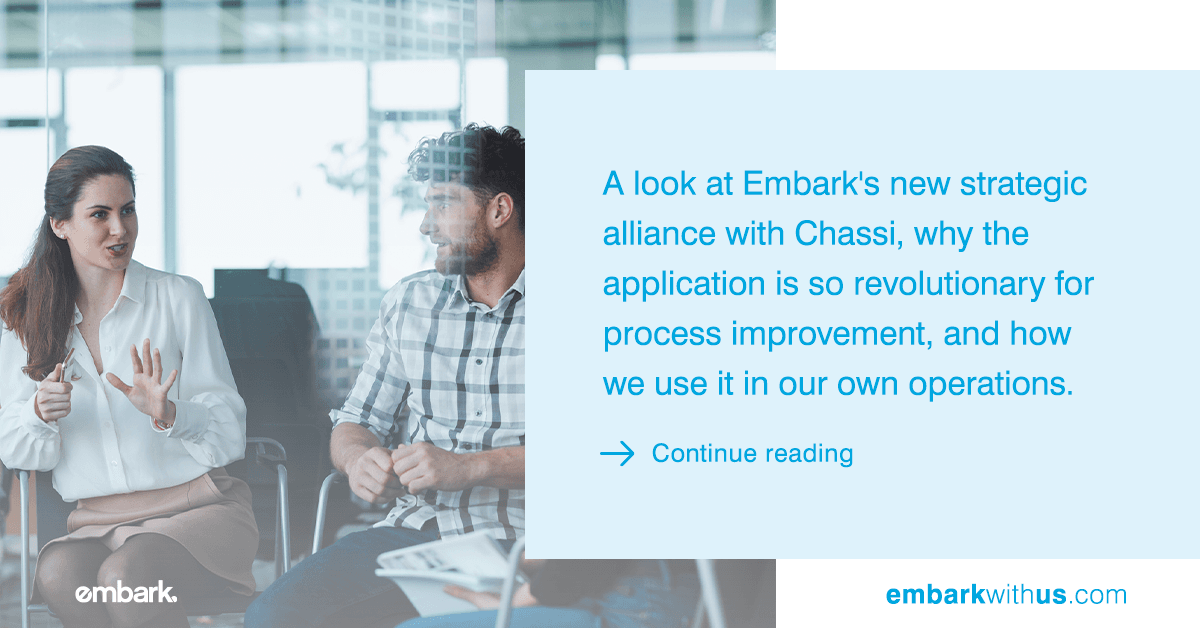 Think about the moment you first peered over the rim of the Grand Canyon. Or walked through a grove of towering Sequoias. Or maybe just anything that took your breath away when you initially experienced it. Pretty memorable, right? Did you ever think you'd feel a similar sensation to a tool that will redefine how your finance organization operates?
We're not being hyperbolic when we use such lofty language for Chassi, a cloud-based process improvement application that's one of our latest strategic alliances as well as a powerful tool we use in our own operations. And just to prove we're not a vacuous hype machine, we're going to explain what the Chassi relationship brings to our engagements, how it perpetually drives ROI, and walk through a short case study on what it provides to our own accounting function.
What Is Chassi?
Before we leap headfirst into the nitty-gritty, let's focus on what the Chassi application is at its core. It's probably easiest to think of Chassi as an MRI for your operations, one that provides near complete transparency into your ERP processes.
In fact, Chassi plugs directly into your ERP – in a completely unobtrusive, behind-the-scenes way, of course – to monitor your processes. Moreover, the application provides advanced analytics to paint a picture of what's working well and what needs some love and attention.
Simply put, Chassi is a single tool that, like an MRI, allows you to diagnose the relative health of the many processes within your operations. Just as importantly, it also helps you develop a corrective course of action.
Therefore, with a few clicks within Chassi, you can identify areas for improvement in accounts receivable, accounts payable, invoicing, your financial close, or anything else dependent on processes. And, no, we're not exaggerating, so you can just imagine how excited we are about our new strategic alliance with Chassi, an ROI-driving machine if there ever was one.
The Benefits of Embark's Alliance with Chassi
Speaking of our strategic alliance, we also want to give you a bird's eye view of what our relationship with Chassi means to Embark's engagements and our firm as a whole, particularly how it further bolsters the two most essential pillars in our organization – our people and culture.
Thankfully, Chassi aligns extraordinarily well with our culture, vision, and growth strategy. Suffice it to say, given the unique, innovative approach Embark applies to every facet of our operations, it's incredibly rewarding to work with a kindred spirit like Chassi.
But it's the different ways our teams use this legitimately revolutionary tool that really reveals the value it brings to our client engagements. Obviously, Chassi is a real game-changer for our Finance Transformation practice, streamlining process discovery by significantly cutting down on engagement time while also improving accuracy, both crowd-pleasers for our clients.
Likewise, since Chassi visualizes where bottlenecks lurk in a process, it makes it fast and easy to identify areas where automation might be appropriate. Thus, instead of having high-level conversations about possible or likely inefficiencies, we can show leadership exactly where those bottlenecks and silos exist and provide an action plan to address them.
On the FAAS side of the fence, in instances when Embark is serving as interim financial leadership for continuity purposes, we can easily plug Chassi into a company's NetSuite instance – or any ERP – to identify areas of opportunity. This doesn't come at an additional charge but is simply added value we provide to the client.
Chassi is also a massive benefit to our Transaction Advisory services team. Now, rather than just providing financial due diligence reports, we can expand our value by incorporating operational due diligence as well. Therefore, with Chassi, we can evaluate operational processes, identify inefficiencies, and integrate the results into the buy-side or sell-side discovery process.
Ultimately, Chassi not only helps you clean your financial processes house but also keeps it spick-and-span by letting you:
See a moment-by-moment, detailed view processes within NetSuite

Compare workflows and understand which are most efficient
Set goals to measure if your a is moving in the right direction
Create alerts when something's heading off course and needs attention
Monitor a team's adoption to ensure you get the most out of your investment
Identify automation opportunities
And since we're all about maximizing the value a solution like Chassi provides to our clients, Embark and Chassi offer a free assessment that's fast, painless, and comprehensive, resulting in actual numbers and measurable impact rather than speaking in generalities. Thus, Chassi is a money saver from the get-go, starting with the discovery and assessment process but carrying through to the design and implementation stages.
How We Use Chassi in Our Own Operations
We weren't kidding when we said Embark has implemented Chassi to improve our own processes. So to give you a better idea of what Chassi can do in a real-world environment, we thought it best to look into a mirror and describe our experience.
Discovery
To begin, the discovery phase was extremely low maintenance for Embark, requiring just four or five total hours between the kickoff, NetSuite integration, and discovery call. The Chassi team made it clear they were in no way going to affect how our ERP operates but, instead, just passively monitor and collect the data flowing into it from other systems.
In our case, we wanted to really zoom in on the time it takes to complete our billing period, so we walked the Chassi team through all of the processes involved – using our own verbiage – detailing:
Who performs a process
How the process owner performs it
The systems involved
All pivot points (milestones) that trigger another process or workflow to occur
The time elapsed for the process to reach each milestone
From there, the Chassi team was off and running.
Assessment
After collecting all of this information, the Chassi team came back to us with a complete visualization of our process environment and optimization areas to inform action plans. As we know all too well, these assessments can take weeks, sometimes months to complete, and even still they're merely point in time. With Chassi, though, they were almost immediate and we could see changes and actions in real time on the easy to navigate UI. To say the least, it was an enlightening experience to see a graphical representation and statistics on processes that too easily blend into the background.
For those of us not necessarily dealing with our ERP or processes every day, the assessment was highly impactful in identifying inefficiencies that would ordinarily slip through the cracks. In some ways, it's a bit humbling to see how we were losing money through leaky pipes that were sitting right beneath our noses.
Getting back to our billing period processes, Chassi mapped out all of the different puzzle pieces involved, from project inception to payment. As you might guess, that workflow involves seemingly countless trigger points, where several people are recording and editing fields while also addressing the other items on their overflowing plates. Thankfully, the assessment shined a bright spotlight on the entire workflow, revealing inefficiencies along the way.
Implementation
Once we implemented Chassi, we were able to see every time entry, at what point they convert into a charge, and what happens to those items across the workflow. Now we can identify what gets deleted, re-created, and modified, how it impacts the billing period, and continuously monitor those processes to look for outliers and potential issues.
Of course, the billing period processes only account for a fraction of everything Chassi does for us. Whenever we introduce a new system, automation, or person into the workflow, we can monitor efficiencies, quickly identify bottlenecks, and right the ship.
Naturally, this is one of the many ways Chassi drives ROI for Embark, not to mention the clients we implement it for. From our experience, there's just no substitute for the ability to visualize your processes, find improvement opportunities, take action, and see the impact of those changes in almost real-time.
Imagine being the CFO of a national trucking company, having to make sense of hundreds of records and workflows simultaneously to process transactions. Since Chassi can graphically depict all of that data, it provides the same type of value that data dashboards do in reporting. And when it comes to decision-making, there's no better asset than true business intelligence that gives leaders the flexibility they need to pivot on a dime.
For Embark, what started as a means of streamlining our billing period processes has evolved into an indispensable tool that's both an open window into our ERP processes and continuous alert system to ensure we stay on course. Of course, all of this has vast ROI implications for us, just as it will for you. So let's see how Chassi can streamline your processes and generate decision-making gold.