Organizations are nothing without innovative, driven people. They allow companies to reach a bit further, dream a bit bigger, and create something more than the sum of its parts. Embark puts its people above all else and understands that every individual walking our halls is the product of different communities spread across the country, even the world in some cases. We owe much to those communities for developing the remarkable, talented, and driven folks we call Embarkers.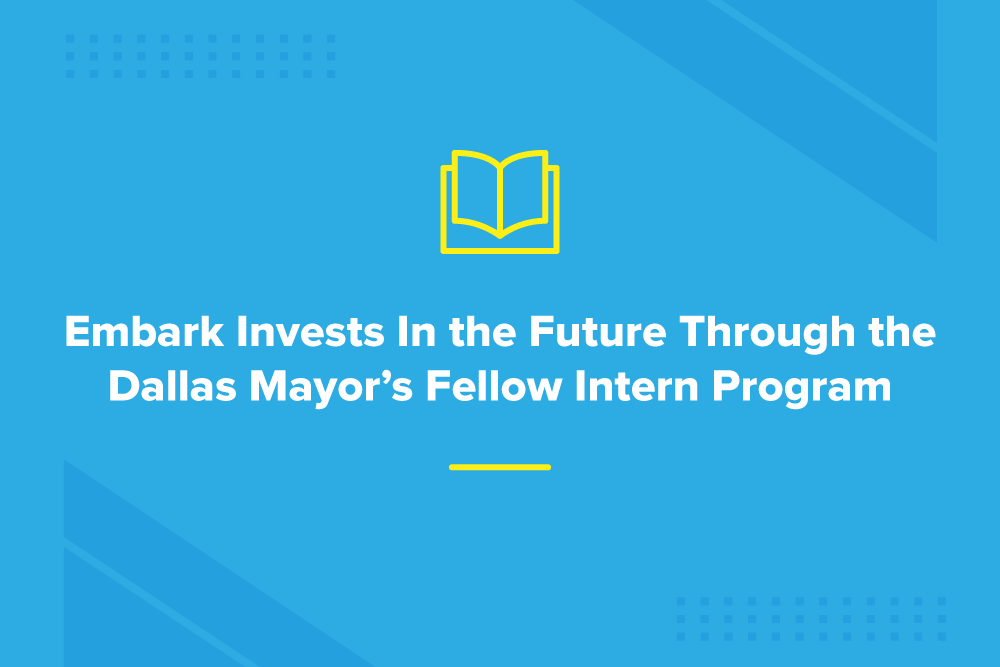 Therefore, Embark wants to do everything we can to ensure communities continue to build the people that will propel our vision as well as the world itself down the road. For that reason, our Dallas office is participating in the Mayor's Fellow Intern Program (MIFP), an early step in what will soon become a far broader initiative throughout Embark to help develop the communities that have already given our firm so much.
Building Blocks
Not so long ago, we described our people as building blocks to our culture and success. This notion only gains in strength and relevance as time passes, and we recognize that the very same thought applies to our communities as well. Every one of our markets is teeming with young people that want to succeed, help the world reach its potential, and be an asset to the global collective.
The Mayor's Fellow Intern Program is a powerful means to that end, modeled after the White House Fellows Program, and invests time, resources, and opportunity into Dallas' youth and future workforce. The program represents the entire spectrum of modern industry, from the financial sector that Embark serves to hospitality, education, arts, non-profits, government, and many others.
The MIFP, in its own words, "is an eight-week, paid summer internship program that introduces Dallas public high school students to careers and employment opportunities in industries and companies where they have expressed interest." To use ourselves as an example, our MIFB intern begins this June and is interested in a career in accounting or finance. We hope this internship is a conduit to an education and career choices that provides them the knowledge, skills, and experience that, at least ideally, might even make them a future Embarker.
The Future is Bright
Whether or not our intern eventually becomes a full-fledged Embarker, they will undoubtedly benefit from the experience and use it to their advantage. As our initiative grows in coming years, we hope to provide similar opportunities to talented, driven high school students in Dallas and, at some point, our other markets as well. A few statistics from the 2018 MIFP reveal how critical such programs are to interns and partners alike.
95% of intern fellows felt better equipped for a career after the program
Students earned a total income of $751,000 from their internships
25% of interns continued to work at their companies after completing the program
94% of partners intend to participate in the MIFP in the future
87% of partners would re-hire their intern fellows
Participating partners rate the MIFP at least an eight on a 1-to-10 scale
92% of partners stated their interns displayed adequate to high-level workplace skills
These are tangible, positive results that make a real difference in the lives of our community's youth. Embark can't wait to join the fray, roll up our sleeves, and help build a better tomorrow for both Embark and the overall community. It's an early but essential step in what will become a consistent and far-reaching effort in giving back for a greater gain.