Embark Is the Workiva Americas Regional Partner of the Year
BY Clancy Fossum, CPA* | October 17, 2019
It's always gratifying to see hard work and perseverance pay off, isn't it? While we've stuck to our original gameplan of focusing on our people and culture – to great effect, we might add – other components of our original vision are now starting to fall into place, especially with our strategic partnerships. Case in point, Workiva has recently named Embark its Americas Regional Partner of the Year for 2019, and we honestly couldn't be prouder of the accomplishment.

It's a Big Deal
So what exactly does being named Regional Partner of the Year mean? First and foremost, it's obviously a great honor. We've discussed Workiva and their WDesk solution several times in the past, most recently regarding their Amplify Conference where we ran one of the sessions, How to Take Your Wdesk Financial Reporting From Good to Great.
Aside from the recognition by a partner we truly admire and whose product we use daily with our clients, being named Regional Partner of the Year also carries with it some immediate business benefits.
Workiva is a well-known, extremely well-respected name in the industry. As it ramps up its partnership initiatives, the award naturally carries a far greater degree of name recognition amongst their reps. Embark will now be involved in conversations between Workiva's reps and their customers. In other words, on top of implementing WDesk itself, we can also work with Workiva customers and use our expertise, best practices, and industry standards to maximize what WDesk does for their people and processes.
There's a significant cachet associated with the recognition. Given Workiva's status in the industry, it's something that our own clients, both existing and potential, will value and gravitate toward, especially in light of the many other firms – from Big 4 to well-known regional firms – we beat out for the award.


Earned Recognition
To zoom in on the path to the award for a moment, Workiva didn't recognize us because we have nice hair and watch our net carbs. As we said up top, it's the product of hard work, perseverance, and a whole lot of expertise. Erick De La Fuente, VP Business Development and Finance Transformation at Embark, was instrumental throughout the process, serving as the primary catalyst and the proverbial fuel to the fire.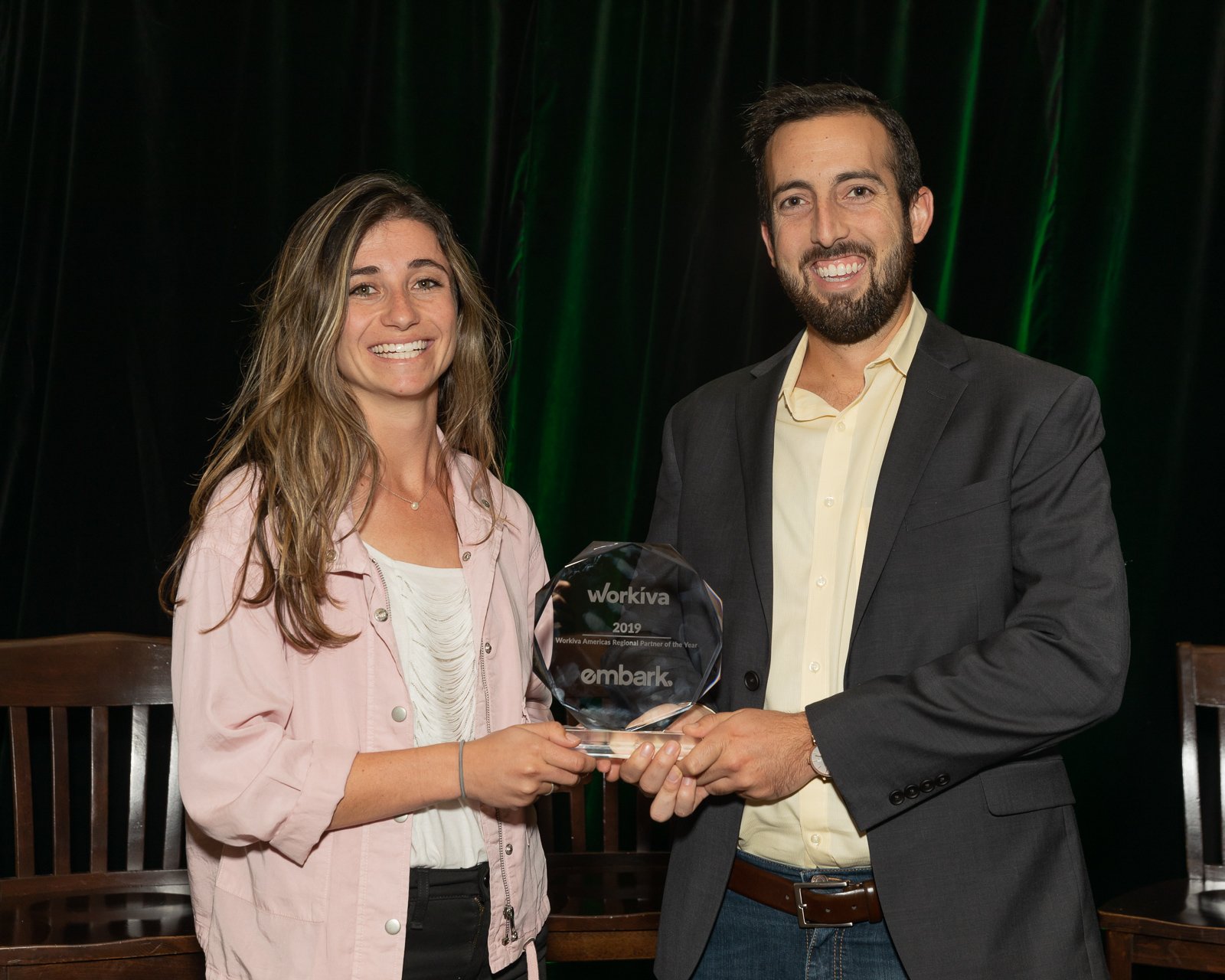 Honestly, we lost track of how many conversations and sales meetings Erick was a part of throughout, lending his incredible insights into WDesk and, just as importantly, what it can do for an organization. It was Erick that shed such a powerful light on WDesk's potential within a company's accounting function, making it come to life for countless Workiva customers and revealing the product's true value. When the customer fully understands that value, Workiva can charge prices that are more representative of WDesk's actual worth rather than an incomplete understanding of its many benefits. As a primary driver for Workiva's top-line, Erick was able to influence discussions and even source several deals for Workiva reps.


A True Partnership
Of course, the very nature of a partnership is mutually beneficial, where both partners gain from the relationship. Having Embark as either a resource or a participant in their conversations with potential clients helps Workiva's revenue streams. For Embark, a healthy mix of determination and insight helps us leverage the most from our relationship with Workiva. In fact, thanks largely to Erick's efforts, we've already generated significant revenues over Q1 and Q2 2019 that are either Workiva influenced or sourced.
And that, as they say, is just the beginning. Going forward, those revenue streams will continue to rise as deal sizes get bigger, our client base expands, and the partnership continues to grow in scope and strength. From a business development perspective, being named Regional Partner of the Year is already emblematic of something much bigger, where we're now seeing exponential growth in our lead generation and overall business development thanks to recognition from Workiva. Simply put, our relationship with Workiva will continue to pay massive dividends, and that's a very good thing for Workiva, Embark, and all of our clients.