consulting
Embark Partners With TrueSpace to Help Companies Reach Mid-Market Glory
BY George Helock | February 18, 2020
Everyone hits walls in their development, as do companies. You could hit a large bucket on the range every day and still not break 80 on the local muni course. That is, until someone pulls you aside and adjusts your grip or tells you to move the ball back in your stance.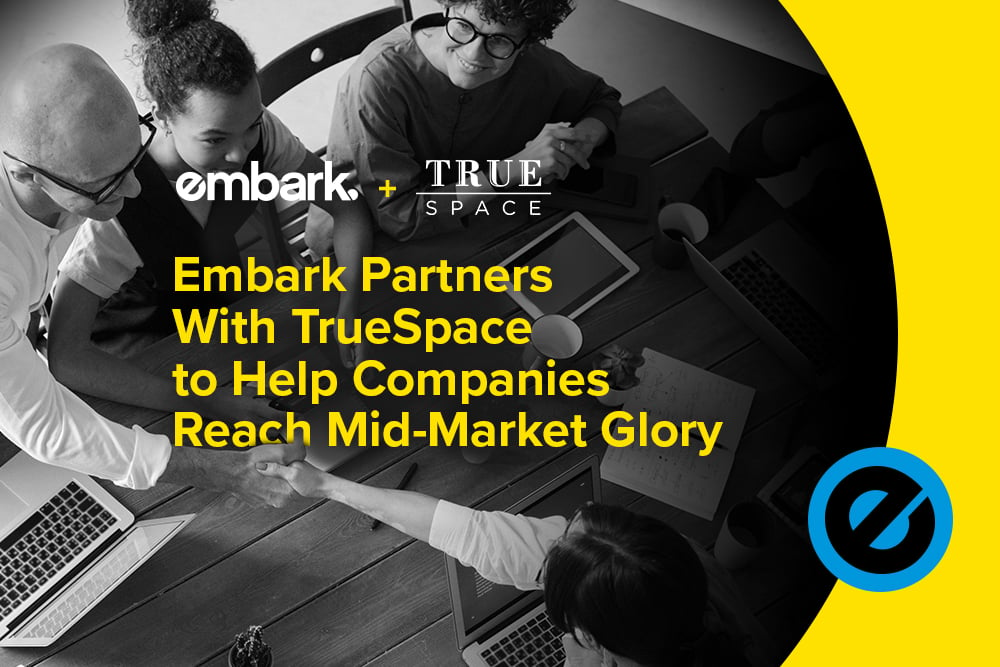 Unfortunately, when companies hit such a wall, they don't necessarily have a guru handy to adjust their metaphorical grip or help line up their putts. But that's something Embark is addressing through our new partnership with TrueSpace.
TrueSpace is for the In-Betweeners
TrueSpace is a unique business ecosystem, specifically designed to help entrepreneurs break through any development walls and grow their businesses to the middle market. It focuses on companies in the $2M - $10M revenue range, helping them scale through that tricky second stage of business development between startup and expansion. Traditionally, that section of the market has been a bit of a no-man's land in terms of service providers, lacking the resources more mature companies routinely rely on for guidance.
To help companies navigate this new territory, TrueSpace uses a scientific approach rooted in their Gallup-certified Five Conditions Assessment. This model aligns a company's specific needs with the ideal set of resource partners, ensuring that both TrueSpace members and partners receive the resources they need to build mutually beneficial relationships. The result is an ecosystem of growing businesses that no longer have to stare at that plum mid-market area from afar but, instead, leverage the TrueSpace ecosystem to leap over any and all hurdles.
Transforming Research to Job Creation & Economic Growth
Needless to say, we're extremely proud and enthusiastic about this new partnership. As we said, TrueSpace targets an underserved but extremely important component of the business community, a space we not coincidentally excel in servicing. Even better, as their innovative model demonstrates, they've done their research. And then some.
In fact, the minds behind TrueSpace have partnered with Gallup to better understand the processes, cultures, challenges, motivations, and themes emerging in businesses that successfully reach the middle markets. Studying the nuances and best practices of over 4,000 small businesses across the U.S., this is the first time that science, data, and resources have all converged for the benefit of this critical business demographic.
To that point, TrueSpace brings in partners that can help businesses grow, evolve out of the startup phase, and spread their financial & operational wings. This includes a vast referral partner network made of capital contributors, exit strategy specialists, accountants, recruiters, lawyers, marketers, and virtually anything else a business might need to progress.
Where Embark Fits In
As you might have guessed, Embark will serve companies in the TrueSpace ecosystem with any accounting or finance needs. We'll help ensure their books and records are in good order, also filling in any personnel voids an organization might have. Obviously, the accounting and finance functions are critical for growth support. At Embark, we want to help these companies transform their books from a potential weakness into a distinct strength.
Ideally, once we help put together the processes and procedures necessary for a rock-solid accounting function, these companies will be able to hire an accountant that will come in and hit the ground running. But between now and that point, we'll help close their monthly books, prepare all necessary reports, sit in on investor meetings when needed, and generally advise them on opportunities. In other words, our expertise aligns perfectly with what the TrueSpace ecosystem is looking for.
Want to Know More? Join Us for the Streaming Kickoff Event
If we've piqued your interest, then we have some good news for you. TrueSpace and Gallup are hosting a kickoff event, The Science of Business Building, on Thursday, February 20, from Gallup's Washington D.C. headquarters. They'll discuss the TrueSpace model, how they approach growth in that critical post-startup second stage, and the five conditions essential for business building and job creation.
We will, of course, be there and encourage you to register if you happen to be in the DC area. However, they will livestream the event as well so, if you're a company struggling to clear any hurdles on your path to mid-market greatness, then clear that schedule from 8:30 am - 10 am EST on February 20, because the cavalry is on the horizon.