As you probably already know, Embark prides itself on being a great place to work. But did you know we're also a Great Place to Work™? We understand the differences are subtle, but they pack quite a punch. Those capitalized letters and trademark mean Embark is now Great Place to Work-Certified™, news that we want to shout from the rooftops.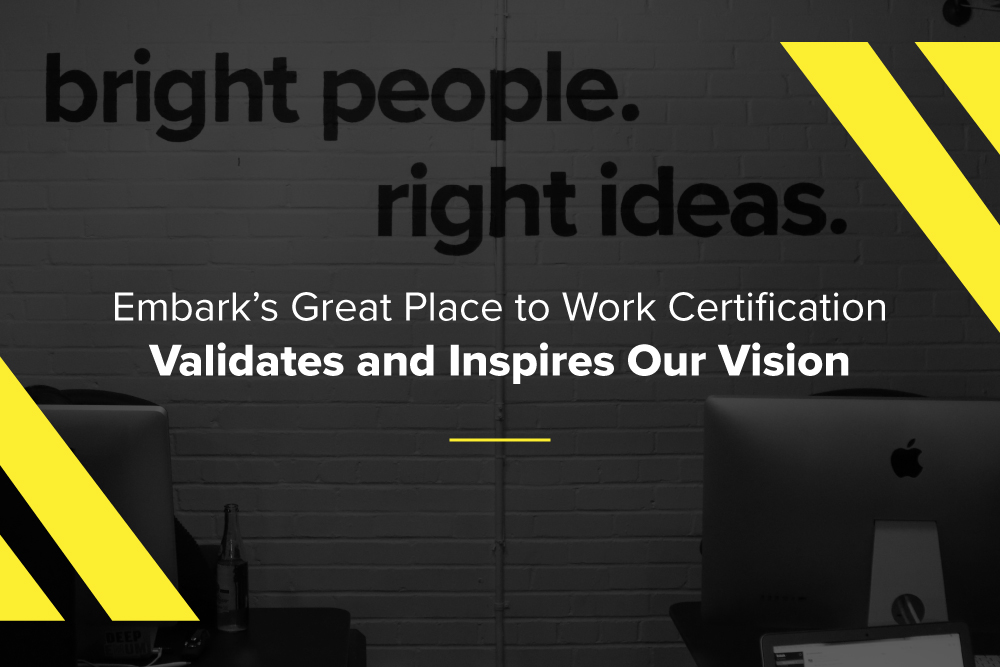 Great Place to Work is the global authority on workplace culture, the employee experience, and leadership traits necessary to guide an organization towards a successful future. Naturally, each of those qualities has long been Embark hallmarks, pillars of everything we stand for. Now that we're Great Place to Work-Certified™, however, we have external validation of our core values and beliefs.
This recognition serves as both a reminder to us and an announcement to the world that our strategic, innovative disruption and people-centric approach are powerful and badly needed within an industry too often stuck in its ways. Financial consulting needn't be a stodgy and stale environment. In fact, a challenging and satisfying workplace can directly correlate with incredible client satisfaction, a notion that this certification only reinforces and drives.
A Daunting Process
Great Place to Work certification doesn't just fall out of the sky and into a company's lap. It's a daunting process that begins with a lengthy, extraordinarily in-depth essay that essentially describes your workplace, corporate ethos, and guiding principles. That's followed by an employee survey that gauges work satisfaction levels according to a variety of different factors. The committee uses an aggregate metric from the results, the Great Place to Work Statement score, that combines numerous factors into a single, overarching metric. Those factors include:
Pride
Hospitality
Corporate image
Competence
Innovation
Communication
Support
Credibility
Respect
If it's true that numbers don't lie, then Embark has plenty to hold its head up high over.
Impressive Results
Companies must score at least 65% on the employee survey's Great Place to Work Statement score to qualify for accreditation. Embark's remarkable 98% score, impressive to even the committee itself, speaks volumes to our people-first perspective. It's indicative of what Embarkers think of the company, their roles, and our collective vision. To that point, when your lowest score across all of the survey categories is still a 92%, a company must be doing something right.
Embark's Going Places
It's the bigger picture that genuinely inspires us to stay the course, one that will continue to embrace diverse perspectives and innovative solutions to propel our culture and engagement. While we don't mean to toot our own horn, being Great Place to Work-Certified™ amid such rapid expansion -- three new offices and doubling our employee base in the past year -- is incredibly satisfying, seeing our vision and unique strategy relative to the rest of our industry so successful and widely-embraced by Embarkers.

But this is just the beginning of the Embark story. Challenges will inevitably present themselves as we continue our growth, but we know if we continue to focus on our culture through employee engagement, communication, and innovation, we'll always be able to conquer those challenges. And now that we're Great Place to Work-Certified™, the rest of the world will realize how special of a place Embark really is.