At Embark, success is self-perpetuating. Build an exciting, robust, and satisfying environment of extremely intelligent and driven people and, lo and behold, that success builds upon itself. For that reason and roughly one million more, we couldn't be happier to announce Chad Robottom as the new market president of our Dallas office.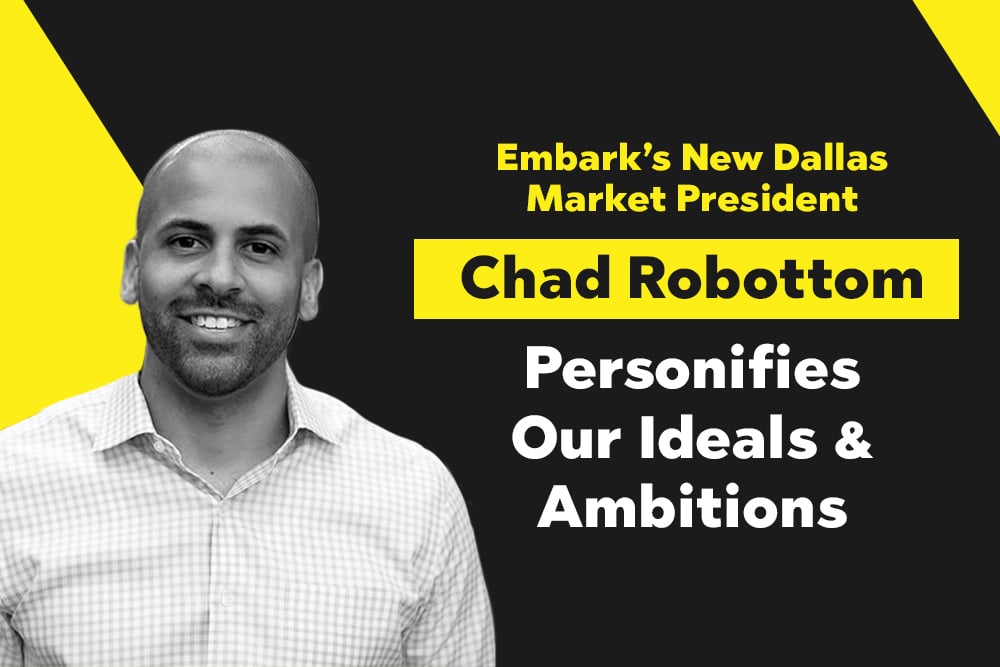 Chad brings a laundry list of qualities with him that will undoubtedly infuse our Metroplex Embarkers with more than enough fuel to continue our extraordinary trajectory. Born and raised in Louisiana with a Bachelor's and Master's in Accounting from LSU – Geaux Tigers! – Chad moved to Dallas to begin his career and hasn't looked back since.
Throughout his 12 years with Deloitte, he worked in both their Audit and Advisory (M&A) practices, serving public and private clients in a variety of industries, including Technology, Oil & Gas, Manufacturing, and Consumer & Industrial Products. As market president of our Dallas office, Chad is tasked with leading our squad of consultants extraordinaire, lending his vast industry knowledge and experience to oversee the office's growth and ensure our clients are nothing short of thrilled with each and every engagement.
But as skilled as Chad is, however, it's his personality and genuine empathy that makes us thank our lucky stars to call him an Embarker. He exudes all of the qualities, both as an individual and as a leader, that serve as the foundation for everything we do.
What exactly are we trying to say about Chad? For as much of a GAAP and consulting Jedi as he is, he's even a better person. Chad cares about those around him, sincerely wants to see them and the organization reach their potential, and uses his expertise as a tool to teach and guide. Although still new to the office and getting to know everyone, the Embarkness is strong with this one.
Obviously, it should come as no surprise that the secret sauce in Embark's recipe for success is its people. Every decision we make centers around our culture and workforce, with a full realization that our squad of consulting superhumans propels all of our accomplishments. Obviously, this isn't something we take lightly, and should be all the explanation necessary for bringing Chad in as our new Dallas market president.
The Embark philosophy has grown our Dallas office to dizzying new heights, driven our expansion in exciting directions and, thanks to innovative thinkers and inspirational leaders like Chad, the best is certainly yet to come. Look out Dallas, because there's a new sheriff in town, and he's a disruptive force to be reckoned with.