Extraordinary talent doesn't just fall out of the sky. Yes, it would be great if you could just walk out into the courtyard and pick a new CAO from the accounting function tree, but, like it or not, finding the best of the best takes diligence. And patience. And maybe even a bit of luck, mixed in with some good ol' fashioned destiny. It's that combination of perseverance and fate that brings David McGuire, our new Strategic Accounts Practice Leader, to the Embark team, and, needless to say, we couldn't be more thrilled to write this sentence.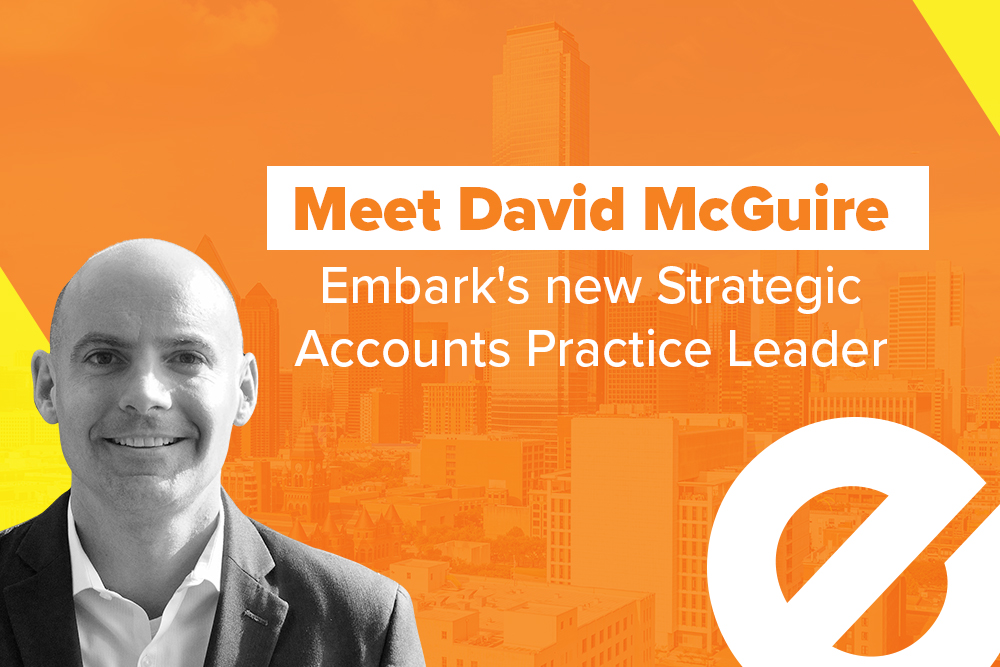 The Stars Align
If you're asking yourself why we're speaking in such lofty terms, then you obviously haven't met David yet. But that's okay because you're in for a real treat when you do. From our perspective, though, it really is a matter of the stars aligning in many ways. David goes way back with quite a few Embarkers, making this a fantastic opportunity to reconnect, join forces, and really show the marketplace what Embark's all about.
But this isn't a mutual admiration society that's nothing but handshakes and happy hours. David joins Embark in a new role for us, a Strategic Accounts Practice Leader, that's a hybrid of client servicing and business development. In other words, he's ready to roll-up his sleeves and use both his considerable skillset, business network, and experience to drive us forward.
An Ideal Background
And that brings us to David's background, and what a background it is. This native Texan CPA has a master's in Professional Accounting from the University of Texas at Austin, which he used as a springboard into the Big 4 world. Ernst & Young was his home for nearly 15 years, primarily within the audit function working with Fortune 500 companies from the airline, manufacturing, retail, and oilfield service industries. Before leaving the Big 4 pastures, however, he also served as a senior manager in advisory consulting for accounting matters.
From there, he parlayed all of that Big 4 knowledge and experience into a dual position, serving as Deputy CFO and CAO for EZCORP, a publicly-traded company in Austin. But as we're sure you've surmised by now, David isn't one to rest on his C-suite laurels. In that dual role, he led numerous IT automation initiatives, M&A due diligence and integration efforts, and transformed the company's reporting function from a weakness into an absolute strength.
David's Role at Embark
But enough of the well-deserved lauding, though, because David is ready to get to work. As we said, he's in our new Strategic Accounts Practice Leader role, which, if we were to distill it to its essence, means David is here to help the entire firm grow.
To that end, David will work with existing clients to strengthen those relationships and expand that business, while also bringing in new business with a particular focus on large or complex accounts. From a service perspective, having a C-suite-level consultant like David on board is a strategic windfall for our clients, adding even greater depth and scope to our already considerable insights and abilities.
Although he'll be based out of our Dallas office, David will be providing his experience and insights to all of our markets, which, to put it mildly, has every Embarker – from Denver and Oklahoma to Houston and Austin – over the consulting moon. One of his primary goals is to enhance our go-to-market strategy and capabilities, which includes expanding the already significant skill sets of his fellow Embarkers.
The Embark Difference
But if you were to ask David what he's most excited about, he'll undoubtedly bend your ear over Embark's culture and the opportunity to grow and succeed in a positive, collaborative environment. As we've said in the past, Embark is relentlessly, uncompromisingly people-centric, making our employees the focal point of nearly every decision we make. And that's not empty talk but, as David has already seen first-hand, just the way we roll.
Our culture makes this a pretty darn special place, an asset that allows us to bring someone like David onboard. And when you combine that culture with an innovative mindset that embraces technology and always has an eye on the road ahead, well, good things happen.
Get to Know David
So if you haven't had the pleasure to get to know Mr. David McGuire yet, then you definitely have something to look forward to. Yes, he's an incredible addition to our firm for all the reasons we just mentioned but, believe it or not, his experience and knowledge still play second fiddle to his personality and character. To use highly technical language, David's just a really good dude.
Married for nearly two decades now with two daughters and a son – all three of whom seem to be growing up at light speed – they live for their family vacations, the occasional sporting event, and watching dear ol' dad negotiate a five-iron at TopGolf. And given the importance we place on work-life integration, that's just further evidence that David is a born Embarker and ready to take our firm to incredible new heights.