Technical Accounting
Meet Emerge: An Outsourced Accounting Service from an Old Friend
BY Paul Allen | January 27, 2022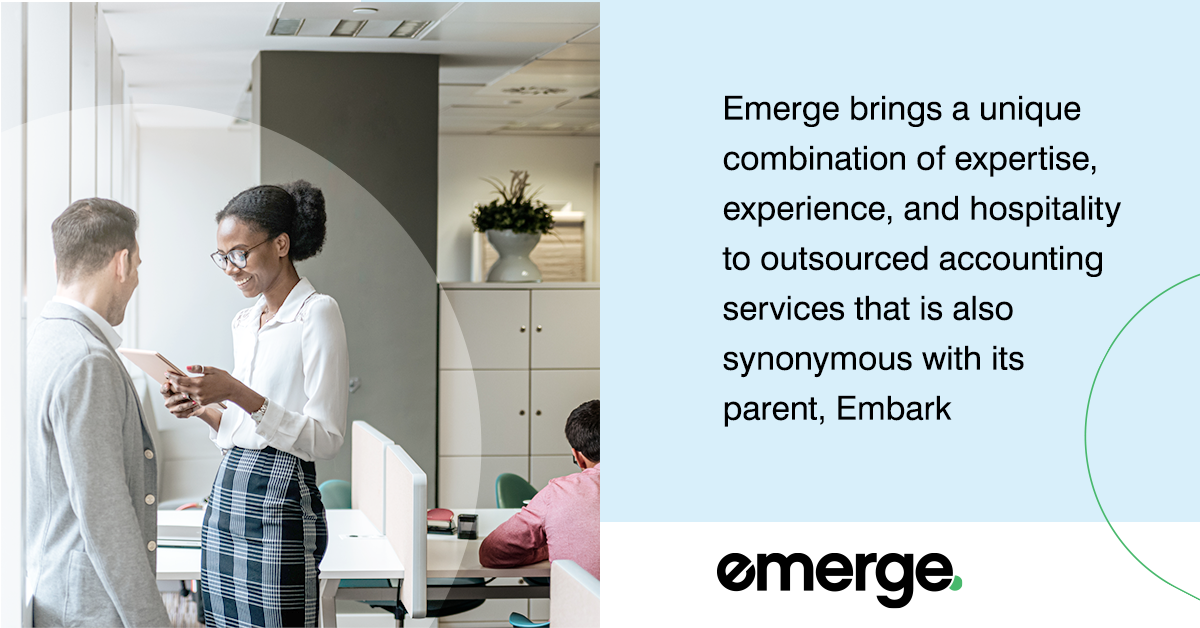 Sometimes things just take on a life of their own. Like they're too talented or successful, have too much potential to stay on a leash. Think eBay and PayPal. McDonald's and Chipotle. Dora the Explorer and Go! Diego, Go! We could go on and on, but you get our drift – the best ideas often need a bit of freedom to reach corporate escape velocity. And that, we're ecstatic to say, is exactly what Emerge represents.
So give us a few minutes as we discuss what prompted Embark to spin-out Emerge into its own operations and, most importantly, the benefits it provides to our outsourced accounting clients, both present and future. These are exciting times, and we're excited to lend our experience to a broader market and businesses looking for genuine expertise.
The Origin Story
While we can't compete with Peter Parker and a certain radioactive spider, Emerge's origin story has its own charm. Back in 2018, an oil & gas client was so satisfied with the value Embark's team provided, leadership asked Embark if it could essentially perform as its back-office by taking over several critical processes and responsibilities.
Although this was uncharted territory for Embark at the time, the firm was obviously up to the task. In fact, it wasn't long before other clients from a variety of industries requested the same service. Recognizing both an opportunity and significant need across its ever-growing client base, the firm quickly began layering more people into outsourced accounting.
Fast forward a bit of time and it became obvious to Embark's management that this burgeoning service had some significant wings, just needing its own runway and devoted resources to take flight. And that brings us to this point in time, where Emerge now has distinct operations from Embark and an extremely bright future ahead of it, as evidenced by some staggering year-over-year growth metrics from 2021:
Revenue: +130%
Client base: +178%
Headcount: +186%
What Emerge Brings to the Marketplace
Obviously, outsourced accounting is a highly competitive space with no lack of service providers. However, we are absolutely confident the marketplace will continue to embrace the unique combination of experience, expertise, and hospitality that has made Embark such a resounding success.
To that point, while we anticipate such success will stem from a spectrum of industries and corporate demographics, we know a few categories are a perfect fit for what we bring to the outsourced accounting table:
Hypergrowth

– Rapidly growing businesses with quickly evolving accounting needs that require a scalable, effective solution
Established businesses – Companies that don't have the time or patience to deal with the recruiting, hiring, training, turnover, or costs of hiring an in-house staff
Smaller companies – Businesses that simply don't have enough work to justify hiring anyone full-time in accounting
So what, exactly, can a business expect when hiring Emerge to handle its accounting needs? Well, for starters:
Timely, accurate financials –

Closing the books

on time with reliable numbers that will drive better, faster decision-making
Exceptional accountants & management – Proven industry accountants managed by veteran accounting leadership that has seen and done it all
Best-in-class processes & technology – A deep knowledge of

process best practices

, and

accounting technology

Flexible, scalable services

– A provider that serves exact accounting needs while retaining the ability to scale up or down on a dime
Most importantly, though, Emerge lets you focus on running your core business rather than sweating through essential but tedious and time-consuming tasks. Put another way, we give you the breathing room you need to concentrate on what you do best.
In the meantime, we'll make sure your financials are in tip-top shape, all while staying mindful of the bigger picture and looking for areas for improvement. After all, that's what we do – help your business reach its goals and potential. And if something pops up that requires specialized skills – whether attracting a buyer, implementing a new ERP, or diving into the capital markets – Embark is still at the ready. Now that's a win-win if there ever was one.