financial consulting
Robert Grisaffe, New Market President for Our Oklahoma Office, Is Ready to Lead the Embark Charge
BY Wally Alarcon, SHRM-CP, CIA, CISA | November 20, 2019
When you think of the great state of Oklahoma, what comes to mind? Football, of course. Heisman Trophies, covered wagons, and whatnot. And probably basketball on occasion. However, Oklahoma is so much more than a sports hotbed. It's an industrial powerhouse, propelled by the Energy space, but boasting a diverse set of thriving industries as well. Needless to say, Embark has big plans for our newest market. And to help lead that charge, we're beyond proud to announce Robert Grisaffe as our new Market President for Oklahoma. Trust us when we say that's a very, very good thing.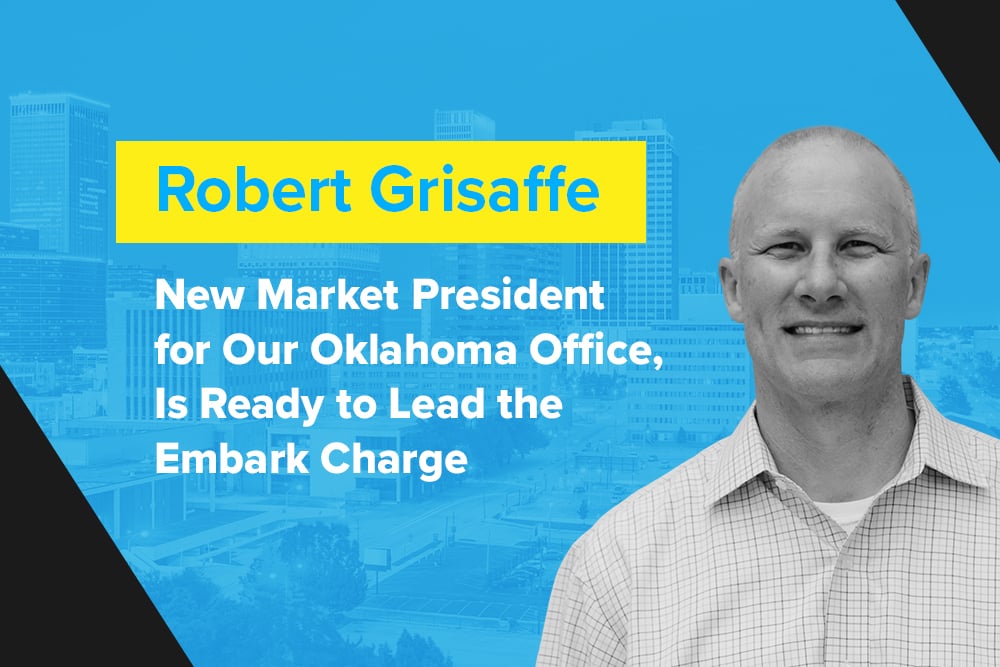 The Perfect Background
Robert and his team are going to make sure we hit the ground running in the Sooner State. In fact, if the only sure things in life are death and taxes, then Robert's success in his new role wins the bronze in that race. What makes us so certain, you ask? Well, our answer depends on how much time you have.
For starters, Robert has considered himself Oklahoman for 34 years and counting. He received his Bachelors in Accounting from the University of Oklahoma – Boomer Sooner! While he left the state for an MBA from the University of Kansas, he made sure to keep it in the Big 12, at least. From there, he got his feet wet with a bank holding company in Kansas City, where he plunged into the then-thriving M&A market for community banks. Although it was an amazing and educational experience for him, his heart – meaning his eventual wife whom he first met in high school – was still a state to the south.
Needless to say, Robert headed back to Tulsa and didn't skip a beat, joining a Big 4 firm where he worked in their energy and chemical practice. For more than a decade, he served primarily large, publicly traded companies for a variety of clients in Tulsa before shifting to a single, large multinational client that sent his frequent flier miles through the roof. Although he had climbed the ranks to Senior Manager and enjoyed the work, he also had a young family by that point, and wanted a position that would let him leave the suitcases in the garage.
Thankfully, a recruiter reached out to him on a day his head and heart were open to a conversation, and Robert accepted a role as Controller for a Tulsa-based, private equity-backed energy firm, eventually becoming their Vice President of Finance. Given the fast-paced, transactional world of the Energy space, however, Robert and a few others recognized an opportunity and branched out , forming Oak Ridge Natural Resources.
As a partner and CFO at Oak Ridge, Robert soaked in new experiences and knowledge, expanding his already impressive skill set. But a funny thing happened while at Oak Ridge – he kept hearing about a firm named Embark, its unique culture and business model, and grew intrigued. We think you know how it went from there.
Fits Like a Glove
When we say unique culture and business model, that's a bit of an understatement. We admittedly do things a bit differently in our neck of the woods, and couldn't be prouder to say that. It's what attracts top talent like Robert to our firm, and distinguishes us from a pretty static and stoic industry.
With Robert steering our Oklahoma team, we have someone that not only understands the Energy space through and through, but a broad range of modern industry as well. Energy, of course, plays a pivotal role in the ultimate success of our newest market but, as we said up top, Oklahoma isn't a one-trick pony. Its business environment is eclectic and diverse, two descriptions that happen to describe Embark as well. And it just so happens that there's a massive void in advisory services in the market. Sounds like a recipe for success, right?
Perhaps even more importantly, Robert is chomping at the bit to show Oklahoma businesses what Embark's model means for them. Obviously, we're not the only firm with phenomenal technical expertise. Still, the way we go about accomplishing our goals, mission, and vision is the albino buffalo within a homogeneous consulting herd. Our culture is the focal point of everything we do, driving the ideal work-life integration for our team.
But what does that mean for our clients? Well, as Robert will tell you, happy and satisfied consultants – that also happen to brim with experience and expertise – make for exceedingly successful engagements. That notion has put a new bounce in Robert's step as he and his growing team put together a gameplan to show Oklahoma businesses what Embark is all about.
Suffice it to say, when you run into Robert, you're bound to see a gigantic smile sprawled across his face. Granted, his wife, three daughters, son, and bustling but amazing home life have the most to do with that grin. In this particular case, Embark's more than happy to run at a distant second place. But don't underestimate the enthusiasm that our newest Embarker has for our Oklahoma office. There's a fresh breeze blowing through the state, from the Texas border to Tulsa, OKC and points beyond. And the perfect Embarker is leading the charge.