consulting
When to Leverage an Outsourced Accounting Group
BY Clancy Fossum, CPA* | March 22, 2018
As a wise man once warbled in a soothing and melodic tone, you gotta know when to hold 'em and know when to fold 'em. Like many instances in life, part of being a successful organization is knowing your limitations and bringing in specialized partners to fill the gaps. To borrow examples from sports, you don't bring in your starting left tackle to kick a game-winning field goal or your catcher to close a game in the bottom of the ninth.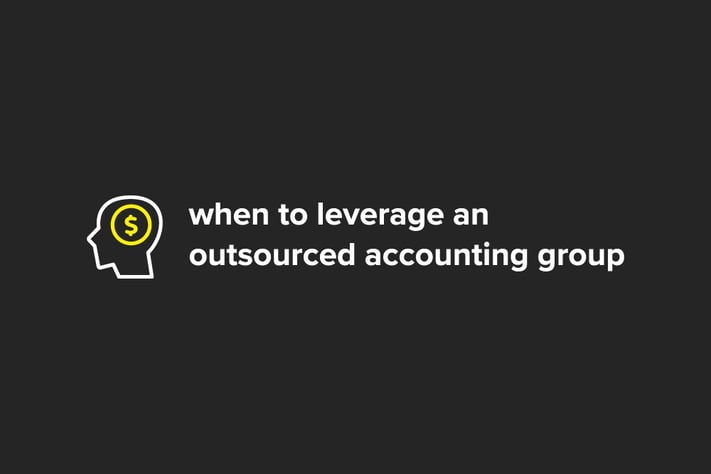 In business, companies from nearly every imaginable industry run into similar situations all the time, finding themselves in predicaments where they lack the experience or knowledge to satisfactorily fulfill a need. Oil and gas companies, for instance, often require specialized accounting assistance that they are simply unable to meet on their own. Likewise, private equity firms often have reporting requirements they are incapable of fulfilling in an in-house capacity.
For those reasons, your knowledgeable colleagues here at Embark have prepared a handy guide to help you identify the instances where you might need an outsourced accounting group and, just as importantly, help you fully leverage that outside assistance. Just don't say we never do anything for you.
Times to Bring in a Partner
Of course, no two companies are ever exactly alike so the instances where an outside partner is required can vary greatly. However, there are a handful of common circumstances that naturally lend themselves to bringing in outside expertise. Audit preparation, for instance, is one of those common instances where finding a group who has significant experience working within your industry – not just strictly in an audit capacity – can be an invaluable benefit to you. Preparing for an audit is not a situation where you want to waste your time training a consultant on the idiosyncrasies of your industry.
Similarly, acquisitions and divestitures will require specialized assistance with data migration, data set up, and other specific sources of expertise. Finding a skilled and knowledgeable consultant to help you through these procedures will make the entire experience more convenient, streamlined, and far less consuming as a consultant quickly becomes accustomed to your specific needs.
In the case of startups, seeking the assistance of an accounting expert at the inception stage of your company will provide extremely valuable dividends down the road. Find the right consultants to make certain you begin your company with an accurate and reliable financial footing. Whether you're a small team that just received private equity or an even smaller outfit starting with a credit card, spreadsheet, and a pipe dream, you don't want to start operations without first establishing a sound accounting system.

Factors to Consider
Similar to the many situations that lend themselves to outside accounting expertise, there are also many factors to consider to best leverage an outside accounting group:
Access to Talent
Engaging an outsourced group can expose you to top-tier talent that you might simply lack within the talent pool in your immediate area. Likewise, budget restrictions can often prevent you from justifying a full-time position or, even if you were to find a bit of breathing room within that budget, you might not be able to afford the same level of talent that you would find by using an experienced consulting firm.
Vicious Cycles
Given the cyclical nature of the industry, finding talent can be a challenge. When times are good, there is intense competition amongst employers to hire available talent. When times are tight, budgetary issues may limit how many full-time employees you can justify.
Responsiveness
A common issue with outsourcing is a lack of control and immediacy and assistance, often rearing its ugly head regarding access to data, reports, and project timelines. When discussing such issues, a consulting team should offer a service level agreement on response times and staffing to make sure all parties are well aware of expectations and you are realistic about your specific needs and what you're willing to pay for.
On-Site or Off-Site
Speaking of responsiveness, while on-site assistance is more expensive, it also involves both tangible and intangible benefits, primarily in immediacy since the consultant is working on site and within arms reach. Therefore, on-site assistance allows you to talk to people you would otherwise communicate with via telephone or email, providing additional insights and minimizing the risk of miscommunication simply by affording you face-to-face time with the consultant. Of course, not all engagements benefit from an on-site consultant so weigh your specific requirements with costs to make a decision that suits your needs best.
Transparency
Whether working on-site or off-site, you should be able to see who will be working on your account and, likewise, be able to request that person's past experience, projects, and resume.
Change Management
Throughout the process, you should have a thorough understanding of what is required to transfer knowledge from the consultant to your team. In fact, this understanding should be well-established at the beginning of the project. Ensure there is good documentation of all processes and procedures that are established to facilitate a smooth and streamlined handoff process once the project comes to a close.



Bringing in an outsourced accounting group can be intimidating and daunting if you let it but, trust us when we say, it doesn't have to be. Your friends at Embark have been around the consulting block more than a few times and assure you that if you follow our straightforward advice, utilizing the right partners for the right situations could ultimately prove to be some of the wisest decisions your company will ever make.