real estate
3 Technologies To Utilize In Real Estate Finance & Accounting
BY Erick De La Fuente, CPA* | February 7, 2019
The commercial real estate (CRE) industry is making strides to join other sectors that thrive on innovation. At its heart, CRE strives to be a digitized, efficient marvel that feasts on bigger and better servings of data-rich meals, particularly in the information-driven finance and accounting departments. Although traditionally not the quickest of industries to adapt to change, CRE is just as dependent on technology as other sectors to grow and evolve, streamline operations to meet soaring demand, and separate the winners from the losers.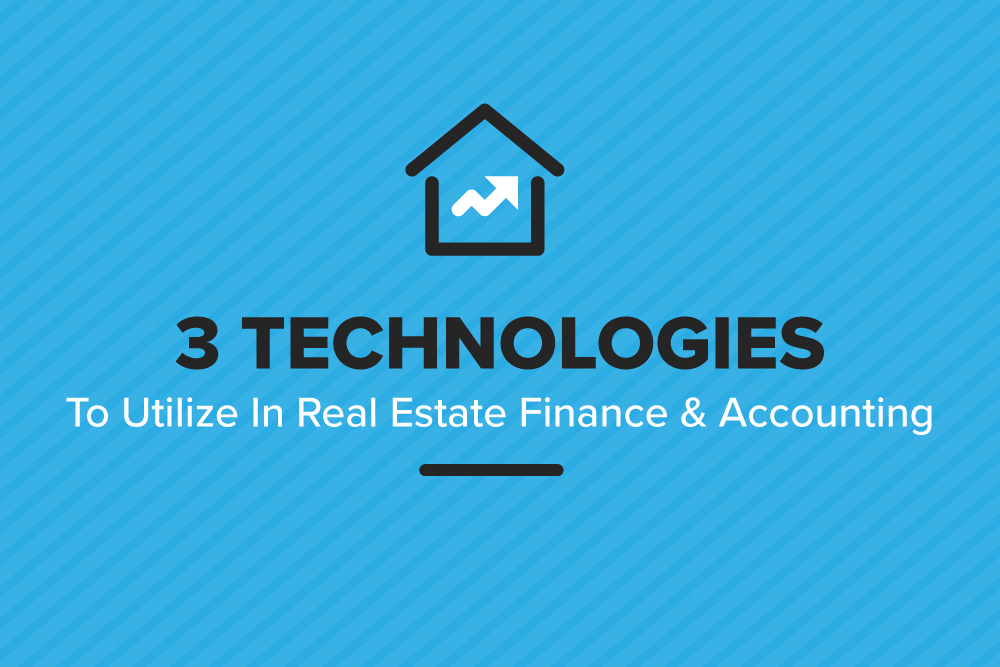 However, CRE's reticence in recent years to adopt new innovations that can push it into a data-propelled future has left some firms scrambling to catch up to the times, not to mention an investor base that expects increased efficiency and impact that technology brings to the table. Thankfully, all is not lost for those now ready, willing, and able to embrace the seemingly boundless abilities of big data and the technology that transforms it into prescient insight.
As you might have guessed, Embark knows its way around the tech that drives the industry and wanted to provide a few examples of technologies rapidly changing the face of real estate finance, accounting, and operations. Given CRE's lag behind other industries in embracing innovation, the early adopter train hasn't quite left the station yet, but firms are well-served picking up the pace and discovering how these specific technologies -- along with a variety of others -- can provide a competitive edge so needed in the crowded CRE space.
Predictive Analytics
Short of a crystal ball, predictive analytics is the best tool a real estate firm has at its disposal to take a look down the road and see what the marketplace has in store for it. Rooted in a set of complex mathematical formulas that consume immense amounts of data, predictive analytics analyze and forecast market trends to minimize tomorrow's risk based on today's decision-making.
The more sophisticated platforms use AI-driven models to predict behavior in various market conditions, frequently used to forecast relative to varying macroeconomic conditions, by leveraging big data. As an example, think of Uber's dynamic pricing model, where their surge pricing at peak demand uses predictive analytics and real-time data to integrate rapidly changing price points driven by sudden shifts in supply & demand. In this case, Uber uses predictive analytics and its associated technologies to overcome static price models, allowing them to keep pace with the fluid nature of consumer demand. This is a far more accurate pricing model dictated by market dynamics and underscored by the central themes of economic theory.
Variables like new construction rates, inflation, employment metrics, and several others are amongst the most common factors integrated into algorithmic models. For a CRE firm, predictive analytics is particularly useful for its soothsaying abilities and forecasting the value of real estate according to specific parameters like location, date, and those ever-present macroeconomic factors. From an operational perspective, predictive analytics can also help lower repair & maintenance costs by predicting when equipment will breakdown -- based on past performance data -- and therefore minimize equipment failure and its impact on operations and expenses.
In a real-world context, predictive analytics can create both short and long-term forecasts needed for everything from strategizing to compliance regulations that might require portfolio valuations under different economic assumptions. Like much of today's technology, predictive analytics involves massive sets of data identify to patterns, finding the proverbial needle in the haystack that would otherwise lay buried beneath a binary mountain. Predictive analytics allows CRE firms to forecast with increased accuracy and efficiency, less labor and time, and according to innumerable factors to better predict the undulations of an incredibly dynamic marketplace with ever-shifting demand.
Business Intelligence
Vast reservoirs of data and illuminating insights won't do for much good if information silos and bottlenecks in communication limit accessibility within a firm. Property managers, brokers, asset managers, and stakeholders all rely on pertinent and timely information for their decision-making. However, when firms use multiple systems throughout the flow of information that don't sync with one another, time, money, and opportunity are all wasted along the way.
Business intelligence is an overarching concept that streamlines data and insights to give everyone involved convenient access to a high-level view of the portfolio. Collectively, business intelligence tools interpret data and give users actionable insights and real-time metrics to gauge performance, often automating key functions to save resources that can be otherwise devoted to creating value elsewhere.
Like predictive analytics, business intelligence tools utilize reams of data to unlock perspectives that could very well be missed or misinterpreted by more traditional, labor-intensive means. Collecting multiple data sources into a single view gives all parties involved quick access to vital portfolio and property metrics as well as transactional and pipeline activity. With their automated procedures and real-time updates, vacancy rates fall, tenant service improves, and reporting becomes faster and more precise. Cloud computing draws even more impact from these business intelligence tools, providing access from any location and enhancing firmwide communication and strategy.
Internet of Things (IoT) in Operations
Obviously, data is the heart and soul of the many technologies transforming modern business, commercial real estate included. The Internet of Things (IoT) -- a network of connected objects equipped with sensors that communicate data without human intervention -- can drastically improve the relevance and timeliness of much of the data used throughout many facets of property management. In fact, IoT can even play a significant role in the construction of new properties themselves through on-site management, material deliveries, and overall construction efficiency.
Operations stand to realize the most immediate benefits from incorporating IoT into a CRE firm. On-site building management can use IoT connected devices and utilities to monitor everything from energy consumption to property security on a tenant by tenant basis. The enhanced communication and transparency improve tenant satisfaction while also streamlining operations and providing financial benefits to greater efficiency. Accounting enjoys fast, automated, and accurate data for reporting purposes that, once again, is critical for everyone from management to stakeholders.
IoT also allows a firm to constantly monitor equipment throughout their properties and foresee any pending delays or failures that could drastically increase costs and damage relationships with tenants. Since this is an automated process, it gives CRE companies the opportunity to reallocate's their labor and other resources to concentrate on more value-added endeavors.
Embark Can Help
Of course, technologies like predictive analytics, business intelligence, and IoT can only do so much good for you, our commercial real estate friends, if they're not part of a cohesive and comprehensive digital transformation strategy. That's precisely where Embark brings so much value to the equation, where we take the time to understand your operations and help you assemble an approach that incorporates specific technologies in an impactful way that addresses your particular needs and goals. Furthermore, when coupled with other innovations like blockchain and robotic process automation (RPA), technology can redefine most aspects of operations in some respect, breathing automated agility and intelligence into decision-making, audit, and operations.
When you work with Embark, it doesn't take long to understand that there are no cookie-cutter solutions, and it takes true experience and expertise to find and implement customized digital finance strategies suited for you and only you. Your customers, investors, and team all expect such a strategy, one that leverages everything technology offers commercial real estate. So let's get started on the ideal automated, streamlined set of digital solutions for your CRE firm, shall we? Time's a wastin' and there's much to do.