Our continuing mission to boldly go where no financial consultants have gone before requires a heck of a lot of propulsion. That's what our people, Embarkers, provide for us, the kinetic energy we need to reach escape velocity, break the shackles of gravity, and launch ourselves into new, uncharted space. To help our team in the Lone Star State's capital continue to reach for the stars, defy limitations, and disrupt the status quo, we're thrilled to announce Brady Minyard as the new market president for our Austin office.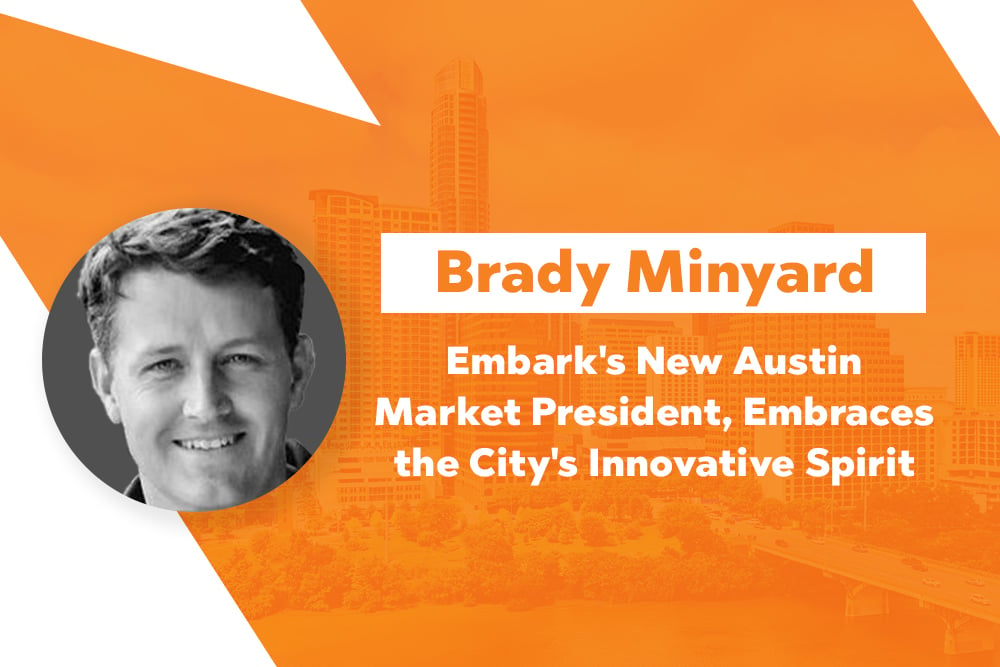 A born and raised Texan, Brady's own mission to the SS Embark began with a Bachelors in Business Administration from Texas A&M. When his days as a Fightin' Texas Aggie came to an end, he immediately immersed himself in the world of corporate finance, where he methodically expanded his knowledge base and skill set throughout his ascension up the corporate ladder. Playing increasingly important roles in several Fortune 500 companies, Brady was ultimately able to achieve a personal goal when he was named CFO of Dover Fueling Solutions before the tender age of 40. But if you ask us, he doesn't look a day over 39 ½.
For all of his technical skill and expertise, however, it's Brady's unique perspective, empathy, and people skills that really make him such an incredible fit for Embark and our Austin team. As we said when we officially opened our Austin doors in 2018, there's an undeniable symmetry between the city and the Embark way, for lack of a better term. We both dance to the beat of our own drummer, looking at the world through innovation-colored glasses while remaining steadfast to our core beliefs and principles.
Not coincidentally, those same sentiments also describe Brady and what he brings to our rapidly growing firm. With his experience working on the other side of the corporate table, Brady perfectly understands what companies want from a consulting partner and, just as importantly, what they don't want. Sure, a consulting firm needs to possess knowledge and skill, but that's a no-brainer. Our own expertise and experience are second to none, but that's not what truly differentiates us from the rest of the industry.
As he takes the reins of our elite consulting stars in Austin, Brady wants to roll up his sleeves and get to the root of what ails a company, building a symbiotic relationship that elevates above the traditional, mercenary-like consulting role. To paraphrase our own tagline, Brady wants to help businesses solve their problems and transform their finance function into a powerful and distinct asset. It's about building something great and enduring at Embark, helping every client reach its potential, and not just a series of one-off engagements.
Naturally, the same can be said for our own operations as well, qualities that Brady not only understands, but perpetually embraces and exudes. Things like culture, engagement, diversity, and empowerment aren't just trendy corporate buzzwords, but the foundation to every decision we make. As we continue our interstellar mission to reinvent the financial consulting space, Embarkers like Brady Minyard will lead the way, leveraging our culture, people, and everything else that makes Embark such a special place. And why do we do all of this? So our clients can live long and prosper, of course. But we bet you saw that one coming.