oil & gas
Choosing an Oil & Gas Industry-Specific Accounting Software
BY Sarah Jolly | April 3, 2018
Suppose for a moment that you woke up on a bright and sunny summer's day and immediately felt a craving for some scrambled eggs. Given the strength of the oppressive Texan sun, chances are you could walk out to your driveway, crack an egg over the blistering concrete, and scramble it up to a decent consistency and even dare eat it depending on the amount of dried oil and grime already saturating that beat up old driveway. Of course, this metaphor begs an obvious question – why would you do such a thing when you have a perfectly good stove sitting in your kitchen?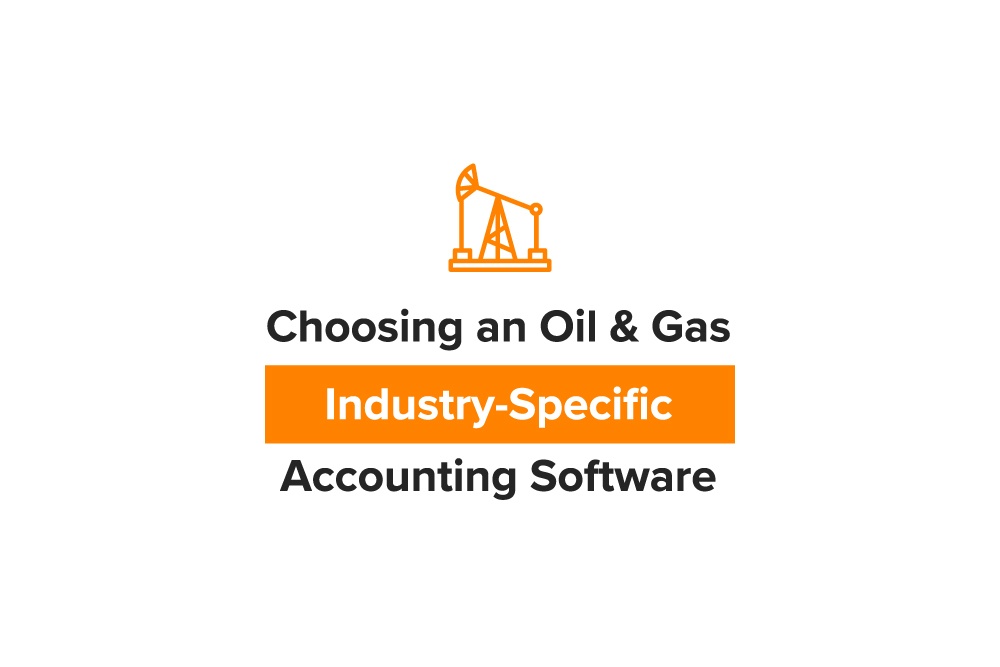 Think of industry-specific accounting software like that perfectly good stove just waiting to help you prepare some breakfast perfection. Accountants working within the oil and gas industry, for instance, could likely do a fine job using generic accounting software with a significant investment of time, patience, and resources to mold and adapt that software to their specific needs but, just like our vague and stretched breakfast metaphor asked – why?
The way your friends here at Embark see it, it simply makes no sense to use software that's ill-fitting when there are industry-specific solutions that have been made for the unique set of needs for our friends working in oil and gas. To that point, assuming those friends place even a modicum of importance in our opinion on such matters, Embark has put together a few tips to help you choose oil and gas industry-specific accounting software that will lend your accounting procedures new levels of efficiency and precision that quite simply are much more difficult – sometimes even impossible – to achieve with generic accounting solutions.
The Particular Needs of a Particular Industry
Of course, any platform geared specifically for oil and gas needs to be able to facilitate from upstream, midstream, downstream, to oilfield services – properly handling the very specific demands of each. Although there are a handful of software solutions that can be used for any of them, suffice it to say that all of those solutions are not created equally.
When choosing between those different solutions, always make certain they do precisely what your industry segments require. For instance, upstream demands joint entry billing while midstream requires gas plant processing. Likewise, be sure your platform of choice can easily accommodate the specific reporting functionality you will need – including real-time data and customizable reports. Do not make the common mistake of making an ill-informed, premature decision of purchasing and implementing a system that ultimately isn't capable of meeting your specific demands.


Make a Size-Appropriate Decision for Your Organization
Likewise, while there are a number of different platforms that, at least in theory, are able to serve an immense range of different sized companies – from multinationals down to the two-man shop – picking one that's well-suited to fit the size of your particular organization is absolutely critical. Since cost will always be a significant consideration in any software you choose, no matter the size of your company, eliminating possible solutions that feature various bells and whistles that you will never need is a convenient way to keep platform costs in check.
To that point, if you're a small group experiencing a fair amount of growth, you can always utilize QuickBooks extensions and simply expand the functionality of the QuickBooks suite to conform to your needs as you grow. Otherwise, small to midsize companies in oil and gas should look at OGsys or WolfePak as suitable platform options. For larger organizations, P2 Energy Systems is a good place to start or, alternatively, a general ERP like SAP or Microsoft Dynamics could work well but require significantly more configuration and set-up time.
Location of Users
Given the nature of the industry, companies also need to consider what type of access will be needed from the system. For instance, some firms will have members needing to access the platform from remote locations while others will only require in-house access. Likewise, multinational companies will typically require access across multiple locations, meaning a third-party, cloud-based software solution will be necessary to provide such wide-ranging accessibility. Alternatively, if team members will always be on-site, the accounting platform can probably be hosted on an in-house server without creating any undue restrictions or limitations.
Future Growth
Obviously, while tending to your company's current needs is important, also take your future growth into consideration when choosing your accounting software. Older platforms might not integrate well with third-party modules that could prove to be very helpful to your purposes. Therefore, always keep in mind the types of functions you require both today and tomorrow in order to avoid being stuck with a system that is quickly outdated and cannot support your future needs.
To that point, look for software providers that are actively expanding their integration capacity with third-party applications and have APIs to integrate. By restricting your search to these types of vendors, you will likely arrive at a solution from a software provider that makes a continuing effort to update the software with an eye towards enhancing third-party integration. For example, although document management or e-payables systems are not a component of basic accounting systems, they are both much-needed natural extensions that should seamlessly blend with any system you choose.
While the number of industry-specific choices to oil and gas companies might be a bit overwhelming at first, take our methodical approach to heart and narrow the field until you arrive at an accounting platform that serves your purposes well. Also, always remember, although you can probably scramble your accounting eggs on a burning hot driveway, it just makes no sense when there's far better solutions within arms reach – not to mention what the neighbors will think of you.