It's never too much fun being a stranger in a strange land. The trick is to acclimate yourself to the new environment quickly and efficiently, shake the right hands, find the best BBQ joints, and, in a perfect world, have someone to help forge your new path. Thankfully for Embark, as we ‒ well, embark ‒ on this very process with our new Oklahoma office, we have the absolutely perfect person to guide the way. So on that note, we're immensely proud and excited to introduce you to Drew Speakes, Senior Director for our entry into the Oklahoma market.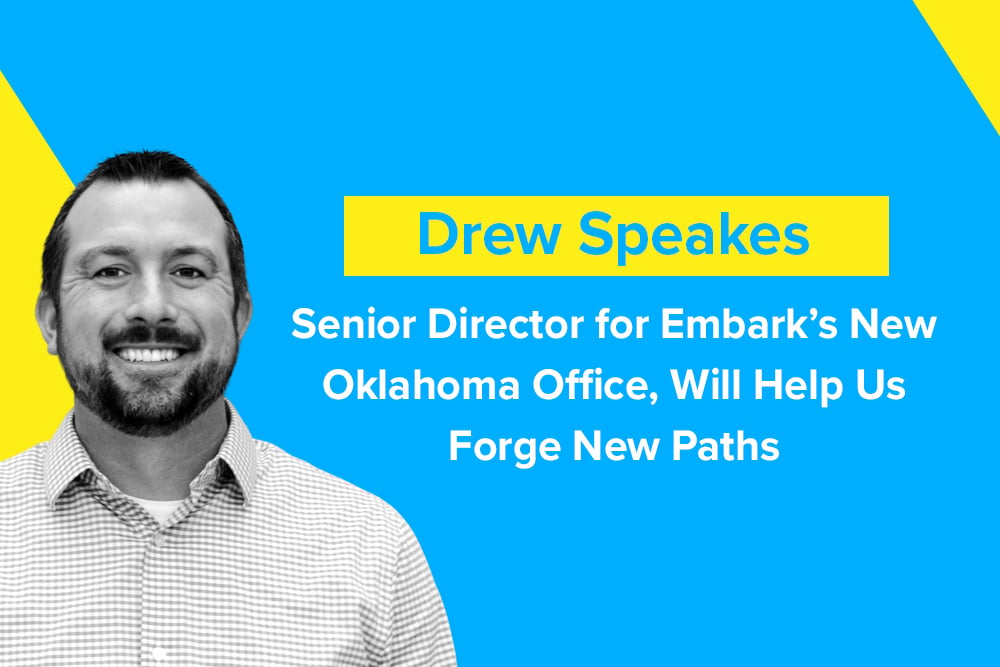 You might have noticed that we were pretty darn effusive with our description of Drew. We didn't say he's a good choice to guide the way. Or a promising one. We said he's the perfect person, and we meant it. Sure, we could go on and on ‒ and on ‒ about Drew's background, telling you that's he's a native Oklahoman with a Bachelors in Accounting from Oklahoma State ‒ Go Pokes!
Likewise, we could also mention his substantial Big 4 experience, the years he spent as a senior international accountant for a public international contract drilling company, or his roles as operational accounting manager and controller for multiple PE-backed exploration and production (E&P) companies. But as impressive as all of that industry experience is, it's his unique combination of background, vision, and character that makes him such an ideal fit for our Senior Director role in Oklahoma.
Drew is going to pair his unparalleled familiarity with upstream companies, exceptional knowledge and skill set, and genuine passion for problem-solving and building relationships to grow something special in Oklahoma. In fact, it's the opportunity to develop relationships and help clients reach their potential that brought Drew into the Embarkosphere ‒ a term we're really hoping has legs.
Of course, as we've discussed in the past, Embark is so much more than amazing client service and industry-best talent. This is a special place, one that isn't afraid to wear its heart on its sleeve and boldly announce our intention to transform the industry, one engagement at a time. And it's that industry-best talent that propels us, our culture and perpetual attention to a perfectly honed work-life integration that fuels our fire.
That's where Drew's character and personality fit into the equation. He's already an Embarker through-and-through, sharing our vision, drive, and the way we look at the world and the financial consulting industry's place within it. He understands that there's stiff competition in Oklahoma, but welcomes it. Given our already healthy relationship with oil & gas, Drew's the type of person who will take his own personal strengths, pair them with ours, and build something remarkable out of it.
So now do you understand why we say Drew is the perfect choice for Senior Director in our Oklahoma office? The consulting stars aligned, and we couldn't be happier for our good fortune. Granted, it's not necessarily a new concept for Drew, having met his future wife, Kristen, the weekend before his freshman year back in Stillwater. Fast forward a couple of decades and they've now been married for eight years and have two amazing sons. Obviously, there's magic out in the Sooner State if you know where to look. And with Drew Speakes leading the way, we know our future is bright in Oklahoma.