ESG
The EU CSRD: Why US Companies Should Care about European ESG Reporting Regulations
BY Adam Olsen & Robby Sundberg | April 25, 2023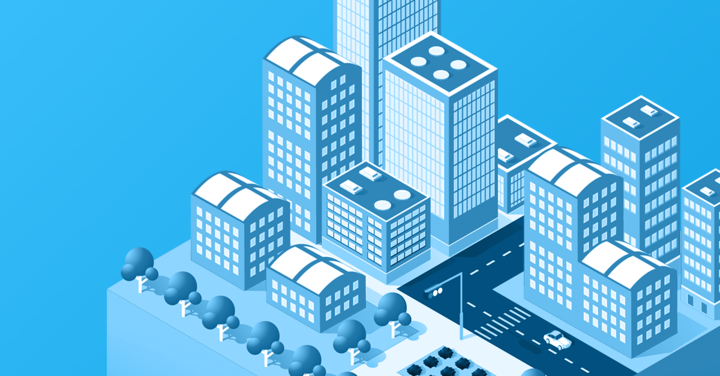 When it comes to ESG and sustainability reporting, what happens in Europe doesn't stay in Europe. In fact, as many US companies are now finding out, their sustainability reporting doesn't begin and end with SEC disclosure requirements. Like it or not, the Corporate Sustainability Reporting Directive (CSRD) from across the Atlantic packs quite a global punch, and the time to prepare for in-scope organizations is now.
But, now that the first set of standards is official, which US companies will fall within the CSRD's scope? And what, pretell, do these new European Sustainability Reporting Standards (ESRS) requirements mean for that lucky bunch? Well, we're glad you asked. Because Embark's ESG specialists are about to dig into those very answers for you, covering critical topics like:
CSRD, EFRAG, and ESRS defined

CSRD scoping provisions and exemptions

CSRD reporting requirements
So let's stop wasting daylight and dive right in, shall we?
What is the EU Corporate Sustainability Reporting Directive, CSRD?
We can't explain why ESG lends itself so naturally to a massive bowl of alphabet soup. It just does. To that point, the European Financial Reporting Advisory Group (EFRAG) created the EU framework – more on that in just a bit – for reporting sustainability information. And the mandate to report such information is – you guessed it – the CSRD.
Adopted by the European Parliament and European Council in November 2022, the CSRD takes sustainability matters and reporting requirements up quite a few notches in the EU. In practice, the CSRD significantly expands the current Non-Financial Reporting Directive (NFRD) to impact significantly more companies. In the EU alone, the CSRD will ensnare over 50,000 organizations, a massive jump up from the relatively paltry 11,000 falling within the NFRD.

The EFRAG Framework and ESRS
Throwing yet another acronym into the mix, the EFRAG sustainability reporting framework – better known as the ESRS – initially consists of 12 standards from the EFRAG, the first two of which have already been adopted by the European Commission. In total, these standards include a mix of two cross-cutting standards and 10 topic-specific, industry-agnostic standards.
Also, it's important to note that the ESRS is in no way static but, instead, dynamic and able to flex to evolving needs. For instance, the EFRAG designed the ESRS to encompass additional sets of standards in the future. For instance, a second set of standards will include sector-specific standards that were not in the first set, along with even more standards for small-medium sized entities (SME) and non-EU parent companies.
Likewise, the ESRS does not exist in a bubble, taking into account existing frameworks – including the TCFD (Task Force on Climate-related Financial Disclosures) and GRI (Global Reporting Initiative) – while maintaining the ability to expand beyond those requirements when necessary.
As you can see from the following graphic, the ESRS delves much further into sustainability issues than mere climate change, creating some genuinely expansive reporting requirements for in-scope companies on areas like pollution, biodiversity, workers, and business conduct, amongst others.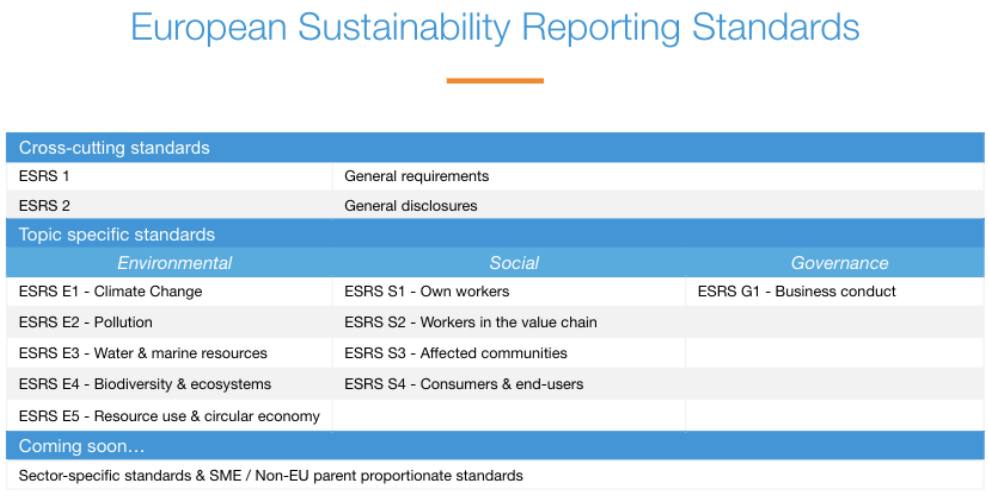 Put another way, satisfying the CSRD isn't the type of thing you can knock out in an afternoon. Instead, given the cross-cutting and topic-specific standards involved in the first set of standards alone – 84 disclosure requirements and 1,144 quantitative and qualitative datapoints – compliance will require significant ongoing efforts from companies, creating a whole new world of reporting requirements that won't necessarily feel familiar or comfortable at first.
CSRD Scoping Provisions
So, right about now, you're probably asking yourself, "What do these new rules mean for a well-meaning US-based company with some overseas operations that wants to stay on the good side of the regulators?"
And it's a very good question. In essence, you're asking what companies are in scope for the CSRD and ESRS. And as you might have guessed, the answer can vary since standards may apply to companies domiciled inside and outside of the EU member states, including US companies – both public and private.
Therefore, whether you fall in scope of the CSRD and ESRS depends on the following criteria: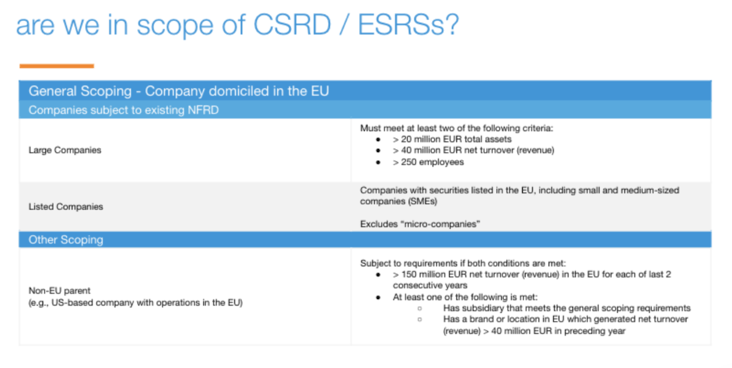 Because we don't want to throw a bunch of total asset and net turnover figures at you and call it a day, we've also created a group reporting scoping decision tree US parent companies can use to determine if they are in or out of scope for CSRD: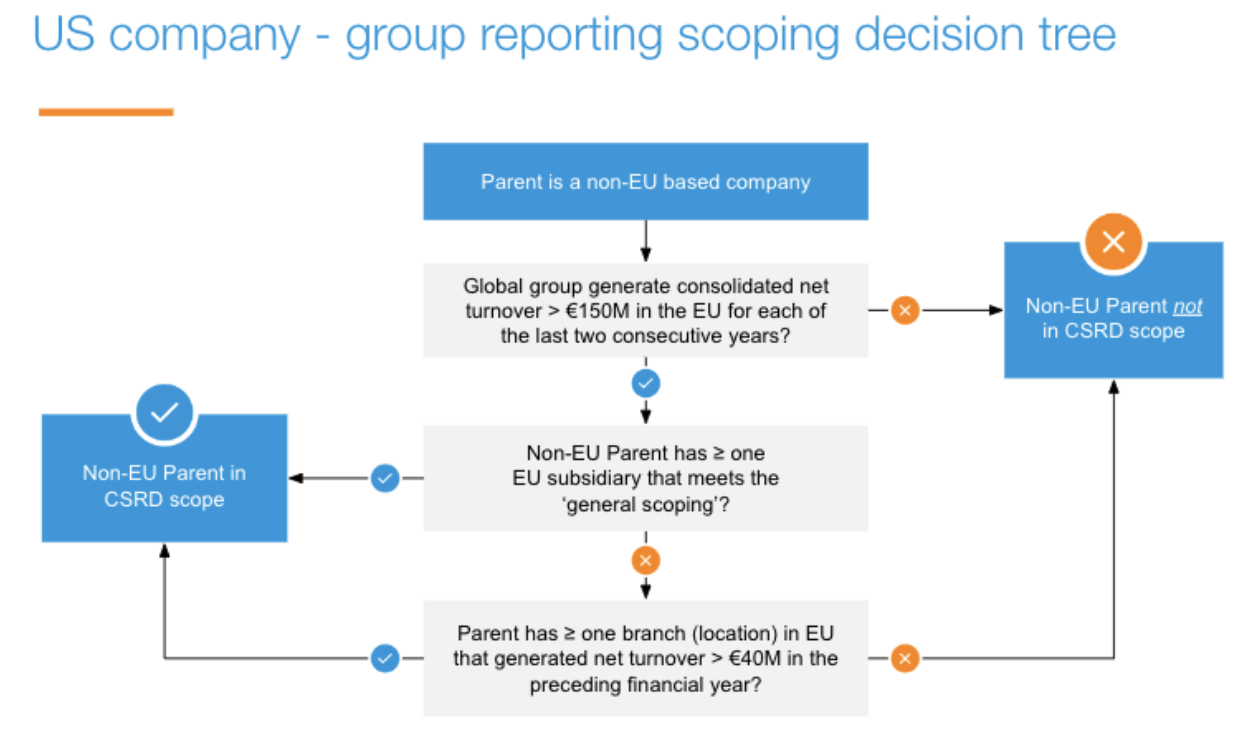 CSRD Reporting Exemptions
Building on the information in our decision tree, there are also reporting exemptions for certain groups and non-EU parents. Before you get too excited, though, please note that none of the exemptions actually eliminate the reporting requirements for the non-EU parent. Rather, they might help streamline the amount of reporting an entity must tackle.
For Groups, in-scope subsidiaries are exempt from preparing their own separate report if a parent's management report includes the sustainability reporting for the entire group. In these cases, the parent-level reporting would follow requirements of companies under general scoping guidelines.
The non-EU parent exemption applies when that parent has the ability to prepare consolidated sustainability reporting for multiple subsidiaries in the EU that meet the general scoping requirements.

CSRD Reporting Requirements
Now that you have a better idea of whether you fall in scope of the CSRD, let's roll up our sleeves a bit and at least touch on what in-scope companies need to disclose, most of which – but not all – is self-explanatory.
As mentioned above, the initial ESRS includes over 1,100 required quantitative and qualitative datapoints. So, given the sheer breadth of disclosure requirements, a future deep dive is certainly warranted. In the meantime, however, we still want to provide a cursory view of what companies face.
Disclosure Topics and Layers
To begin, the ESRS are organized into topics and layers which, once again, include two cross-cutting and ten topic-specific standards covering key environmental, social, and governance topics.
Environmental

: climate change, pollution, water & marine resources, biodiversity & ecosystems, resource use & circular economy

Social

: own workers, workers in the value chain, affected communities, consumers & end-users

Governance

: business conduct
Further, of the three so-called disclosure layers – sector-agnostic, sector-specific, and entity-specific – the standards cover sector-agnostic and entity-specific disclosures, leaving sector-specific standards for later.
Entity-specific disclosures give companies an opportunity to provide additional information related to impacts, risks, and opportunities associated with environmental, social, and governance matters. These disclosures are only necessary if the sustainability reporting standards fail to capture such information with sufficient granularity and are deemed material given a company's specific facts and circumstances.
Reporting Areas
The ESRS also lay out four reporting areas companies should cover across the three disclosure layers and for all cross-cutting and topical standards:
Governance

– the processes, controls, and procedures a company uses to monitor and manage impact, sustainability risks, and opportunities

Strategy

– how an organization's strategy and business model interact with its material impact, risks, and opportunities

Impact, risk, and opportunity management

– the processes an organization uses to identify, assess, and manage impact, risk, and opportunity through policies and actions

Metrics and targets

– how an organization measures its performance and tracks its progress toward its targets
Double Materiality
One of the most discussed aspects of CSRD is its use of double materiality. In fact, all sustainability reporting initiated by the CSRD and required by the ESRS is based on the double materiality principle. Double materiality focuses on two dimensions – impact materiality and financial materiality – both of which companies must consider.
Financial Materiality

The financial dimension of materiality encompasses any impacts to financial performance, position, and cash flows. It's evaluated over short, medium, and long-term time horizons, where assessment focuses on the size and likelihood of the financial impact.
Impact Materiality
Impact materiality includes actual or potential impacts – both positive and negative – on people or the environment. Again, it's evaluated over short, medium, and long-term time horizons, with the assessment including the impacts across an organization's full value chain, both upstream and downstream. The table below summarizes assessment considerations for different impact types.

Also, note that certain disclosure requirements will always be mandatory, irrespective of the company-specific materiality assessment.
Other Reporting Frameworks for Non-EU Companies

Thankfully, the CSRD isn't necessarily the only game in town. Non-EU companies may be able to apply a comparable sustainability reporting framework in lieu of the CSRD. However, the European Commission has yet to designate any particular frameworks as reporting equivalents to CSRD requirements.
Breaking out our crystal ball, such equivalency will likely require another framework to include disclosures over environmental, social, and governance matters, as well as a double materiality concept. As things stand, the proposed SEC climate-related disclosure rule will likely not meet the equivalency standard for the CSRD since it only focuses on:
Climate-related disclosures, and;

Financial materiality with certain prescriptive materiality thresholds for certain financial statement disclosures
CSRD and ESRS Adoption Timeline and Assurance
Yes, this is a lot to take in, and there is much work to be done. And to pour just a bit more salt into the wound, US companies don't have an awful lot of time to prepare, as the following timeline demonstrates: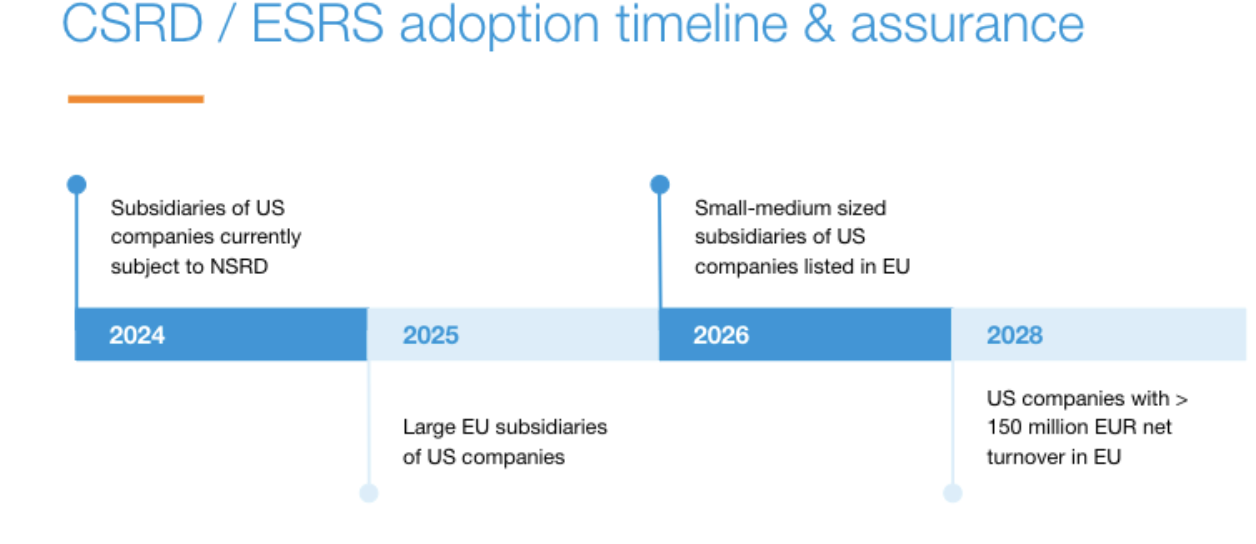 Also, on the third-party assurance front, the CSRD will require limited assurance over all sustainability information starting in the first year of the requirements. Going forward, we expect there to be a transition to reasonable assurance requirements at some point down the road, but no sooner than 2028.
What's Next?
So where do you go from here? Or, more accurately, where does leadership even begin with these EU sustainability reporting standards? Well, we'll be taking a deep dive into that particular pool shortly but, for now, we've identified a few critical areas to hone in on first:
Legal entity scoping and impact analysis

Scoping

– evaluate if and how your organization may be in scope of CSRD's requirements – e.g., which legal entities and group-wide considerations

Materiality assessment

– as required under the ESRS, assessments must be on a double materiality basis and help ensure your reporting is focused on those areas deemed most material to your organization, with customer, investor, and stakeholder engagement playing an especially important role

Readiness Assessment

Gap analysis

– assessing current performance, practices, and disclosure levels against the ESRS

Plan and build a roadmap for compliance

Processes and controls

– ensuring they're up to snuff and can effectively handle CSRD disclosure requirements

Data collection

– shoring up your data-gathering abilities by identifying what data you'll need and which people, processes, and technologies will provide it

Reporting capabilities

– identifying and implementing the systems and solutions necessary to deliver the timely, accurate information the ESRS require

Assurance readiness

– preparing the company for the onslaught of the external assurance process, particularly as assurance requirements ramp up later in the decade
We understand this is quite the undertaking for many companies out there, making sound guidance around ESG reporting one of the most powerful assets an organization can have these days. Therefore, going forward, we'll continue to convey tips and insights our ESG and Sustainability team has accumulated throughout our ESG engagements.
That said, our guide, ESG Reporting Best Practices: Implementation & Beyond will help you start putting together a sound sustainability reporting initiative so you can hit the ground running. And as always, you can look to Embark's team of ESG gurus for hands-on expertise and experience. We're only a short contact form away.