Why Embark Increased Consultant Compensation 25-50% Across the Board
BY Paul Allen | February 10, 2022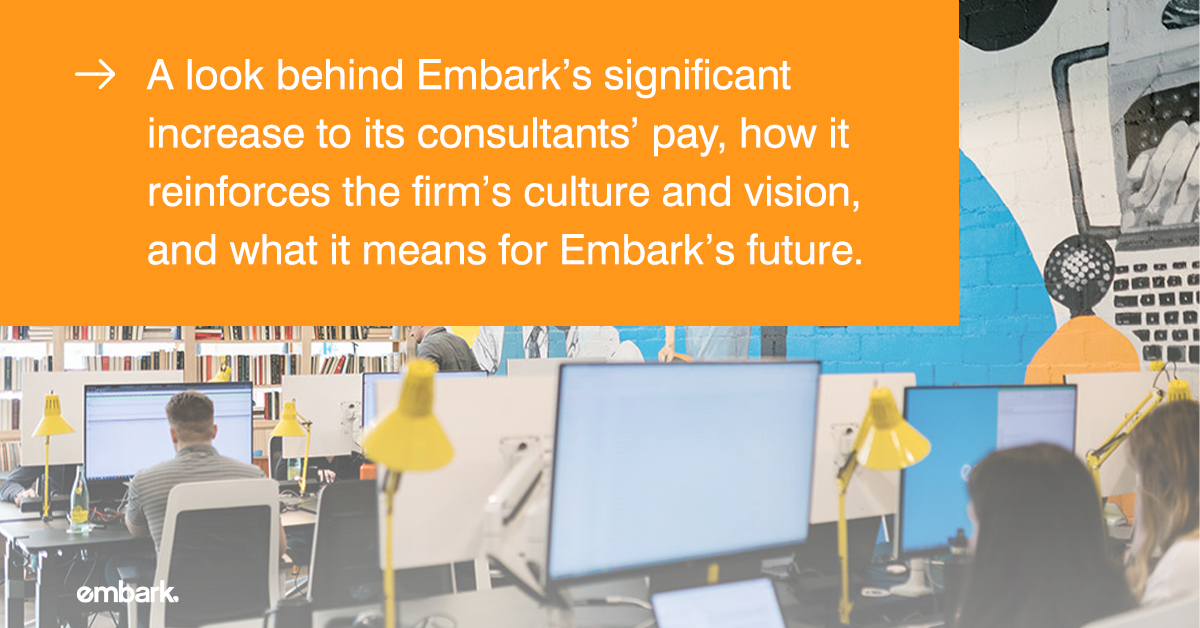 Walk the talk. Put your money where your mouth is. Practice what you preach. Three different phrases that basically mean the same thing – what you say only carries value when your actions back it up. Otherwise, you're playing Three-Card Monte with your words, and that's no way to build trust. Or success, for that matter.
But Embark's not like that. What we say has meaning. Gravitas. So when we talk about our people being the center of our consultancy universe, we mean it. And the recent overhaul to our compensation model – a 25-50% increase to already top-of-market rates – is just the latest example of our commitment to our Embarkers, their families, and the future of the firm. Let us explain.
Inflation's Butterfly Effect
Embark doesn't exist in a vacuum. Trends and currents impacting the professional services world hit our firm just as they do others. And just looking at the last 24 months, many of those currents felt like a punch to the mouth, with a few still throwing those metaphorical haymakers.
COVID-19, supply chain breakdowns, a feisty labor force – the list of recent hurdles seems like it can go on for days. Unfortunately, all of these factors have converged into a perfect inflationary storm, one that has advisory firms throwing compensation's kitchen sink at talent that will give them the time of day.
You see, with so much private equity money flooding into professional services in the last decade or so, firms now feel a weighty burden on their cost of capital, one that didn't really exist 20 years ago. As a result, billing rates, compensation, and headcounts rise with the PE tides.
When you couple those micro forces with the inflation we're all seeing on the macro side of the fence, they're going to have a significant impact on all firms. Mix in a historic labor shortage and – voilà – you have the makings for a bare-knuckle brawl for talent.
Obviously, we're not immune to what's happening in the broader professional services space. Further, as a firm that has always had a natural competitive advantage in attracting phenomenal people due, in large part, to our compensation model, that advantage has eroded over the last couple of years. And we don't care for that.
So here we are, watching our competitors try to pilfer our people as we, too, fight to expand our headcount and feed our growth. Thus, after watching these market dynamics form and fester for a bit, we've put our response into action, one rooted in conversations that began before The Great Resignation even reared its ugly head.
No Monkey See, Monkey Do
We're not offering big signing and retention bonuses or any of the other short-term, shortsighted perks we've seen other firms use recently. In fact, we went the opposite direction, offering every person in our firm $10,000 to leave.
Now, had we lost our minds by trying to force people out during a historic talent crunch? Nope. Instead, we were simply making certain every Embarker was here because they wanted to be here. Because they loved their work, our culture, their coworkers, and our unique vision.
The same thought process explains our refusal to do what everyone else is doing with those gaudy bonuses – if someone really didn't like it here, they'd leave a nano-second after receiving their retention bonus. And that's just not what we want. Rather, we want passionate and motivated people who feel at home here at Embark, that can't wait to see what our collective future looks like.
So instead of reacting to other firms' actions, we contemplated. We studied. We looked at the world around us, our people, and figured out a way to make sure Embark remains the most attractive, engaging, and fulfilling experience in all of professional services. In the end, we took what was already amongst the best compensation models in the industry and made it significantly better.
Attracting and Retaining Talent, Embark Style
We've allocated $7 million from our budget to increase our consultants' pay by 25-50%. Mind you, that's without veering from a 40-hour workweek or changing any of our industry-best benefits. We still offer unlimited PTO, pay the premiums on health, dental, and vision insurance, and actively invest in initiatives that drive the whole-human development approach that's so essential to everything we do.
As a result, when we compare our compensation model to any other firm in the industry – literally – our people make more money while working far fewer hours. In other words, it's a classic win-win situation, where Embarkers actually get to enjoy their lives, go on vacations, and spend time with their families, all while still working to solve complex problems for clients and challenging themselves.
And since happy people make clients happy, the firm reaps the revenue and growth rewards. Like we said, it's a win-win if there ever was one. Moreover, since this new compensation structure is a permanent fixture for Embark and not a one-and-done Band-Aid, it will help us retain our phenomenal people over the long-term while attracting the best of the best from across the industry.
As we said before, we're building something special at Embark, and our people will always be at the center of it. We'll always walk the talk and look for ways to make this place something people are clamoring to join. And believe it or not, we're still just getting started.