Lending Embark's Secret Sauce to the Professional Services Industry
BY Paul Allen | December 10, 2019
Disruption is a buzzy word that makes me cringe just a bit to type. But I can't think of a better way of describing what we do here at Embark. We want to rattle cages. We want to shake up the status quo, and not just in our financial consulting sphere but in professional services as a whole. Sure, those are lofty goals considering how well-established the traditional, tried-and-true ways are at this point, but there's nothing wrong with aiming for the stars, right?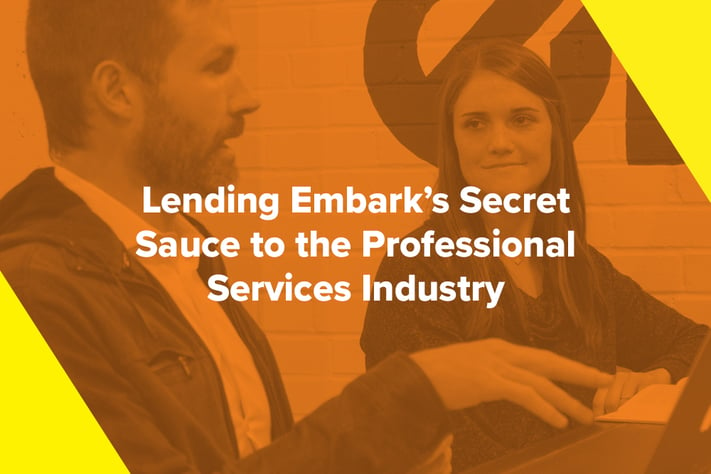 As a firm that prides itself on walking the talk, we've made it our mission to center virtually every decision we make around our people. And that's not empty speak when I say that. We genuinely put our culture above everything else. The way we see it, happy consultants make for happy clients, and happy clients drive a happy bottom line. It's the circle of life. Well, sort of. But you know what I mean.
The Bigger Picture Needs a Reshoot
What do most people think of when they picture a professional services firm? Probably a well-pressed suit, smart shoes, and a head full of outstanding knowledge and skills. That image captures an important part of this industry since, after all, companies hire firms like ours to solve problems. To lay the groundwork for a more successful future. And that's rooted in experience, expertise, and know-how.
My issue with that picture is what's missing. Humanity. Personality. Hospitality. Developing a level of intimacy with clients. If firms take the time to get to know the people they're working with and for, it's going to help everyone involved. The professionalism, knowledge, and skills are a given, but the hospitality and intimacy should be as well.
Now I can't speak for other professional services firms because I'm not an accountant and don't wear pressed suits all that often. Therefore, I look at the industry from a patently different perspective. I suppose in many ways, that's a massive advantage for Embark because the traditional consulting model has never really been something to aspire to in these parts. But the way I see it, if you treat your people like, well, people rather than FASB robots and SWAT machines, they'll naturally walk around with a smile on their face. And smiles are contagious.
I understand that every firm can't provide perks like unlimited PTO, fully-paid benefits for an employee's entire family, or rent out a floor at Topgolf for a bit of culture-building camaraderie. What works for us might not work for everyone. But the way we go about it isn't an absolute. I'm not saying that our way is the best way for the industry. It's just the best way for us at Embark. Once a firm finds its own path, however, I guarantee that everything else will fall into place with a bit of effort and time. And that effort is worth it.
Stand on the Shoulders of (Animated) Giants
The ultimate compliment to any professional services firm is for the client to look back on an engagement with a satisfied grin, not only because complex problems were solved, but the experience itself was good. Appealing. Memorable. That's where intimacy and hospitality play such a pivotal role, leaving an outstanding impression that will keep a services firm at the front of the client's mental Rolodex.
Besides a gaping hole in your wallet, what do you usually remember about a trip to Disneyland? Probably the immersive feeling of the experience. How the entire park – from the smallest details to the poor guy walking around in a Goofy suit in 90-degree heat – focuses itself on giving you and your family something truly memorable. Almost as if they've been waiting for your arrival.
The same goes for Chick-fil-A, Southwest Airlines, or a handful of other well-known brands. Does anyone really like going to the airport, taking off their shoes and belt, and scrambling to find the right gate? Nope. But after a flight on Southwest, you look back on the experience and say to yourself, "I'm really glad I chose that airline because they made a pretty gnarly environment as appealing as possible."
Whether it's a photo op in front of Sleeping Beauty's Castle, a chicken sandwich, or a 7:00 am flight from Dallas to Denver, all of these experiences were made better because of the company's people. And that's what makes you go back for more. Naturally, that's also what will keep your clients coming back and let the word spread about your firm.
Building a Winner
So how exactly can we, the professional services industry, reach such rarified air? How can we get to the point where the client actually looks forward to the day when they can book another engagement? I happen to gravitate towards the thoughts of Simon Sinek, author, TED speaker, and organizational consultant extraordinaire, and his thoughts on leadership and success.
In his book, Start With Why, Mr. Sinek – yeah, I'm going all NY Times for a minute – explains that darn near every company has a good handle on what they do, and how they do it. But only a select few can articulate why they do things. And the why is the most important question to answer. Why does your firm exist? Why should anyone care? "Why" is your purpose, your belief system. And it's the 91-octane unleaded that propels your professional services firm forward.
Simply put, Embark, as well as every other firm, exists for one reason – to make the client happy, help them solve problems, and excel in their industry. That's the why for every firm, the crucial piece of the puzzle that too many overlook. It's also the reason we're so particular about who we hire. Embarkers don't just fall out of trees. We want not only the best and the brightest, but also the people that ooze people skills and charisma, the type of person that a client can't help but want to get to know better.
Sure, that's a rare combination of traits to find in a person, but that makes the moment we spot an Embarker that much more special. And it's also why we don't pull any punches in treating our team the way they deserve to be treated. It brings out the best in an already phenomenal group of people, and creates that authentic client intimacy and hospitality that's the cornerstone to our model. Our consultants genuinely care about the success and well-being of our clients. Not just as a company, but as human beings as well. And that's a huge difference-maker.
A Peek Behind the Embark Curtain
I obviously can't speak first-hand on how Disney, Chick-fil-A, or Southwest go about creating an engaging, appealing experience for their customers. I can, however, go on for days about what we do at Embark to build on that critical why part of the equation. Yes, as I said, it starts with finding the right people, but it's certainly not as easy as only that. In fact, locating the needle-like Embarkers in the haystack is just the first leg of a race that never really ends.
We start with people that genuinely have a client's best interest at heart, while expert advice and amazingly in-depth knowledge round out the package. We go to great lengths to not only find the right people, but continuously nurture those unique qualities that set them apart. The result is authenticity and transparency, consultants that put the client's needs before Embark's.
Au Naturel
There's no such thing as a forced conversation during one of our engagements. That's one of the benefits of having people that want to hear about a person's life outside of spreadsheets and financial reports.
To put it another way, while our work is flawless and forward-looking, we also want to know about a client's life away from work. How many kids do you have? What kind of dog are you thinking about getting? What's your secret to getting to 5 pm soccer practice on-time every week?
You can try to fake that level of care and curiosity, but it will show through.
The right people will always find a balance between still and aggressive, listening and talking. They'll always have empathy.
Build a Brand
From a bigger perspective, we rely on brand awareness to give people an accurate idea of what we're all about – our why. We wear our collective heart on our sleeve, and unabashedly so. And to be honest, I think we do a pretty darn good job of branding our firm. Our digital footprint – social media as well as the Embark website, including everything from our service offerings to our blog and team bios – provides the open, genuine, and upfront type of communication that has become our hallmark.
That digital signature, when coupled with a warm and inviting greeting when meeting an Embarker in person, creates a footing for the hospitality and intimacy that we strive for every single day. And we carry that past the end stages of every engagement, where we continue to stay in contact with a client if, for no other reason, to catch up on things and see how they're doing. Did your significant other get that promotion you were telling me about? How do the kids like their new school? That's intimacy, and it helps us both open doors and keep them open. It's Embark's secret sauce.
Find Your Path
We understand if other firms look at us with a perplexed stare when we say these things. Most of them go directly against the stuffy, stoic, and traditional ways of a professional services firm. But it works for us and, given what we've already accomplished in our short corporate lifespan, we think we're on to something. That's not to say, of course, that we're perfect. Far from it. However, we know what our why is and claw our way closer to it each and every day. In our opinion, the entire industry would be better off if every firm did the same, just in whatever way suits them best.
So consider this a call-to-arms, my professional services brethren. A declaration to the industry, a promise to do better. To look at things differently and embrace the notion that just because you've always done things a certain way doesn't mean that's the right way.
Look at it like this – the ideal relationship between a client and professional, be it a consultant, accountant, lawyer or whomever, is one where the client both trusts the professional's expertise, but also wouldn't mind drinking a beer with them after work. That's where the deepest bonds form, at that intersection of know-how and humanity. And those deep bonds drive success and growth for both parties. It's something we continue to aspire to at Embark, and we promise that anyone that joins our fight will be immensely glad they did.