internal audit
Internal Audit Best Practices for a Successful RPA Initiative
BY Erick De La Fuente, CPA* | June 20, 2019
Embark understands the plight of Internal Audit (IA). Tasked with keeping organizations on the straight and narrow without impeding growth and innovation, IA is an imminently important component of any enterprise, particularly when a company adopts new technologies like Robotic Process Automation (RPA). After all, for all of the benefits RPA offers organizations through new sources of efficiency and value, it still can potentially expose an enterprise to additional risk that IA must address as it eliminates others. In other words, Internal Audit must sufficiently prepare for an RPA initiative if a company wants to maximize the technology's transformative powers without unwarranted new levels of risk.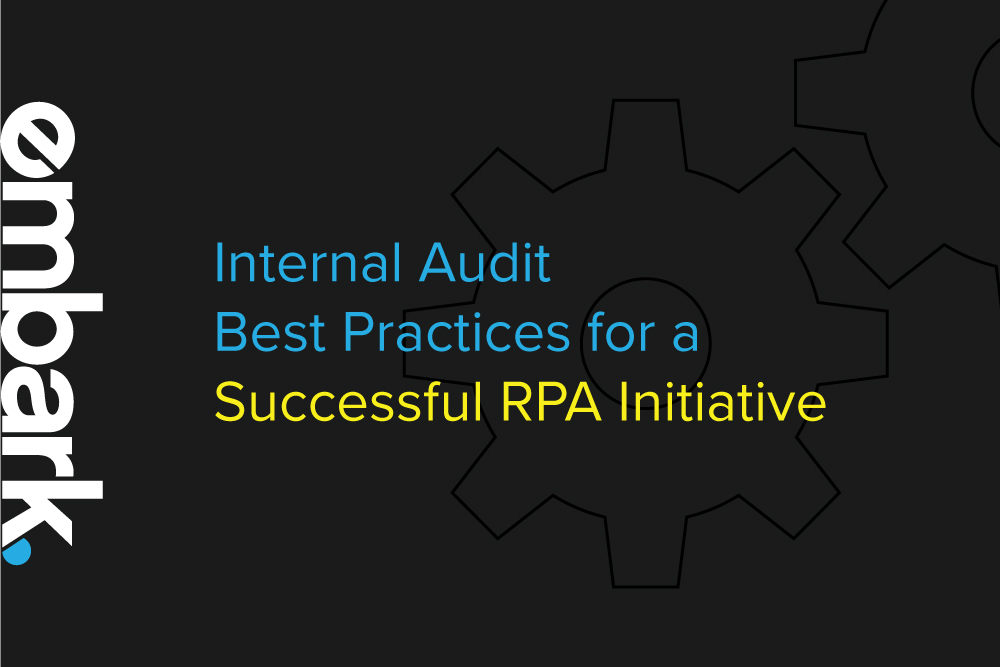 To help IA effectively mitigate such risk, Embark is proud to present to you, our fine friends in Internal Audit, our new e-book, Internal Audit Best Practices for a Successful RPA Initiative. Concise without sacrificing depth or scope, our latest tome is a practical, straightforward guide that details a step-by-step process for IA as they ensure a safe but effective RPA initiative that, when successful, will infuse operations with a new sense of efficiency and impact. Internal Audit Best Practices for a Successful RPA Initiative covers the following topics, amongst others, to empower IA with both insight and foresight:
Six critical areas to proactively monitor and analyze
An overview of RPA and its benefits
Detailed 5-step deployment process
Specific sources of risk and risk mitigation during RPA implementation
Questions for management to help ensure success
Not too shabby, huh? Embark wants nothing more than to see your organization flourish, benefitting from the impact the very best technologies like RPA bring to the table. And with our e-book, Internal Audit Best Practices for a Successful RPA Initiative, IA now has a set of best practices to help ensure a successful RPA initiative that will serve the enterprise well into the future.
Remember, when competition is fierce and the margin for error slim, the early adopters to innovations like RPA stand to gain the most. A well-informed IA team that's armed with Embark's insights helps maximize the benefits RPA gives to an organization and all of its stakeholders. Now that's a winning proposition if we've ever heard one.