company culture
Making the Inc 5000 List of Fastest Growing Companies Again Only Adds Fuel to Embark's Fire
BY Clancy Fossum, CPA* | October 15, 2019
Embark isn't a stranger to accolades. Over the past few years, we've amassed a collection of recognition and attention that would make any team of experienced, hard-working financial consultants blush a bit -- ourselves included. Thankfully, it's a trend that doesn't appear to be slowing any time soon as Embark was recently named to the Inc 5000 list of fastest-growing private companies.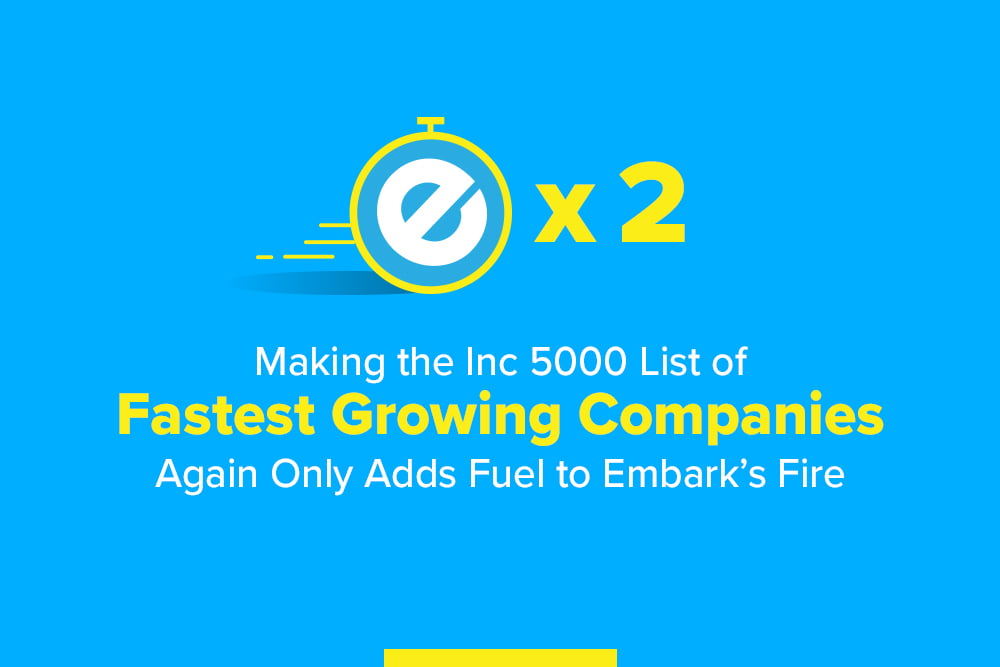 It's our second consecutive year with the honor, and we couldn't be prouder of our accomplishment. For all those keeping track at home, we've clawed our way up to #1058 on the prestigious list, up 24 spots from our 2018 ranking. And although we took a minute or two to shake a few hands and smile at our achievement, it's the validation from the honor that means the most to us.
Making the Inc 5000 list again proves that our unique perspective and disruptive strategy work, even though they both lie very much outside of industry norms. Obviously, there's something to be said for the potent combination of amazing people, drive, and opportunity, a notion that will continue to propel us in the future.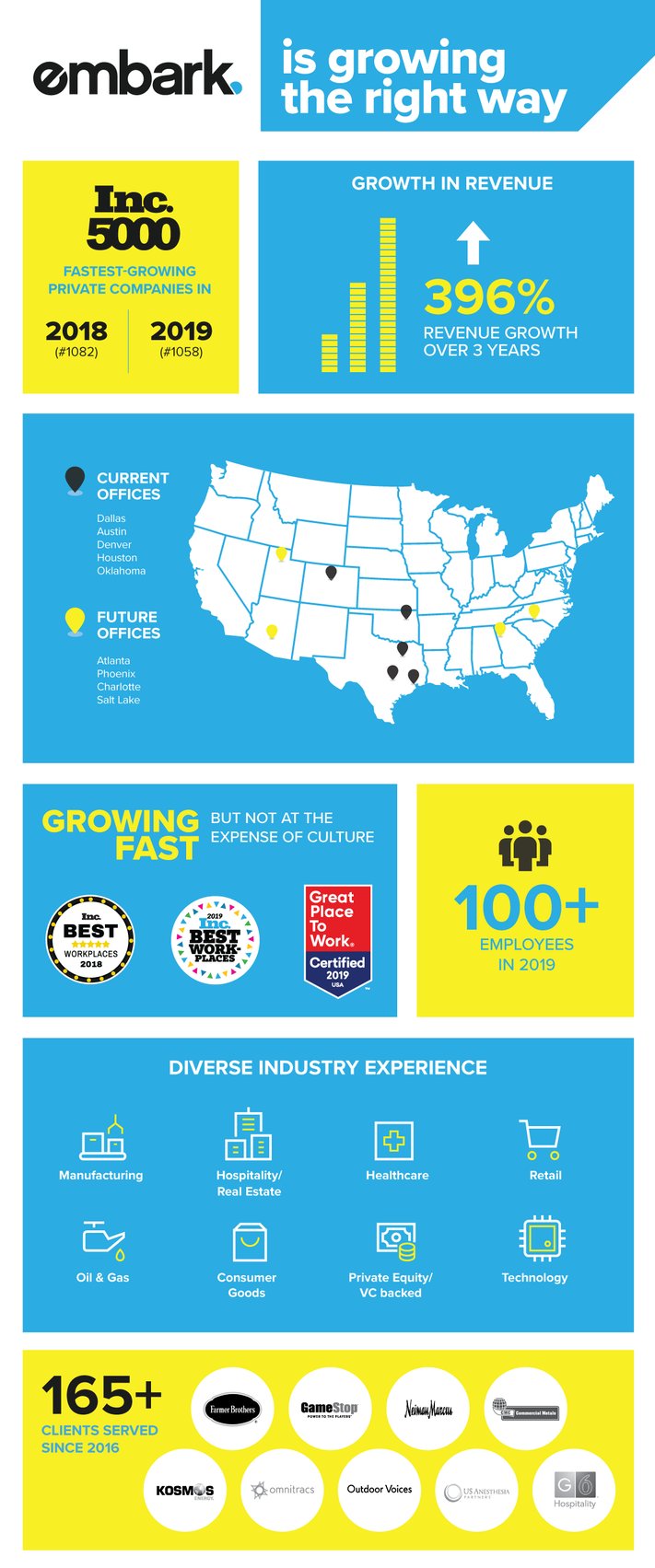 The Bigger Picture
Taking a closer look at that sense of validation, recognition from the fine people at Inc. just proves our point when it comes to our workforce. As we've said in the past, our people are the building blocks to our thriving culture and ethos, the focal point of every decision we make. The way we see it, by concentrating on our rockstar employees and doing everything we can to ensure they absolutely love their lives inside and outside of the office, we're doing right by both our clients and bottom line.
It's that bigger picture, the convergence of satisfied clients, healthy financials, and smiling employees, that truly drives us. Case in point? We've grown from a single employee to over 100 in less than a decade. We've realized 396% revenue growth over the last three years, with a footprint that now encompasses Dallas, Houston, Austin, and Denver, with markets like Atlanta, Phoenix, Charlotte, and Salt Lake City just over the horizon. In fact, we've just opened our new Oklahoma office in September 2019.
That, in a nutshell, is the bigger picture. We're doing it right, sticking to our admittedly unique model, and staying true to what's gotten us this far. In fact, there are a few other financial consulting firms out there that share our general disposition and attitude and, in a surprise to exactly no one in these parts, they're finding rapid and significant success as well.
The Road Ahead
As cliché as it might sound to say that this is just the beginning, well, this really is still the first leg of a much longer journey. We don't have to expand given our capital structure, but we choose to. It's not some strange consultant manifest destiny, but just a firm belief in the value we add to a generally staid and stale marketplace.
Some of our strategic partnerships are just now starting to bear fruit, a thought that should add exponential fuel to our already red-hot fire in coming years. To that point, we were recently named national partner of the year by Workiva, with KPMG earning the international side of the award. Our list of clients continues to grow by leaps and bounds, now including some of the most notable names in modern industry.
That's not to say, however, that it's going to be smooth sailing from here on out. We've made a few missteps along our journey that we've taken to heart, lessons we've incorporated into our model and strategy. Our Austin office, for instance, has been financially successful since the day we opened its doors. However, in a classic example of putting the cart before the horse, we procrastinated in establishing leadership for the office -- something we have since rectified -- but learned something valuable along the way.
For an organization that prides itself on culture, engagement, and certain intangibles, we failed to fully understand that effective leadership is a prerequisite for a cohesive team. Now, as we said, we've learned from our mistakes and have made lessons like the one from our Austin office part of our expansion blueprint.
But that's what great organizations do, right? They learn from missteps, correct the course, and remain steadfast to the goals at hand. That mentality has driven the growth that put us on the Inc 5000 list of the most successful companies in America for the second year in a row. And it's that same mentality that gives us absolute confidence in our abilities and game plan.

While we can't say for certain we'll be writing about the Inc 5000 again this time next year, we can absolutely promise that we're going to stick to our plan, values, and give it everything we have.