The Ultimate Account Reconciliation Template and Best Practices
BY Clancy Fossum, CPA* | July 16, 2019
Think of account reconciliations as the rudder to your ship. They keep you on-course and headed towards your intended destination, letting you identify discrepancies between accounts, ledgers, and nearly anything else that relies on absolute accuracy. And just like a ship sailing across the sea, the slightest difference in direction at one stage of the journey can have a cascading effect on the subsequent stages until, tragically, you're far off-course and ultimately fall prey to the mighty Kraken.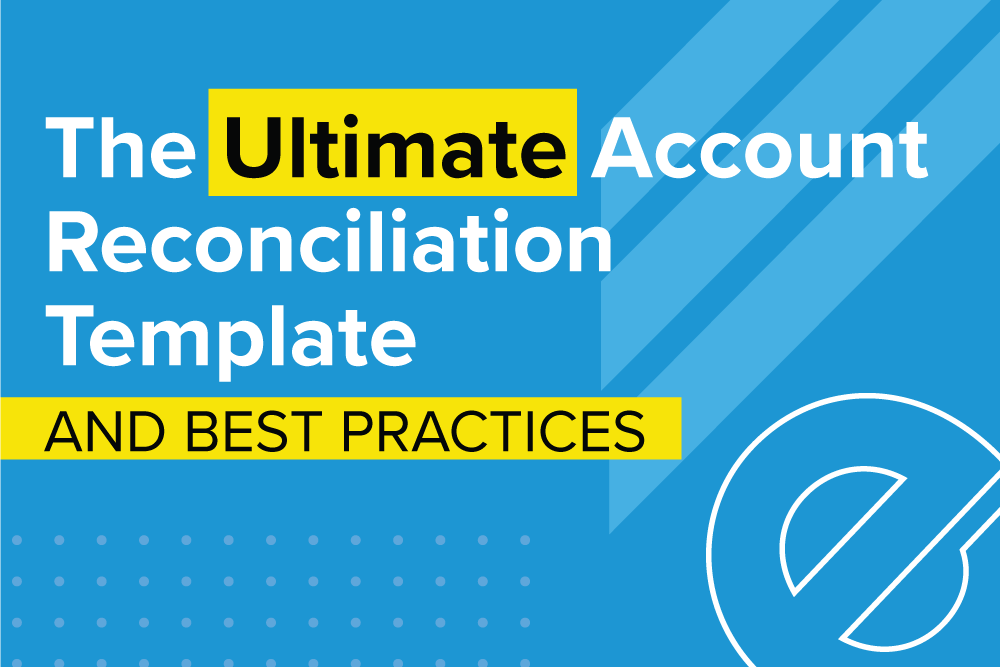 Okay, the Kraken probably won't devour your organization if you don't properly reconcile your accounts, but there's still plenty that can go wrong, as many companies will attest. Therefore, to help keep your rudder well-aimed and finances on track, Embark has created the Ultimate Account Reconciliation Template to show you what's involved and, even better, integrate it into your own accounting process. We'll provide you with some useful pointers along the way to make the very most of our handy template and keep your enterprise on the straight and narrow.
Account Reconciliations Aren't a One Trick Pony
The term account reconciliation belies its actual utility and far-reaching applications. Although the concept itself is straightforward -- ensuring account balances are correct and properly align with each other at the end of an accounting period -- it's those far-reaching applications that make them such a critical component of your overall accounting process.
As you'll see from our accompanying template, there isn't a lot to an account reconciliation. You're simply comparing the balance of a subsidiary ledger to the GL, making sure all of your numbers jibe appropriately. You'll want to use a reconciliation for each of your balance sheet accounts and elsewhere in your accounting -- including your bank statements -- to look for any discrepancies that could quickly spell trouble if not promptly addressed.
Establish an Account Reconciliation Process
Given their importance, Embark recommends putting the account reconciliation process in your month-end closing procedures to make certain your team consistently completes it. The process itself doesn't have to be terribly complex or time-consuming but does need to be thorough and comprehensive. Our reconciliation template will serve newer or smaller companies well into the future but, as you grow and your finances become more complicated, you'll want to adopt an accounting system that automates your reconciliations to save time, resources, and avoid human error.
The process typically occurs just after you close your books for the period, where your accounting team reconciles each account within the GL with the corresponding subsidiary accounts to verify that the balances are accurate. Depending on the account, you'll also use bank and credit statements for your reconciliations, along with invoices and your general knowledge of the month's events, thinking about their accounting treatment and looking for those meddlesome discrepancies as you go.
When you find incongruencies between two accounts, it's crucial that you address them quickly and take the appropriate corrective action. Also, determine if the mishap was a one-time occurrence or the product of a more fundamental breakdown, meaning you might want to revisit your internal controls to make sure it's not more ingrained and, thus, worrisome. You'll need to complete this reconciliation process before you can certify the integrity of your data and issue financial statements. Naturally, you'll also want to document everything as you go for audit purposes.
Reconciliation Best Practices
So you've downloaded our template, customized it to your specific needs, and generally understand how your reconciliation process will proceed. Now it's time for the rubber to hit the financial road and put it all to good use. Use these tips to get the most of your account reconciliations and keep your financials on track.
Employee Expenses
Certain employees might have a corporate credit card to use on particular needs, perhaps travel expenses or specific purchases as part of your operations. It's not uncommon for an employee to mistakenly make a personal purchase on the corporate card, especially if they frequently use that card. As the old saying goes, mistakes happen, but that doesn't mean those mistakes should come at your company's expense. A thorough reconciliation in your accounts payable every month will quickly identify those issues before they can linger and turn into a bigger problem.
Prepaid Items
When you've paid for something in full that stays on the books, you need to amortize that prepaid amount as part of your month-end procedures. Use a monthly account reconciliation as the mechanism that makes sure you're correctly amortizing all of your prepaids to, once again, stay on top of everything before they negatively impact your financials.
Let the Process Evolve
Like nearly every other process in your business, your account reconciliation procedures should evolve with the times. Consistently review the process to ensure it remains reliable and, just as important, timely. Establish controls, timelines, and delegate responsibilities to specific individuals or teams so your reconciliations are as insightful and efficient as possible. Make any needed changes as you go to keep the process relevant and reliable.
Remember, our account reconciliation template is only the starting point of a journey that never ends. Be flexible as your company expands and changes, ready, willing, and able to adopt other solutions that might fit your needs better as your enterprise grows. We promise you won't hurt our feelings if there comes a time when you outgrow our template and need something more advanced for your reconciliations. In fact, we look forward to the time you give Embark a call to help design and implement comprehensive solutions that not only establish a sound financial footing for you, but also fuel your growth. It's what we love to do, and we don't mind saying that we're darn good at it.