Innovators Innovate: Meet Embark's Game-Changing Compensation Model
BY Jeremiah Marshall | June 9, 2022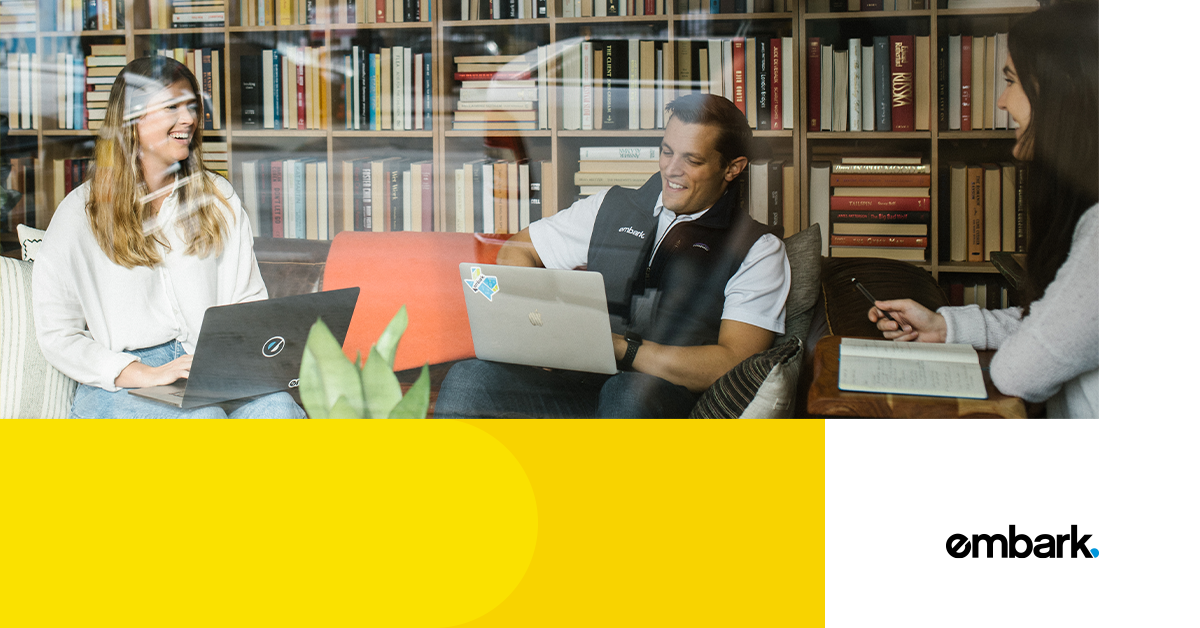 We're not trying to reinvent the advisory space at Embark. Our goal is to disrupt it, rattle some cages, and build our own version of it, one that ensures our operations, client service, culture, and people are always pulling in the same direction.
That's what makes our revenue sharing comp model so very Embark. Innovative, flexible, endlessly equitable – not coincidentally adjectives that also describe our firm. And the more you understand our proudly unique, evolving approach to compensation, the more you'll "get" our vision, mission, and ethos.
As you're about to see, we don't operate like other advisory firms. And maybe Embark isn't a great fit for everyone. However, if the next several hundred words hit you in the compensation feels, you might just be an Embarker waiting to happen.
Embark's Compensation Model in a Nutshell
Variable compensation is another way to label our pay model. But since many accountants and finance professionals grimace at the thought of anything variable – particularly compensation – we feel it best to explain our use of the v-word.
In our comp model, variable doesn't equate to commissions, sliding pay scales, or anything else that might keep a hard-working accountant up at night. Rather, the only variable component is how much our consultants choose to work. Forty hours, sixty hours a week, anything in between – as far as we're concerned, our people are the captains of their own ships, better than senior management could ever be at determining their ideal balance between work and home lives.
We call it a revenue-sharing model because that's essentially what it is. We want our people to feel like owners or partners, sharing our successes, fighting through challenges, and continuously reaching for excellence. And to ensure our model stays where we want it to be – relative to the competition as well as fuel for a fulfilling work-life balance – we allow it to grow and evolve.
For instance, we implemented a double-overtime compensation pilot during the pandemic to offset the temporary drop we saw in our utilization rate and, thus, compensation. Simply put, there weren't as many hours to go around. But while other models forced heavy-handed layoffs of the very people driving the bottom line, we retained 100% of our staff. And, when our utilization sprang back up after just a few months, we kept the double-overtime comp as a permanent policy. Because it was the right thing to do for our people and the firm's collective future.
Similarly, we recognized that a significant influx of PE money into the advisory space was driving compensation up across the industry. So to combat that trend, we gave every consultant 25-50% raises in Q1 2022, something we'll continue in the future whenever the need arises. In the end, we believe divvying up bigger pieces of a much larger pie ultimately benefits all stakeholders.
A Glance at Competing Comp Models
Further, our hourly pay rates don't fall as hours rise. Because we know what it's like to work 60 to 80 hour weeks, sometimes even more. After all, that's where Embarkers come from, public accounting firms and industry positions that tend to hijack a person's life. Granted, those hours and models work well for other organizations, so we're certainly not casting aspersions. But that's not how we roll.
Think about it. Maybe you're salaried at a good firm, running through the audit obstacle course, and amassing the skills and experience you'll need to build a rock-solid career. But it's exhausting, isn't it? And have you done the math to see what happens to hourly compensation rates when your salary stands firm as a statue but work hours take off like a rocket?
Sure, you might have bonuses to look forward to, and that's great. But from our perspective, if it walks like a retention bonus and talks like a retention bonus, it's a retention bonus. Put another way, it's incentive to keep you chugging along with that static, salary-based compensation model. And we don't want any part of that.
The way we see it, margins shouldn't rise at the expense of a healthy, satisfying work life-balance. That just wouldn't make sense from a people or operational perspective – happy people make clients happy. And we should reward those hardworking, smiling people for creating additional value for customers as well as our firm.
There's No Perfect Model
Now, we happen to think our model is pretty phenomenal. But then again, we're the ones that came up with it. Likewise, we know other companies might turn their noses up at our comp model because that's what competitors do. Still, as much of a game-changer as our revenue-sharing model is for accounting and finance professionals, it's not perfect. In fact, no compensation model is.
But that's why our approach to compensation is always evolving, flexing and pivoting to industry dynamics, people's expectations, and whatever else might be going on in the world at any given time. Given how much of a rollercoaster life has been for the world recently – and continues to be, to a large extent – we expect continued tweaking to our model in the future. But that's what evolving with the times means, right?
The "Why" Behind Embark's Compensation Model
That leaves us with the "why" driving our comp model. Yes, many of the topics we've discussed thus far – a sense of ownership, equitable pay, work-life balance – are all central players in our model. But there's a lot more to it than that.
We often trumpet our company culture around here. It's the focal point of everything we do, the centerpiece of every conversation. Therefore, it only makes sense that our comp model would also feed into our people-first culture. And that's where our preferred limits on weekly work hours come into play.
Simply put, we don't want people to work 80 hours a week. Yet, we still want Embarkers to earn enough money to fuel their ambitions, interests, and passions. Hence, our variable model lets our consultants choose their own adventure. Need to save for a trip to Disneyland with the family? Or an engagement ring? Or maybe a swimming pool? Then an Embarker would volunteer to work on enough projects to fund those goals.
It's not just about money, though. We also have Embarkers who want to absorb knowledge as quickly as possible, accelerate their career growth, and collect engagement experiences like they're a rare set of Magic: The Gathering cards. And that's fine by us. As long as our people pursue their dreams, squeeze every ounce of the good stuff from life, and smile from the inside, we're all for it.
Conversely, maybe you just need some time off. You know, participate in life, breathe in some fresh air, climb a mountain with friends, or sit idle on a beach with a colorful drink in your hand. Once again, we're all for it. Because every Embarker has smart, motivated teammates that will always hold down the fort while you create memories or just catch your breath.
And, no, we're not just saying that. Otherwise, we wouldn't offer unlimited PTO or create an annual bucket list filled with new people, places, and experiences. To reiterate our mantra – happy people make clients happy. And that's nothing but a win-win for everyone and everything involved, including our ever-important company culture.
In Search of High Performers
Ultimately, that's really the "why" behind our compensation model – it fuels our culture. We want Embarkers to earn more without working day and night. To have time to enjoy themselves, backpack through Yosemite, or whatever else they want to do.
Now, that said, we also expect a lot from our people. Because our comp model isn't an incentive to work extremely hard. It's a reward for that hard work, making it essential that every Embarker is a high performer. This firm has always been and will always be a card-carrying meritocracy, pure and simple.
So, yes, we pay our people exceptionally well. But we also have high expectations. In other words, we're not interested in someone willing to do the bare minimum around here. Instead, we're looking for people with a natural bounce in their step, an internal fire that makes them want to excel in absolutely everything they do.
In return, we take care of them through our comp model, best-in-class benefits – including fully paid health, dental, and vision premiums for employees and their families – and a commitment to creating a healthy, rewarding, and equitable work environment. Once again, our people are more partners than employees, so we take care of each other and reap the rewards together.
The Inevitable Pushback from Outsiders
As we said, no compensation model is perfect, including Embark's. Given how different our pay structure is from comparable firms, we also understand people won't hesitate to try to poke holes in our logic. And we're here for it.
Economic Downturns, Pandemics, and Other Assorted Catastrophes
Of course, given the state of the world over the last few years, the pandemic is usually the heart of any pushback we receive on our revenue sharing model. And to get it out of the way – yes, our utilization rate fell during quarantines and the endless parade of scary, overwhelming headlines. Yes, that meant our people didn't earn as much during that downturn, causing some concern over uncertainty and an ill-defined future.
However, although utilization and compensation fell during those months, there were no layoffs or furloughs from Embark, something most firms and many companies can't honestly say. In fact, along with our double-overtime comp program, we hired 30 additional people during that downturn, a testament to our absolute belief and confidence in our vision.
But it's not just about our people needing support in both good times and bad. Clients do as well, relying on our expertise and guidance through thick and thin. To that point, sticking with 2020 as the bellwether, not only did our utilization rates quickly bounce back up, but we also finished the year with double-digit growth. And that's the type of thing that brings a smile to a client's face, especially when times are tough.
To borrow a term from the gridiron, our model allows us to play a dynamic bend but don't break defense when the economy – or the world in general – goes sideways. All the while, our people understand we'll take care of them throughout, moving mountains for Embarkers if possible. And that, by proxy, means we're taking care of our clients as well. Once again, a win-win all around.
In the end, we have a happy, motivated team that remains intact, serves our clients well, and, just as importantly, doesn't have to experience the dark side of emotional, mental, financial, and developmental risk that comes part and parcel with "downsizing."
The Shadow of Institutional Risk
We should also mention the perceived institutional risk inherent in younger, faster-growing organizations, something that might have been a valid pushback for Embark a few years ago. However, we're not a young firm anymore. Nor do we have to scratch and claw to turn heads with our revenue.
The truth is, we've experienced consistent triple-digit growth for both revenue and headcount over the past five years. Today, we're a $100M organization with 400 people, a footprint of 10 offices that stretches across the country, and a stiff wind at our back as we look at the road ahead.
Obviously, we're doing something right. Actually, many things right, assuming those metrics are a decent barometer. And while we can't say exactly where we'll be a decade from now, our current course certainly paints an exciting future.
So if anything we've said about our comp model, culture, or vision has piqued your interest, we encourage you to ask around, reach out to our people, and do your due diligence. Because if you're a high performer that values a more seamless work-life integration, time to pursue your passions, and the compensation to fund it all, we have a spot waiting for you.