accounting tips
10 Questions Your Accounting Team Must Answer To Survive Hypergrowth
BY Clancy Fossum, CPA* | September 17, 2019
We're not going to lie and say periods of hypergrowth aren't thrilling, because they are. That type of rapid expansion is what your founders dreamed of when they launched your company. But, as we've discussed before, that doesn't mean hypergrowth is without peril. As exciting as it seems at the time, it also has the potential to tear your organization down to the studs if you don't take proper precaution.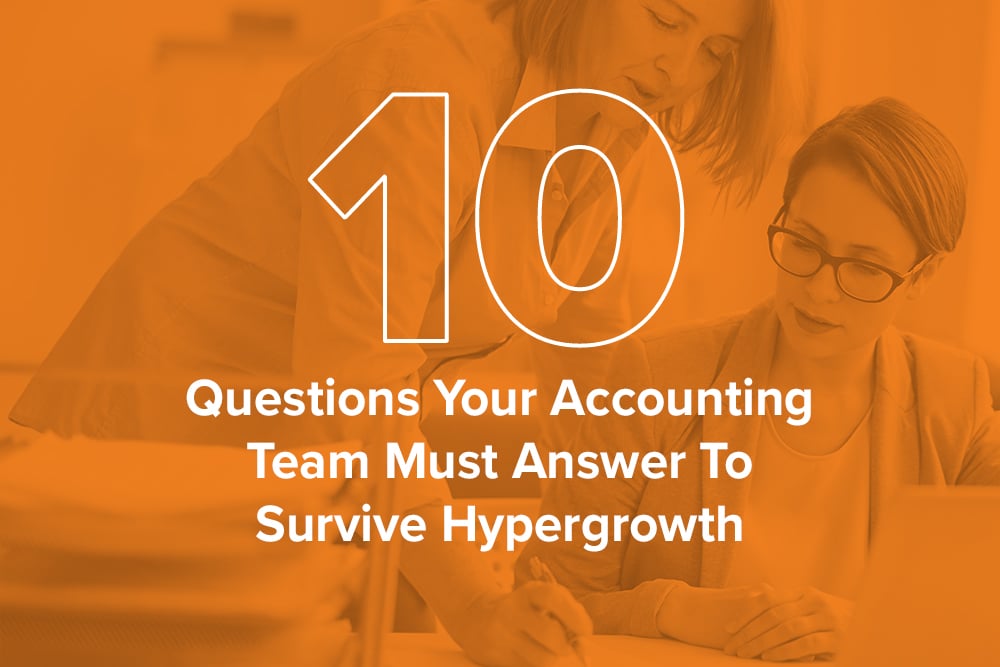 To keep your business intact and operations efficient during hypergrowth, Embark has assembled ten questions your accounting team must answer to survive the hypergrowth rollercoaster. With a bit of thought and foresight, you can help ensure rapid growth is a springboard to success rather than an iceberg sitting in your financial North Atlantic. Because we all know how that story ends, and your company is just too darn good to meet such an icy end.
1. Are You a Cohesive Unit?
Hypergrowth comes in a variety of different forms. Sometimes it's just producing a widget that consumers can't get enough of, other times it's through M&A activity. No matter the source of growth, however, rapid expansion has a way of diluting the communication and teamwork across your accounting and finance functions.
In the case of acquisitions, this type of hypergrowth requires you to integrate entirely new accounting departments into your operations. Maintaining a sense of cohesion is critical under those circumstances, where you view your now larger company as a singular, unified unit rather than your core team and a bunch of new people. A splintered, segmented perspective on a newly expanded accounting team will inevitably result in miscommunication, information bottlenecks, and knowledge gaps that can quickly put the brakes on your growth.
2. What Steps Will You Take to Maintain That Cohesion?
Building on that previous thought, maintaining that sense of cohesion is obviously essential in transforming your hypergrowth into sustainable success. But what steps will you take to preserve that unified approach? First and foremost, it's important to plug your accounting department into the comings and goings of your overall organization. When your accounting team is trudging through unchartered territory without a flashlight, it's challenging to stay on course. It's especially crucial for accounting to be in tune with operations since rapid changes have a habit of impacting your accounting department first.
Likewise, integrating new team members or departments into your existing framework isn't necessarily intuitive or fast. Some companies find it helpful to have consistent departmental meetings – either weekly, monthly, or quarterly, depending on specific needs and complexities – to ensure everyone is on the same page, apprised of all important information and roles, and clearly understands both individual and team goals.

Such meetings can become a reliable internal control that ensures communication between all of the key stakeholders, including facilities, finance, treasury, accounting, legal, and operations. Similarly, employee feedback can be a beneficial tool during hypergrowth, allowing managers to maintain a pulse on their team and identify any particular pain points that could gum up the works.
3. Is Someone Monitoring Your Control & Process Environments?
As we said, hypergrowth is a thrilling experience in any organization's life. However, that excitement can make it easy for managers to lose sight of the forest through the trees. Taking your eye off the bigger picture, even for just a short amount of time, can allow your accounting to quickly veer off course.
In your accounting function and operations, someone needs to keep their eye on the bigger picture, whether that's someone elected within the organization itself to bridge the expansion gap, or an outside consultant. Inconsistencies in your control and process environments as you grow can have exponential impact, and we don't mean that in a good way.
If your hypergrowth stems from M&A activity, it might be best to bring in outside consultants to provide an objective view of your accounting processes, especially during the complex and sometimes unnerving initial weeks and months. Having a third-party to view those processes as a whole and examine how new teams and systems are meshing with existing ones can help identify any information, communication, and knowledge gaps that inevitably lead to trouble.
4. Have You Established a Game Plan & Project Manager?
Any large project your company takes on, whether it's building new facilities, expanding product lines, or integrating new departments, needs both a game plan and project manager to keep everyone and everything on track. An effective game plan is a well-organized strategy that takes both the short-term and long-term into account, helping steer decisions and providing a constant touchstone to track your progress against timelines and goals.
The project manager facilitates that game plan, always keeping one eye on current operations and the other on what's to come. When choosing who to task as project manager for your accounting team during hypergrowth, be sure to account for their daily responsibilities as well as the additional strain of monitoring your accounting and finance departments throughout the growth. While someone like your controller would seem like an obvious choice for such a role, there might not be enough time in the day for them to effectively handle the additional responsibilities.
Alternatively, using experienced consultants in that role – wink, wink, nudge, nudge – means you have a team solely focused on the task at hand. Their entire mission is to save your accounting function countless hours and resources while ensuring there are no inconsistencies, gaps, or breakdowns in everything from your systems to controls. Your team already has more than enough on its plate without having to put out frequent and spontaneous fires that have a way of popping up at the worst times.
5. What Are Your Limitations?
One of the most important overarching needs during hypergrowth is understanding your limitations in staffing, technology, and processes. Rapid growth will inevitably strain your existing infrastructure without sufficient planning. Your C-suite might have their hearts in the right place, but they should ground their expectations in reality.
In other words, just because you have the resources to purchase new accounting systems to better manage your growth doesn't mean that you're immediately ready to tackle that project. Your data must first be clean and accurate to migrate to a new system. Otherwise, you're just complicating an already complex situation and putting even more stress on your team. During conversations with executives and managers, always try to have someone with firsthand knowledge of your limitations, whether that's an internal project manager or just an accountant with experience in rapidly growing companies, to explain what's feasible and what's not.
6. Have You Positioned Your Team for Success?
Hypergrowth doesn't just fall out of the sky and into a company's collective lap, no matter if it stems from M&A or internal growth. Make sure you're adequately forecasting for your department and enabling your team for success. If after looking down the road you find you're lacking knowledge, skills, or sheer staff to effectively handle your growth, then think about either hiring additional people or bringing in consultants to lighten the load.
Ideally, you want these types of personnel decisions to occur a good three months in advance of your hypergrowth. Granted, that's not always possible, but that's why accurate forecasting plays such a vital role in the hypergrowth equation. Taking a shortsighted approach or procrastinating will only place additional stress and burden on your accounting function, leaving you susceptible to turnover at a time when you can least afford it. Maintaining continuity throughout your hypergrowth is imperative and could very well make or break your ultimate success.
7. Can You Efficiently Integrate New Systems With YourExisting Ones?
Hypergrowth will inevitably result in either system integrations, entirely new accounting systems, or both. Never put all of your accounting eggs in one basket and assume that all of those systems will immediately sync and all will be right with the world. In fact, it's probably best to assume that there will be some bumps in the data road.
For that reason, although we understand that it's a lot more work, it's absolutely critical that you run any new systems parallel with your old ones. There will always be some data migration issues, no matter how detailed your approach, but those issues don't necessarily have to be devastating as long as you take the proper precautions. Various mapping issues and a host of other data inconsistencies can put a grinding halt to your accounting function, something that can be devastating under any circumstances, but especially during hypergrowth.
8. Are Your Higher-Level Managers Focusing on the Right Areas?
During hypergrowth, higher-level managers need to be comfortable delegating authority to maintain focus on the right areas. As your company and staff grow, it's often impossible for one person to properly supervise every single person under their widespread wing. Construct an efficient framework and designate certain responsibilities and tasks to specific individuals as your team expands.
In the meantime, managers can concentrate on building an internal control environment that will help your company absorb the growth in the healthiest, most effective manner possible. Without the proper checks and balances in place, your growth is precarious at best and can threaten the longevity of the entire organization.
9. Do You Have a Team of Advisors in Place for Guidance?
It's always helpful to walk in the footsteps of others that have been there before. Although every public company has a board to provide guidance, smaller private companies don't necessarily have a person or people to turn to for advice during rapid expansion. Before you start your hypergrowth journey, make sure to have people in place – whether it's a trustee, advisory board, or just someone with experience – to bounce things off of throughout the process. Having access to advanced accounting expertise can be instrumental in assuring stability throughout your growth.
10. Are You Keeping an Eye on the Compliance Road Ahead?
Lastly, remember that you're breaking new ground with your hypergrowth. What your company used to be will likely be vastly different from what it is after your expansion. Selecting an appropriate team of auditors can help ensure you build your growth on a solid foundation rather than a series of poorly spaced stilts.
Similarly, you could very well evolve from a small market firm to a mid-market one, or mid-market to large. As you grow, make sure you analyze your changing compliance demands as well. Document anything and everything, using systems that make all of that valuable data as accessible as possible to your auditors, stakeholders, and internal team. This is especially true if outside investment or an IPO is in your future since that data will play a crucial role under both circumstances.
Now, you might've noticed that we mentioned outside consultants here and there throughout those ten topics. Like it or not, as exciting as hypergrowth is for an organization, it's also a distinct threat to your viability. Embark has the experience and expertise to ensure your team, systems, and processes can effectively absorb everything that hypergrowth brings along with it.
Maybe that's filling critical areas in your accounting and finance functions, integrating or implementing new systems, or just making sure your data, processes, and controls are up to the task. Either way, Embark is always here to roll up our sleeves and make sure your expansion is nothing but a rousing success.