Maybe it's the water. Or the crisp mountain air. Or the unique and talented people. At the risk of sounding like a beer commercial, Colorado is an exceptional place that isn't exactly flying under the corporate radar these days. In fact, both Denver and Boulder are seeing a consistent stream of companies moving into their cozy and inviting borders, all trying to bottle that Rocky Mountain secret sauce for their own success.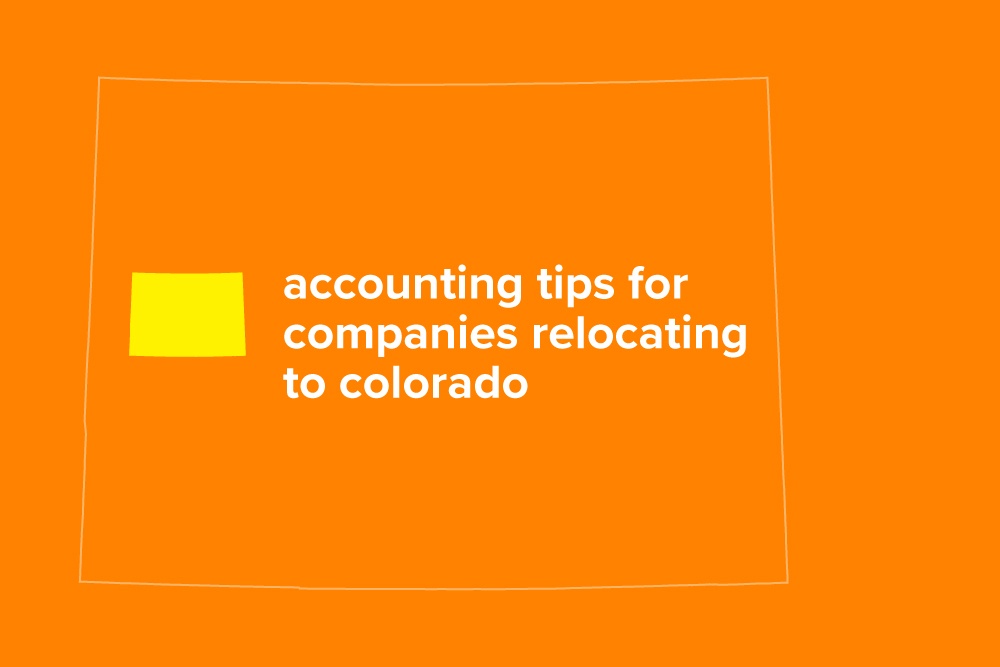 However, healthy, positive growth is a two-way street so, for every Jansport and North Face moving into the Denver area, local governments are matching the efforts with significant investments in public transportation. As Downtown Denver continues its transformation into a major economic hub, Boulder embraces tech-oriented startups that lend the entire region an innovative, enthusiastic feeling.
Sounds pretty enticing, right? As participants in Colorado's ever-growing economic growth ourselves, Embark shares your excitement and wants to make your move to Colorado as smooth and efficient as possible. So take a look at a few insights and accounting tips we've put together before you start loading the moving trucks, be organized and meticulous with your decision-making, and you'll take to the Rockies like barley and hops to mountain spring water. Obviously, Embark has a cold one on the mind today.
A Growing, Innovative Economy Awaits You
Talent is the foundation of Colorado's booming economy. Featuring a top-ten labor market that's rich in knowledge, skill, and youth, companies are moving to the Centennial State in droves to leverage the benefits of innovative minds and a strong work ethic. In fact, within the tech sector alone, companies like Slack, Accelo, and HomeAdvisor are in the process of leaving Silicon Valley for the comfortable confines of Colorado at this very moment. Naturally, it shouldn't come as a surprise that Colorado is currently ranked fifth in job growth amongst all states, a positive economic harbinger of even better days to come.
Do Your Research, Make a Plan
Colorado is a relatively large state and has different regions within its borders, many specializing in a particular industry or knowledge base. For that reason, it's absolutely critical for you to align your company's own strengths and expectations with the area most adept in those same traits. This starts by identifying the concentrated talent pools that serve your needs well, like the tech-savvy, startup-oriented population in Boulder, for instance. An area like Boulder would work well for an innovative new company that's reliant on burgeoning technologies but not so much for a large mining corporation.
Likewise, make certain the area's infrastructure can support your culture and collective employee lifestyle. Traffic, access to public transportation, cost of living, recreation, and a variety of other factors are all essential aspects of fostering a satisfied, motivated workforce. Happy employees are productive ones or, to paraphrase a saying from sports, it's not just about the X's and O's but the Sallys and Joes as well. Sound economic metrics and indicators won't get you far if your employees aren't content.
A Smooth Transition for Your Team
No matter where you're moving from, you're bound to lose some employees that simply don't want to pick up their lives and set it down elsewhere, no matter how beautiful or promising Colorado might be. This is yet another thought to take into account, making sure the transition between locations is as smooth as possible to avoid disrupting operations.
Aside from the obvious needs like movers and notifying vendors and customers of the move, your people must be at the center of your decision-making. Granted, since Colorado's robust and talented workforce is likely a key motivator behind your choice in the first place, odds are you won't have difficulty finding people to fit many operational needs. However, every company has individuals that possess unique, specific historical knowledge and insights that are extremely difficult, sometimes even impossible, to replace. As soon as you decide to move, do everything within reason to convince those individuals to stick with the company. If they choose not to, be sure to transfer as much of that specific knowledge and insight to those that are moving with you to mitigate the impact of the loss.
When looking for ways to fill those inevitable gaps in knowledge and know-how, however, Embark has a ray of hope to offer you. With a thriving office in Denver that is growing by the day, Embark can provide you the ability to fill those gaps in your accounting and finance departments with an absolute expertise in the fields, particularly if your search for permanent team members gets drawn out for whatever reason. Obviously, it's a good thing to keep in mind knowing that your financials don't have to suffer, even if attrition rears its ugly head because of your move.
Don't Let Data Slip Through the Moving Cracks
Speaking of your accounting team, aside from the myriad other responsibilities that fall on their capable shoulders, data integrity must become a focal point for them before your move takes place. With a thorough, organized strategy in hand, there's no reason for an office move, whether it's to Denver, Boulder, or Kilimanjaro, to needlessly cause data loss. Therefore, your accounting team should take all necessary precautions and plan well in advance to minimize the time systems are offline during the move, properly coordinating both cloud and physical server issues to avoid data loss and disruption. Likewise, make certain they establish a cut-over date that clearly delineates between work completed at the old office and the new Colorado location.
Establish a Network of Local Specialists
Depending on your circumstances, the move could also create the need to find a new auditor, consultants, bankers, recruiters, and a variety of other professional specialists that are vital to your operations. If you do find yourself with such a need, remember that patience is a virtue and Rome wasn't built in a day. In other words, it might take a bit of time for everyone to get on the same page and understand how one another works. Hopefully, the transition to new local specialists will be smooth and worry-free but, in case it isn't, don't panic because effective communication goes a long way in smoothing out bumpy roads.
In the particular case of an auditing firm, perhaps your move to Colorado is a much-needed opportunity to find a new firm, maybe due to substandard performance, excessive fees, or merely a poor personality fit. If that sounds familiar, use the move as motivation to look around and see what other auditing firms have to offer. As you probably guessed, Embark can help you with the process, helping to keep your financial house neat and tidy so your new auditor doesn't walk into financial disarray.
Likewise, if your due diligence into the new state tax laws still leaves you with unanswered questions and your team is already swamped, a local tax accountant that's well-versed in the Colorado tax code can make life significantly less complicated as you transition from your old state. Once again, the smoother the move, the better, whether you're talking about data, employees, taxes, or nearly anything else.
Colorado has much to offer a company trying to establish a bright future with its wealth of innovative talent, ever-expanding infrastructure, and robust economy that doesn't appear to be slowing down anytime soon. Plan your move well, have your accounting in good order, and we'll join you for that cold one we mentioned up top.