Robotic Process Automation
Best Practices for an RPA Deployment and Delivery
BY Erick De La Fuente, CPA* | August 14, 2018
So we've extolled the virtues of RPA, pontificated upon the beauty of automated processes, and quelled your fears of a robot-laden future in your accounting and finance departments. Now, your friends here at Embark are going to put down the thesaurus for a moment, allow you to collect yourself a bit, and launch into some tasty best practices for your RPA deployment and delivery. Everyone on board with that? Good. We promise you're in good hands.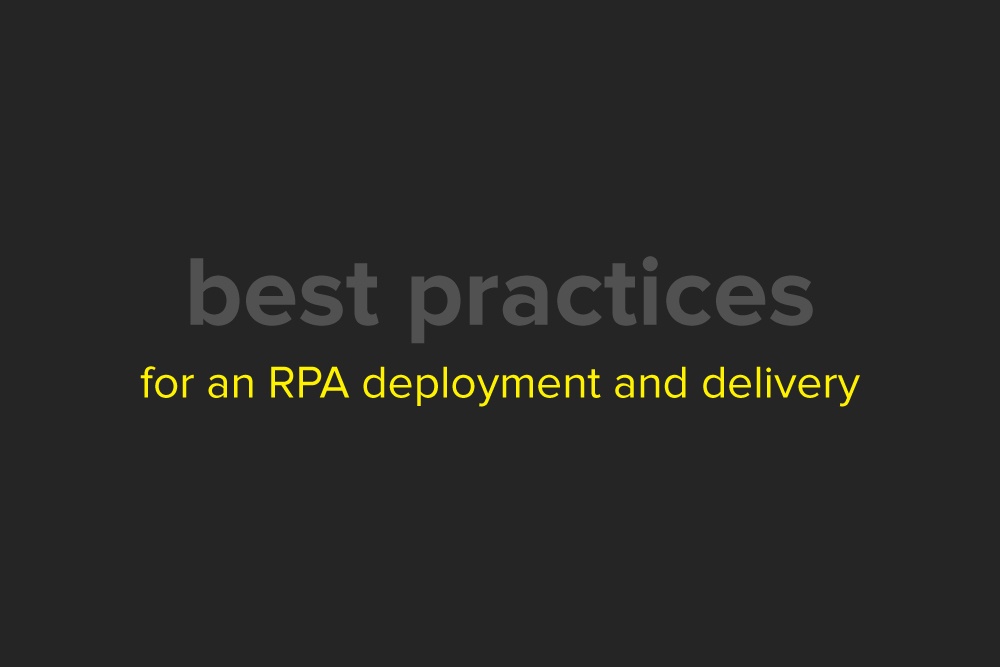 Assuming you've meticulously pored over our finely-honed approach to choosing an RPA vendor, you know that assessing your internal processes, deciding which you will automate, determining scalability and customization needs, as well as other factors, are all critical components of the process. Once that phase is behind you, however, you're almost ready for the rubber to hit the financial road and take your RPA out for a spin. Cool those jets for a moment, though, because like everything else in the process, it pays to be deliberate and meticulous with your RPA deployment and delivery – baby steps, grasshopper.
Project Roadmap
Would you begin a long road trip, one you've wanted to take for years, without a GPS app or roadmap to guide your direction and progress along the way? Of course you wouldn't, and neither should you begin the RPA selection and deployment process without an overarching project roadmap that defines and places handoffs and milestones. Developing a gameplan requires quite a few conversations with your trusted advisors at Embark to spell out expectations clearly and arrive at an agreement on them for the overall process, typically rolled out in three separate steps:
1. Understand
This first step is essentially what all of our conversations involve, ensuring that we correctly define all of the roles and expectations. We also provide demos of how the system and automated processes will work, building a bigger picture perspective to place everything in context.
2. Strategize
Again discussed in our previous post, How to Select an RPA Software Vendor, Embark develops a list of specific criteria based on our conversations and mutual understanding, whittling down a list of possible vendors to those that best match those criteria. Afterward, we conduct due diligence by creating a scoring system that ultimately determines which vendor and RPA platform we recommend to you.
3. Rollout
This final step involves the design, development, and deployment of your RPA system. We begin by creating the process design, meticulously documenting the current state in great detail so we can then redesign and optimize the process for the automated future state.
Afterward, we program, test, and validate the bots relative to the designated processes they will automate. Separately, Embark develops the necessary governance over the bots and newly automated process as well as an overview model. Finally, Embark develops training resources and identifies changes during parallel runs – comparisons of the process before and after automation – to ensure process efficacy after implementation of the bot. This step also helps identify change management needs as team member roles will inevitably change after process automation, requiring job responsibilities to change. Simply put, a far more streamlined process requires less human involvement which, of course, is one of the main reasons why you implemented RPA in the first place.
For example, let's say you have five team members on a process with a number of handoffs between them. Embark performs parallel runs in the process, it runs perfectly well post-automation, and it becomes abundantly clear the process now only requires one person to manage the bot, oversee the process, and make certain the handoffs continue to progress properly throughout the process. The other four team members can then be reassigned to other responsibilities within the department, lending the entire organization greater cost-efficiency and effectiveness just by implementing a single bot.
Collectively, the many steps involved are an example of process variability management, where we ensure the outcome of the automation is more efficient and effective than the individual steps taken along the way.
Defined Roles
Identifying and deploying RPA systems is a significant part of what we at Embark do every single day. As such, we understand that to some, the language involved can be a touch on the overwhelming side so, to save you a confused look on your face and perhaps a headache or two, we've put together some definitions of the different roles involved in the process. Please note that some of the terminologies might change between vendors but, for the most part, these definitions will give you a needed headstart in RPA Verbiage 101.
Process Developers: They define actions the bots will ultimately be responsible for completing. Process developers ensure the bots have the correct integrity requirements and maintain stability of the control environment throughout the automation process. For example, if a bot won't need access to multiple applications, process developers make sure their access is strictly limited only to what they need.
Control Room: In this instance, control refers to the place that will monitor the bot's activities, jobs, and progress. The control room, sometimes referred to as orchestrator depending on the vendor, is also where we assign the bot's actual actions and where the process developers work.
Bots: Bots can either be virtually hosted or physically hosted on someone's computer. From either place, the bots interact with the user and the different applications involved in the process.
Business Users: These are human users and subject matter experts that review and resolve expectations, exceptions, and escalations. If an issue arises that prevents the bot from proceeding, a business user is alerted to fix the problem or escalate it.
Applications: A wide-sweeping term that includes the business applications, tools, and whatever else the bots will be performing actions within. The process developers specify all of the applications involved and the control room instructs them.
Deployment and Delivery
The deployment phase will change based on the scale of the project, beginning with a proof of concept that includes a readiness check as well as understanding and strategizing to prove that the process works while also demonstrating its benefits. That initial step segues into a second readiness check where we determine the necessary scale and design, then configure and test the process. Finally, we enter the delivery phase and deploy the RPA.
Think of deployment and delivery as a wheel, given its different fluid and overlapping parts. Depending on the number of processes you ultimately automate, you can have multiple processes overlapping as you look to automate new ones. As the process evolves, it's crucial to remember that what starts as a proof of concept becomes a relatively larger pilot to, finally, reach full deployment.
Establish the Center of Excellence
As part of the deployment process, it is important to establish an onsite center of excellence that governs and monitors the entire process while also dispensing tasks. In this phase, we provide training to subject matter experts to eventually transfer ongoing support and maintenance needs from the vendor to the organization itself once the team is comfortable automating, monitoring, and troubleshooting the system. After the deployment and implementation is complete, future change management, task management for the bots, incidents with the bots, and information management will likewise flow through the center of excellence.
At the beginning of our discussion on RPA, you might have had a vague idea of what it was about but nothing too elaborate. Now that we've gone through our entire approach – from understanding your needs and choosing a vendor, to deploying and delivering a final product – we hope you have a better understanding of the benefits and expertise Embark brings to the process. Now let's all gather whatever clothes and canned food we can to prepare for the inevitable onslaught of our robotic overlords.
Just kidding.