Robotic Process Automation
How to Select an RPA Software Vendor
BY Erick De La Fuente, CPA* | July 26, 2018
A public service announcement from your dispensers of financial wisdom here at Embark: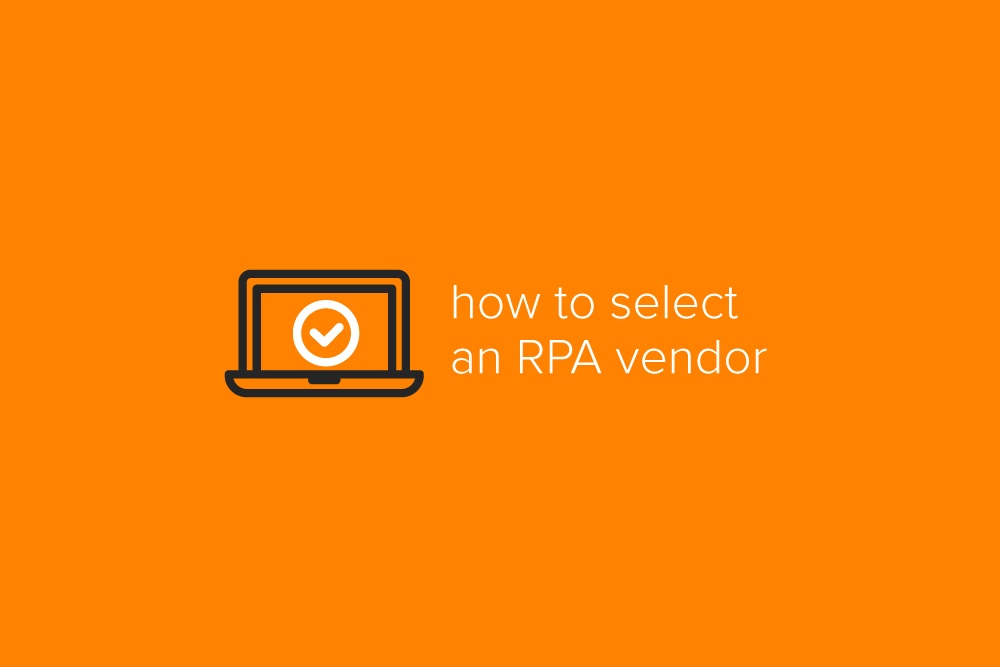 Paralysis by analysis is a serious condition that requires immediate professional attention. It is a plague-like scourge running rampant across all sectors of Corporate America. This dire prognosis renders companies helpless to the outdated functions of legacy systems that fall just below Pong and the Commodore 64 on the list of endangered digital species. It damages productivity, impacts the bottom line and, quite frankly, just doesn't make companies look too smart.
Thankfully, Embark is here to help. If you're a company looking to leverage the many benefits afforded by RPA but don't know where to start, we've got your back. Highly streamlined processes and the automated delights of RPA are transformative for a company if you choose the right vendor and implement the system correctly. Sadly, with so many to choose from, companies find themselves stuck in quicksand as they contemplate, analyze, and procrastinate over the decision.
That's where your friends at Embark enter the equation. While we're not doctors – don't even play them on TV – we coincidentally know our way around both paralysis by analysis and RPA systems. In other words, read on to understand Embark's meticulous process in finding the best RPA platform for you and your company's needs. Trust us when we say this is one instance where it pays to rely on experience and expertise. You can thank us later.
Understand the Process Requirements
Although Embark's process isn't incredibly complicated, it certainly is involved and particular. We start by performing an overall assessment and a healthy dose of due diligence, documenting your business operations and processes to get a better understanding of how those processes would function once optimized to then be automated.
We'll sit down and have a robust conversation over a cup of coffee and perhaps some snacks while asking the following:
What's the next step in your plan once this process is automated and successful?
Will we scale this project to all the other related processes?
Do you intend to scale the automation across the entire enterprise?
Do your automation plans include other cognitive solutions like machine learning or natural language processing?
Will you handle the bots in-house with a center of excellence set up, require outside assistance, or prefer to have it all handled externally?
Embark uses the detailed answers to such questions to ensure proper alignment with your specific goals and requirements. A misalignment of any sort can significantly impede the benefits derived from what otherwise should be extremely efficient and effective. Once we create an appropriate strategy, we proceed to find the most suitable vendor.
Create a List of Vendors & Their Evaluation Criteria
With your particular requirements now in hand and understood, we whittle down the list of possible vendors to a handful that fit your needs well. To further narrow the list, we create evaluation criteria and a succinct problem statement – what you want to achieve, what are your specific goals, expectations, and constraints – to see which vendors match best your guidelines.
Like the initial strategizing, we are very specific in the evaluation criteria we look towards, concentrating on particular categories and asking specific questions, including:
Pricing & Licensing Terms
What price points fit within your budget?
Does the product license need to include support maintenance?
Should the product be based on-site or cloud-based?
Vendor Characteristics
How experienced is the potential vendor?
What references can the vendor provide?
How mature is the product within the overall marketplace?
How large is the vendor's workforce?
Does the vendor have a dedicated training and support desk or are they outsourced?
IT Architecture Requirements & Flexibility
How open is the architecture? We specifically look at its flexibility, how easily its integrated and customized, and if it's open source.
Can we add additional open source software or products through the IT architecture?
How well does it fit into your existing IT environment?
Functionality
Will we be using built-in components? For instance, PDF and Microsoft Office functionality would need to be confirmed beforehand.
Will it use process reporting? Can we reuse some of the components?
What specific types of reporting functions does the solution offer?
User Interface (UI)
How fast and easy is the development process?
What is the required development skill set? In other words, we need to understand the programming skills required to model the processes within the tool.
What is the speed of development? We need to know how quickly a process can be modeled and running within the solution.
Control Center
Out of all the evaluation criteria, we pay particular attention to control center questions and concerns, narrowing our focus to the following:
Scheduling capacity
Scalability: We need to know how quickly the solution can be scaled up and how flexible it is in set-up, deployment, and other primary functions.
Auditing & logging activity: What set-up does this solution have in place for ensuring auditability. The process needs to be transparent, conveniently established, and efficiently monitored.
Due Diligence
Once we've established your clear evaluation criteria and priorities, we sit down with you and conduct due diligence on each of the potential vendors and how well they align with your goals and evaluation criteria. To make a fully informed decision, Embark collects information on each vendor, listing their advantages and disadvantages to develop a scoring system based on your criteria. Once completed, we make our final vendor recommendation for you to make your selection.
Embark's Unique Advantage
Given our unique place within the industry, we take full advantage of our experience and expertise within the digital finance space to assemble and use the most beneficial and insightful best practices to our process. Our thorough understanding of the industry and practices allows us to develop precise objectives and requirements to inform our strategic conversations with decision-makers on specific goals and expectations.
Likewise, with such a dynamic environment where needs and direction can shift in a short amount of time, our process always keeps one eye down the operational road. We want to understand where your finance department's transformation is heading, making Embark an invaluable partner as we maintain a focus on the bigger picture. In other words, not only can Embark see the forest through the trees, we can also roll up our sleeves and start cutting trees down as well.
Additionally, given our expertise in technical accounting, vast background in finance, and the implications of such solutions, we'll not only ensure any and all compliance demands are met from the ever-changing wills of the respective governing bodies but, just as importantly, the financial statement and forecasting impacts are clearly understood prior to making any decisions.
In the specific case of choosing an RPA vendor, working with Embark means you have someone that serves as a seamless conduit between your requirements, the vendor selection, and the actual deployment of the system. Embark saves you time, hassle, and prevents anything from being lost in translation between selection and implementation.
When it comes to selecting an RPA solution, you no longer need to be paralyzed and overwhelmed by indecision and worry. Let Embark guide you to your RPA dreams with our streamlined and highly effective approach. Yes, we're just that good.