Well, 2018 has already been a pretty remarkable year in Embarkville, and we're still only in Q3. First, it was being named one of Inc. Magazine's Best Workplaces for 2018 -- an accolade we pin squarely on our amazing team of financial superheroes. Next, we spread our wings and begin our deliberate march across the lower 48, opening new offices in Denver and Austin. And as if that wasn't enough, we have yet another memorable milestone to share with you, our fellow Embarkites.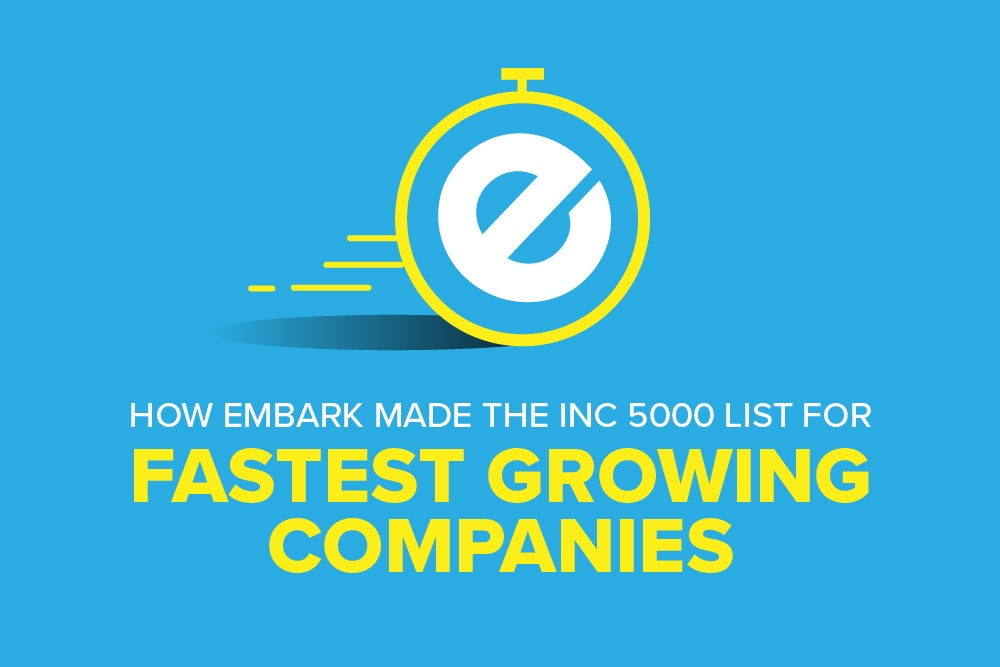 That's right. As the headline says, Embark has also made the Inc. 5000 List for Fastest Growing Companies. Of course, when we look back at the year we've had so far, we suppose such recognition shouldn't come as a complete surprise. Still, we receive this recognition with absolute appreciation and as an indicator that we're on the right path, must continue focusing on our people and culture, and stay diligent in our resolve. To that point, Embark's management team has put together a few thoughts on the many reasons behind our success, and what the future holds for your friendly neighborhood financial advisory consultants.
Growth Drivers
We'd be disingenuous if we didn't say the economy has boosted our rapid growth, both nationally and in the DFW area. Microeconomic expansion has provided significant macro growth, both of which provide fertile grounds for our collective skill set and perspective to thrive.
Embark's leadership is the ideal combination of youth and experience. Simply put, we're not so old that we're set in our ways, yet have the experience necessary to successfully navigate a complex marketplace, relying on our extensive knowledge and agility to inform and guide us.
We provide significant, tangible value for our clients. When you work with Embark, you will see positive results that leave your company in a better position to stay compliant, competitive, and cost-efficient.
A Look Down the Road
Our physical expansion has, to quote the 1970s, only just begun. With phenomenal teams now established and setting the world on fire in Denver and Austin, we're always considering additional targets for further expansion. However, our growth will be organized and deliberate, not just for the sake of growth itself but, instead, as part of a meticulous strategy.
An entirely separate source of growth, equally as important to future success, will stem from an increased focus on digital finance. As the marketplace continues to evolve, the many components of automation will only become more integral to standard operations, no matter the industry or organization. Given our expertise in the space, Embark will be a key participant in the ongoing digital transformation.
Final Thoughts
Making the Inc. 5000 List for Fastest Growing Companies is an incredible honor that is equal parts affirming and humbling. We see it as a validation of our unique approach within an industry that often seems like its too stuck, too comfortable in its ways. Sometimes cages need to be rattled, the status quo disrupted with a healthy, fresh perspective that might step on some toes now and again but, ultimately, is precisely what the industry needs. Given how far we've come in just a few short years, we promise you that Embark's future will be, to put it mildly, something to behold.