Integrations
Outsourced CFO Services: Benefits, Challenges, and Considerations
BY Stacy Galligan & Blake Brunson | October 11, 2022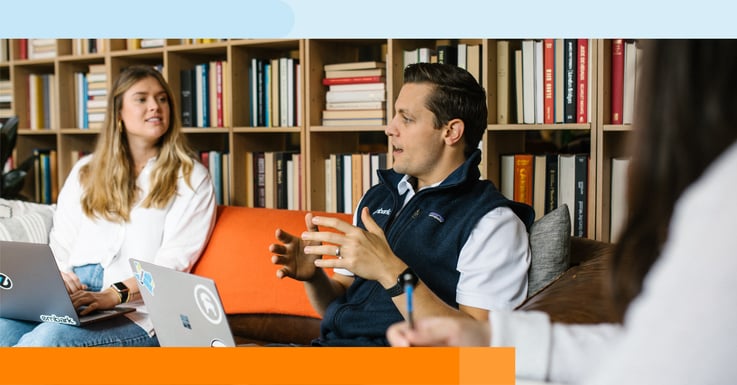 Deciding when to hire a CFO is a tough choice for small businesses. Your team is laser-focused on your company's operations, and while you understand financial leadership is critical, it isn't easy to carve out the time – or money – to invest in a full-time CFO. Quite the catch-22, huh?
Further, since so many smaller or fast-growing businesses struggle just to establish a reliable budget, they might not even know if they can afford a CFO, let alone balance the costs and benefits. But to build out the controls and forecasting to answer those questions, they need a CFO. And that's a vicious cycle if there ever was one.
Fortunately, outsourced CFO services can be a great alternative to taking a leap of faith in hiring a full-time executive. So let's look into the benefits and challenges of outsourced CFOs and how they can help your company grow.
Benefits of an Outsourced CFO
Hiring a CFO can be a massive step for a growing business, and not just in obvious ways like shoring up financial reporting processes. For instance, they can also lead you through a finance transformation, optimizing your people, processes, and technology for growth and success over the long haul. But as we said, a full-time, in-house CFO is also an investment that many small companies aren't ready for.
Instead, you might turn to an outsourced CFO. They fulfill the same duties as their full-time counterparts, just on a part-time basis, making them a significantly more cost-effective solution. Also, if you choose an accounting or finance expert well-versed in your specific objectives and needs, they can offer your team several immediate benefits:
Strategic planning: You have a vision for your team's goals but need a carefully crafted strategy to reach them. An outsourced CFO can provide insight into the nuances of different issues, including funding,

capital allocation

, preparation for future

mergers or acquisitions

, or just ensuring ongoing financial stability through all phases of the growth curve.
Industry connections: Other in-house executives might understand accounting and finance, but a dedicated CFO has a wealth of connections that your team might lack. They'll have worked with banks, investors, and other industry experts for many years, and can tap into these contacts to expedite deals on your company's behalf.
Flexibility: When your needs change, moving on from an outsourced CFO is easier than letting go of an executive ingrained in your organization. For example, a startup might engage one outsourced CFO to go through a fundraising phase, then pivot to another who's more experienced in managing debt and long-term stability.
Cost savings: The average salary for a full-time CFO is

over $415k per year

, which is out of reach for many small and growing companies. By spending a fraction of that on an outsourced CFO, your company can put the savings to other uses, whether it's accounting support staff or other internal initiatives.
Comprehensive help: Along with providing overall leadership, an outsourced CFO can also identify and spearhead initiatives that fill gaps and weaknesses across your accounting and finance functions, including:

Financial data and

systems clean-up

Timely and accurate

financial statements

In-depth financial forecasting, business modeling, financial planning
Identifying and utilizing specific metrics and KPIs for advanced analysis
Tax planning
Business decision-making and strategizing
And that's just for starters. Of course, depending on your goals, even the most experienced chief financial officer can't do it alone, so other key business needs like FP&A and even data and systems specialists might arise at some point. But it's all for naught without a capable person leading the finance department forward.
Thankfully, working with a full-service accounting advisory firm can accelerate this process, as they'll offer outsourced CFOs along with specialists that can support your growing needs, from finance transformation to ESG reporting and everything in between.


When Does Outsourcing Your CFO Make Sense?
Most small businesses can use some help with financial management. Research from Intuit found that 80% of small business owners feel stressed because of their company's cash flow. Naturally, having a CFO to consistently work with can be a big relief.
But before you take a deep dive into an outsourced CFO search, first consider what you're really looking for. Does your team need a financial leader that will be integral to your company's growth and strategic decisions? Or are you looking for help managing your books, tightening your budget, and dealing with taxes and payroll? For the latter, you might be better off hiring a controller, someone who might be better suited for day-to-day accounting operations.
Zooming in further, we've identified three of the most common scenarios where outsourced CFOs can be a great fit:
Picking up slack: Members of your team – possibly even CPAs – might have the knowledge and expertise to fill the CFO role. But do they have the bandwidth to handle those responsibilities on top of everything else on their plate? Bringing in an outsourced CFO frees up your other executives to focus on their primary roles, all while still ensuring your accounting department has the leadership it needs.
Buying time: Many companies are ready to hire a full-time CFO but don't have an ideal candidate. In this scenario, using an outsourced CFO on an interim basis can help keep your finances on track while you cast a wider net to find the right person to permanently fill the role.
Growing a small accounting department: Startups often have at least a part-time bookkeeper, if not a full-time accountant. But taking the next step toward a full-fledged accounting function can be confusing. An outsourced CFO can evaluate your company's situation and financial needs, building a roadmap to add accounting personnel in a logical, sustainable way.
Challenges of Outsourcing Your CFO
Outsourced CFOs are a valuable tool, but they're not a perfect solution. Sure, you can count on them to be professional and provide sound advice. However, when push comes to shove, they'll always be an external party with their own interests and goals which, as you might guess, don't necessarily align with yours over the long term.
When assessing whether an outsourced CFO is right for your team, there are a few challenges to keep in mind:
Limited integration and availability: You're working on your business all day, every day, but they're not. In many cases, it's difficult to fully integrate an outsourced CFO into your culture, much less have your other company leaders see them as genuine partners. Also, having to work with a fractional CFO consultant on a set schedule, where you likely share them with other companies, can interrupt your team's rhythm, introducing delays and hurting internal momentum.
Continued growth: Outsourced CFOs make sense for startups and small companies early in the growth phase. But you can quickly outgrow them. If your organization is experiencing rapid growth, you may be better served hiring a full time CFO, as paying an outsourced CFO for 40 hours/week would be far more expensive in the long run than bringing one in-house.
Recruiting and staffing stability: Top-tier talent wants stability in their leadership structure. When you have an outsourced CFO leading your accounting department, it can be tough to recruit employees, particularly if you go the virtual CFO route. Many people are afraid of joining a team that could be in flux or lack strong leadership, wondering if the next CFO will want to go in a different direction or bring in their own personnel to fill key positions.



What to Know and Ask When Looking for an Outsourced CFO
It's not hard to find an outsourced CFO – plenty of financial executives have a strong CV and a long list of industry contacts. However, finding the right person to fit your company's unique situation and needs takes more work. Therefore, we've identified a few important topics to cover when evaluating candidates.
Compensation Structure
Most outsourced CFOs bill on an hourly basis, but there can be other consulting fees beyond that. Some will also charge a monthly retainer, while others will include a minimum monthly threshold for billable hours. While bigger companies can frequently negotiate more flexible terms for outsourcing, it usually depends on filling multiple roles, such as both CFO and controller.
Experience
Finding the right fit isn't just a question of how long they've been in the field, but also what they've done. If you're a growing company looking for investors, you need an outsourced CFO who has experience with private equity and venture capital firms.
Conversely, a company that's an acquisition target wants a CFO who has navigated the M&A process and worked extensively with auditors. A more mature and stable company might need someone with strong GAAP and technical accounting experience. In other words, CFOs aren't one-size-fits-all, so finding one that can fill your specific needs is critical.
Service and Expectations
As with any outsourcing or consulting relationship, you want to make sure you'll receive the level of service and attention you're paying for. Asking how many clients a potential CFO has, along with how much time they spend with each, is a good measure of their workload. While you're at it, explicitly ask about responsiveness and expected turnaround times. Business moves quickly, and you can't afford to wait several days for a response to an email.
Internal Questions
When you're considering an outsourced CFO, it's not just about evaluating the candidates. You also need to determine whether your organization is ready and able to work with them. Thus, be sure to ask a few critical questions to your team:
Do we have an onboarding plan to integrate the CFO into our operations and regular communication?
Are we prepared to provide them with all of the data and information necessary for an

accounting leadership transition

?
How are we going to evaluate whether they're worth the expense?
Are all key internal stakeholders in agreement with the decision as the best choice for the company's future?



An Outsourced CFO Can Still be a Genuine Partner
We understand that outsourcing your CFO is not only a massive step for your business, but can also be a daunting process. After all, you're reliant on their financial expertise as well as their ability to embrace your company's culture, operations, and vision for the future. But that's why Embark exists – to provide solutions that help your business grow, making life easier for you along the way. Today, it might be an outsourced CFO. Tomorrow, it could be preparing for an IPO.The point is, Embark's a genuine partner for every step of your journey. So let's talk.