financial consulting
Embark Makes Name For Itself During First Year in Denver
BY Sarah Jolly | May 24, 2019
Something big is afoot in the Mile High City, but you can't say we didn't warn you. Way back in the halcyon days of May 2018, we announced the opening of our Denver office, how Embark's culture and philosophy were an ideal fit for Denver's innovative spirit, and great things were just over the horizon. Now that a year has passed, the dust has settled, and our Denver Embarkers are turning heads, one phrase comes to mind -- we told you so.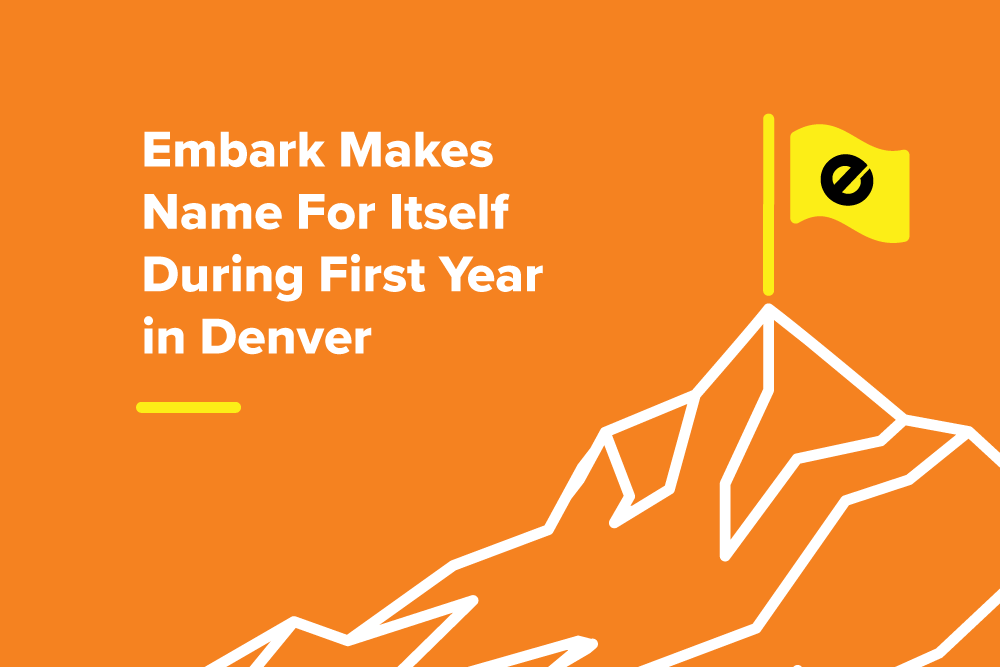 Not that you ever doubted us, of course, but we can't help being a bit of a proud peacock at the moment and flouting our sparkling plumage to the world. So let us bend your ear for a few minutes, tell you about the many things our Denver dynamos have been up to, and what they have up their sleeves for the next few months.
The Story Thus Far
What started as a supremely motivated and talented duo has now expanded to 12 Denver Embarkers with more soon to come. We knew that our team would hit the ground running but, to be honest, they've surpassed even our lofty expectations. Word is getting around in the city, people are talking about Embark, and that brings a big ol' grin to our collective face.
Our Denver team perfectly represents our disruptive perspective on the financial consulting industry, one that looks at everything through a slightly angled lens to reveal an organization's true potential and sources of value. It's an attitude that Mile High companies are taking seriously, understanding that an engagement with Embark isn't your standard consulting fare but an opportunity to dig deep, root out issues, and find solutions that are both impactful and innovative.
A recent engagement with one of our clients, CANarchy, will tell you everything you need to know about the value Embark brings to the table. Although we're not the type to overstay a welcome, our consultants continued to identify additional points within CANarchy's internal team to increase efficiencies, lower costs, and drive revenue through improved accounting functions.
What started as a relatively quick one or two week job now continues five-months later at the request of CANarchy's CFO and controller, delighted with the different pain points and improvements our additional time has identified and resolved. As it turns out, despite receiving over 120 applications from extremely qualified individuals from all over the country, they have yet to find anyone comparable to our own Embarkers. It's high praise indeed, and just one of many stories we could tell you about the impact Embark is having on Denver businesses.
In fact, that experience encapsulates our entire Denver team, where corporate executives routinely ask us what supernatural force helps us find our amazing talent. While we aren't willing to give up all of our trade secrets, we can say with absolute sincerity that the fine business community in Denver hasn't seen anything yet.
The Road Ahead
So what do our Denver Embarkers have in store for the coming months? Plenty. Our immersion into the city's corporate brethren will continue at full speed. By our best estimates, our Denver team is north of 600 unique meetings with different Denver business leaders this past year. Going forward, we're going to continue that strategy, introducing ourselves, handing them our oversized business card, and let our superior work speak for itself.
Given the tremendous time we had last year, we'll also be a part of Denver's Startup Week again in 2019, a unique opportunity to share our insights and take a deep dive into the city's immensely innovative and forward-thinking talent pool. Likewise, we're partnering with the Colorado Thought Leaders Forum for an event aimed at sharing our leadership philosophies, best practices, and discussing our people-first approach with Denver's business leaders.
Granted, we have many more irons in the fire, but we'll leave that discussion for a later day. Suffice it to say, our Denver team is showing the Mile High City what Embark is all about, and the response has been tremendous. Naturally, as we continue along this dynamic path, we'll of course stay true to the fundamentals that make Embark so unique in the consulting space.

Whether we add one more person or one hundred to our Denver office in the coming months, culture and engagement will remain our primary focus, just as they've always been. It's why we've made Inc. Magazine's Best Workplaces list for the second year in a row, earned us our Great Place to Work certification, and allows us to attract the very best talent. As Denver is already figuring out, there's something special about Embark, and we can't wait to tell you what comes next.