Disruption. Sure it's a buzzy kind of word in business circles these days but, honestly, we can't think of a better way to describe our modus operandi. We want to rattle certain cages, unsettle the status quo, and reinvent financial consulting for a dynamic world. Embark's particular brand of disruption isn't random or disorganized, however. It's a precision tool that starts with a remarkable workplace filled with brilliant minds and driven people, a notion that continues to turn heads and capture the attention of a traditionally stoic and static industry.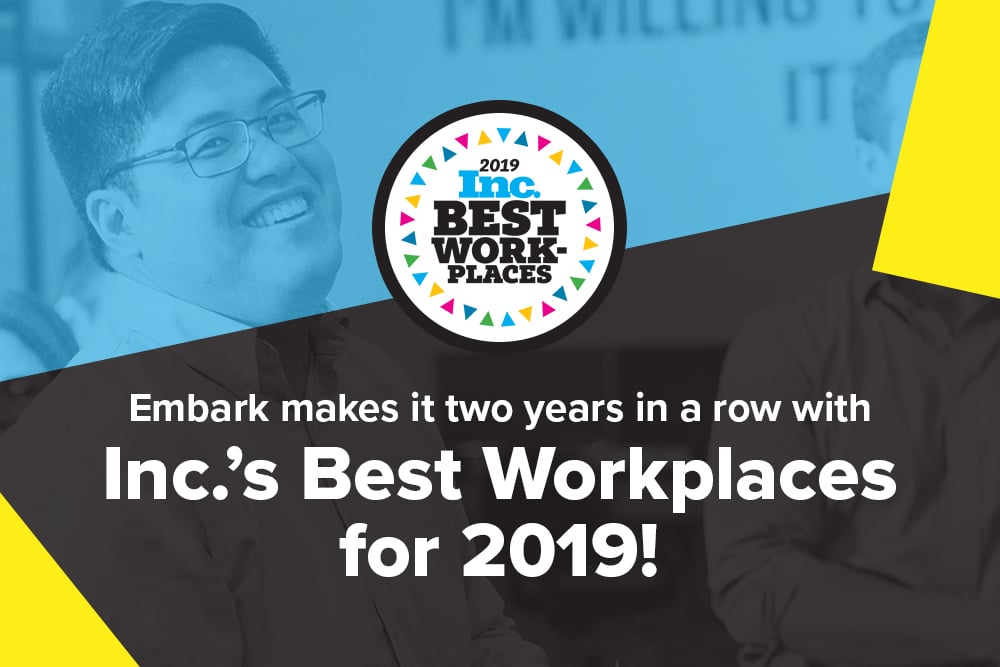 For the second consecutive year, we are both humbled and delighted to make Inc. Magazine's list of the Best Workplaces, an honor we take to heart given our people-centric approach. We take great pride in cultivating a satisfying and challenging environment, a workplace where our financial consulting superstars unleash their incredible skills and knowledge with a perpetual smile on their face. In fact, we interpret our inclusion on Inc. Magazine's prestigious list as validation of our perspective and fuel to the already blazing fire in our collective belly. And as you might have guessed, we're still just getting started.
The More Things Change...
Much has changed at Embark since we spoke about Inc. Magazine's 2018 list of Best Workplaces. Of course, our torrid rate of growth continues, still doubling our size year-over-year with no slowdown in sight. That expansion isn't relegated to our team size, however, but to our geographical footprint as well.
What started in Dallas has now grown to Houston, Denver, Austin, and more cities just over the horizon. Obviously, when we mentioned our plans for "ambitious expansion across the lower 48," it was only partly tongue-in-cheek. Suffice it to say, Embark is going places, and it's thrilling to watch a unique and ambitious gameplan come into fruition.
The More They Stay the Same
As any firm that's experienced growing pains will attest, growth can also be a detriment if an organization doesn't have a meticulous strategy propelling it. Sure, being one of Inc. Magazine's Best Workplaces for 2019, especially out of the seemingly infinite number of organizations out there, is beyond thrilling. It's the context surrounding the recognition, however, that causes us to lift our heads higher and walk with a distinctive bounce to our step.
Honestly, we'd rather sacrifice our Mach 1 expansion if it meant losing who we are and what makes us special. Fortunately, growth and identity aren't mutually exclusive and that, when you boil it all down, is really what Inc. Magazine's recognition is all about for us -- successfully merging light speed growth while retaining our culture, employee engagement, and everything that makes us Embark.
The magazine's own findings while going through the endless list of companies only bolsters this notion, where a whopping 94.64% of Embarkers are highly engaged or, using Inc.'s descriptions, "Highly Favorable, Advocate, Intend To Stay, High Discretionary Effort." Further, 98% of our employees feel valued by our firm and senior leadership which, naturally, directly correlates with those staggering engagement numbers.
A Proactive Perspective
Was balancing such growth and our sense of identity an easy task, you ask? Not exactly. But that's where planning and a proactive, open-minded approach to growth play such a vital role. We've embraced new perspectives and solutions as we've grown, implementing critical employee engagement, culture, and recognition tools to maintain our essence and core beliefs. Between several new offices and exponential employee growth, it'd be easy to take our eye off of the prize and lose sight of what matters most -- our people.
Thanks to an incredible management team, focus, and effective strategizing, we're proof that companies can have their cake and eat it too -- growth and a consistently satisfying, challenging workplace. In fact, that's precisely how the majority of Embarkers described our firm -- challenging. We attract top talent, immerse them in an amazing culture, and challenge them to continually excel.
That philosophy has served us well over the last decade, and will continue to do so well into the future. Of course, that's not to say that there won't be bumps in the road as we progress, because those are inevitable. However, being recognized as one of the Best Workplaces for 2019 means we're doing something right, something special.
The Road Ahead
Going forward, we'll continue on our innovative and disruptive path, embracing solutions that meet our evolving needs and attracting the very best talent that each of our markets has to offer. Sure, a tight labor market makes it a bit more challenging to draw in that top talent, but the best of the financial consulting space are craving something different. They want something vibrant and challenging, a workplace that makes them leap out of bed each morning, immersed in a satisfying culture that fosters creativity and amazing results for the clients.
So does that sound like any firm in particular? We promise to keep being Embark and, with a bit of luck and staying true to our ethos, we'll hopefully be writing about 2020's Best Workplaces this time next year.