company culture
Embarkers on Why the Dallas Business Journal Chose Paul for Its Network 200
BY Sarah Rentfro | March 5, 2019
Effective leadership shapeshifts to the environment. Sometimes it's straight out of a sports movie, an inspirational routine to rally the troops. Other times, leadership occupies a more fire and brimstone aura, intense and piercing to drive home a critical point. No matter what the environment and circumstances call for, however, the best leaders always view the world from a slightly different angle than most, revealing a perspective that few consider but all can benefit from.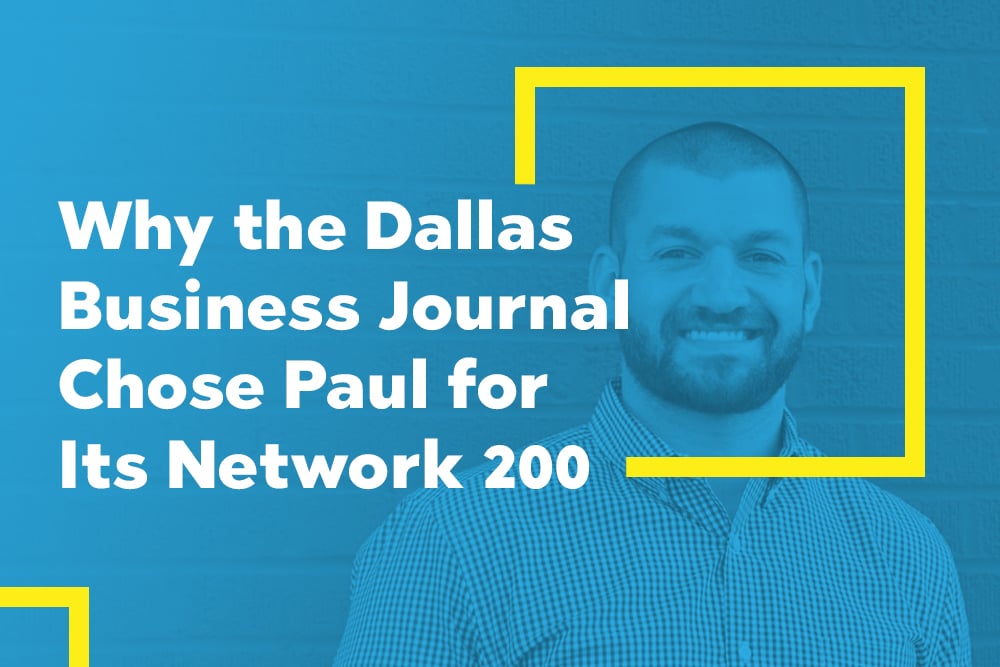 The Dallas Business Journal (DBJ) recently initiated its Network 200 series to spotlight such leaders from DFW-based organizations across a wide spectrum of industries. Sure, Embarkers are fans of the DBJ and think any business in the Metroplex would benefit from its insights but, as you might have guessed, we have an ulterior motive in mentioning the Network 200 -- our very own founder (and Chief Problem Causer), Paul Allen, was selected for the elite group of people and Embark couldn't be prouder. In fact, he was one of only 24 finance and financial services executives selected. We wanted to take a moment and discuss why they chose Paul in the first place.
It's All a Matter of Perspective
Groupthink can be a killer of innovation. When everyone within an enterprise thinks the same, dresses the same, and spits out the same canned answers when asked a question, organizational Darwinism dies a swift and painful death, dragging the entire enterprise down with it. Embark will never have that issue as our people and culture are front and center for every decision made.

Naturally, that dynamic started with Paul, trickling down and saturating every nook and cranny of Embark. And that dynamic, along with experience, expertise, and unbridled passion for what we do, is what distinguishes us from everyone else.
You see, Paul is a non-accountant with the heart and soul of a true entrepreneur, a disruptor extraordinaire. Sure, our ranks are filled with financial dynamos that bring specialized skill and knowledge to our work, but that entrepreneurial spirit and perspective are what truly propels us.

Without Paul and his unique, boundary-pushing mindset, there obviously is no Embark nor anything resembling it. After all, it's not like every company is recognized as one of Inc Magazine's Best Workplaces, right?
Paul drives Embark with his different way of looking at our traditionally stoic industry, driving us towards the success that made the DBJ sit up straight and take notice of him, our enterprise, and what sets us apart in the first place. To paraphrase the DBJ piece itself, Paul set out to create a firm for financial professionals who felt burned out at traditional firms, to make accounting and finance cool and vibrant. And that's precisely what we've done.

Success That's Hard to Miss
Even the loftiest of goals can remain unnoticed if success doesn't go along for the ride. Would we be having this discussion if Paul missed his mark and Embark wasn't soaring to our current heights? Not a chance. Fortunately for everyone involved, that is not the case, and Paul's vision and perspective aligned with a void in our industry – one that Embark continues to leverage for the benefit of our people, partners, and the financial consulting space itself.
In less than a decade, Embark has grown by leaps and bounds, spreading out beyond our Dallas roots and sharing our Embarkness with partners in Denver and Austin, with even more new offices on the horizon. That success, coupled with a groundbreaking approach to a very traditional and static industry, is why the Dallas Business Journal chose Paul as part of this Network 200 series. Vision and aim matched a need in the industry, starting with Paul but quickly growing to form a group of people with a unified set of goals, where individual strengths and quirks are both applauded and embraced, and the whole will always be greater than the sum of its parts. Sure, our Chief Problem Causer started Embark, but our people have been able to take his vision to new heights.

The Dallas Business Journal isn't the first to recognize our executive leaders' vision and spirit and, short of a zombie apocalypse striking our planet soon, it certainly won't be the last. Still, being recognized as a vanguard of innovative thought and action is something we just couldn't let slip by without drawing some attention to the honor, despite Paul's best efforts to squash our noble intentions.
So stand up and take a bow, Mr. Paul Allen, because you've earned it. But then get back to work because there's still much to be done.