Data & Analytics
QuickBooks to NetSuite Migration: Minimize Disruption, Maximize Value
BY Billy Leigh | June 10, 2021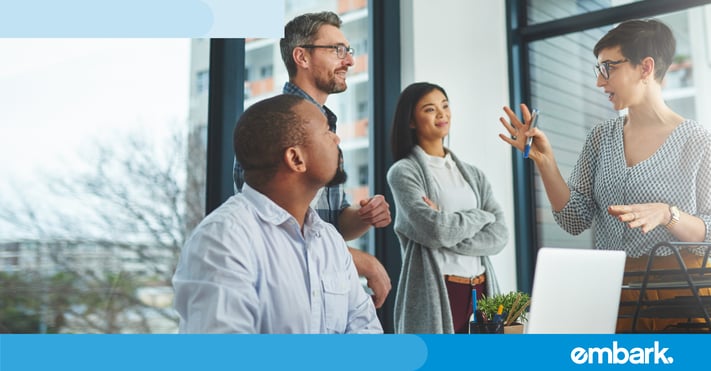 Outgrowing QuickBooks is a classic good problem to have. Sure, just researching migrations to a big-league ERP (enterprise resource planning) system like NetSuite speaks volumes about your past success and rosy future. But like any problem, even of the good variety, all it takes is a misstep or two for that good problem to bloom into a full-fledged crisis.
But that's why Embark is here – to lend you the insights and best practices we've collected from the NetSuite migration trenches. Just as importantly, we want to share some critical change management tips to ensure the transition is smooth as silk. Because as you'll see, migrating from QuickBooks to a comprehensive ERP system like NetSuite provides plenty of opportunities to veer off into the digital and operational badlands. But let's prevent that from happening, shall we?
First Things First: Have You Actually Outgrown QuickBooks?
We're not the type of firm that recommends change just to add a little spice to your operations, or to keep IT on their toes. Although migrating from QuickBooks to NetSuite can certainly help launch your enterprise into the stratosphere, that doesn't necessarily mean it's your best move, at least for now.
So let's begin by figuring out if a migration is in your best interest in the first place. And we're going to do that by posing a few questions.
Are you constantly having to MacGyver QuickBooks to accomplish tasks it wasn't designed for?
Are you using other software to cover tasks and provide visibility that QuickBooks can't offer?
Do your mountains of financial data cause QuickBooks to run like molasses?
Does the complexity or sheer length of your

month-end close

make you want to run and hide?
Are you approaching Intuit's user limit for Quickbooks?
Does your business already require significant inventory management, or will it soon?
Do you have more than one business entity to keep track of?
Do you find yourself spending a lot of time in Excel, ping-ponging spreadsheets across your accounting and finance teams, and on other manual processes and tasks?
Are you on the verge of

significant growth

?
If you answered yes to one or more of those questions, it's probably time to get serious about migrating to an enterprise system like NetSuite. However, if you responded with no across the board, then you're most likely fine sticking with basic accounting software suite like QuickBooks for the time being. But don't let that dissuade you from planning for the future, though. In this case, there's really no such thing as over-preparation.
Other Considerations on Leaving QuickBooks
Before we move on to the particulars of NetSuite and the migration itself, we want to zoom in on that last question we posed – are you on the verge of significant growth? Because while operational efficiencies are obviously critical to your success, there are some broader considerations to keep in mind regarding your company's future as well.
"Outgrowing" QuickBooks isn't just about its inability to address increasingly complex areas like inventory management, international sales, multichannel e-commerce, or reporting. At some point, as good as QuickBooks is for smaller companies and many startups, it can become an actual barrier to your business breaking through to the next level.
More Revenue, More Problems
A bigger employee headcount, new product or service lines, an expanding business model, new systems to address new business needs – they all come part and parcel with growth. And that's just the start of it, with capital requirements, accounting standards, and ever-increasing competition also hitching a ride.
Unfortunately, even QuickBooks Enterprise lacks the scalability, transparency, robust accounting and reporting features, and the countless other benefits an ERP system provides as your business segues to that next level.
In other words, there'll be a point where QuickBooks isn't just creating hassles and inefficiencies across your accounting function, but actually limiting your growth. And stakeholders don't like that kind of thing.
Why Choose NetSuite? The Benefits of a Cloud-Based ERP System
At this point, we assume you've seen the light and realize QuickBooks isn't the answer if you want your business to reach its potential. And while we've mentioned an ERP system as your best replacement option, we haven't explained why, or even what makes NetSuite a preferred choice.
Cloud ERP vs. On-Premises
You already know what an ERP system brings to the planning and management table, particularly:
Automated business processes
A centralized database
Cross-departmental insights
Process improvements
Greater efficiency and productivity
Although we're obviously simplifying the role an ERP system plays in an organization, perhaps the best way to look at an ERP is as a highway system connecting the people, processes, and technology across your enterprise.
Accounting, logistics, HR, marketing, and more – an ERP system unifies all of them through specific modules to provide maximum transparency and a truly holistic look at your enterprise. Up until a few years ago, the only way a company could harness those synergies and efficiencies was through on-premises systems.
But as SaaS models have taken the world by storm, on-prem solutions lose more ground by the day. In fact, roughly 63% of enterprises now choose a cloud-based ERP system over an on-prem one, mainly because on-premises systems are expensive, require significant internal resources and expertise, and seem to be in a constant state of maintenance and upgrades.
That's not the case with a cloud-based solution, though. Operating on remote servers, it's third-parties, not you, managing a cloud ERP system, taking a massive weight off your shoulders. And from a user's perspective, your people can access a cloud ERP from a web browser, meaning they can work wherever there's an internet connection.
But Why NetSuite? Pros and Cons
This is the part of the programming where we say Embark doesn't have a horse in the race. There is no agreement between Embark and NetSuite, no secret handshake, and certainly no compensation for us singing the system's praises.
We've focused on NetSuite rather than other cloud ERP providers due to its:
Integration capabilities: It's hard to imagine finding something a company cannot integrate into the NetSuite ERP, from accounting to CRM and all points between.
Architecture: The back-end database is a bit on the unique side, presenting a learning curve at first, but ultimately makes data extraction and useability a definite strong point.
Performance: While no cloud ERP can keep pace with the fastest on-prem systems, workflow is smooth and pain-free with NetSuite.
Technical resources: NetSuite isn't lacking in technical documentation, providing an immense knowledge base to pull from during implementation and all points thereafter.
Upgrades: Automated system upgrades mean you'll always be using the latest and greatest version of the platform.
Further, you'll have access to real-time data and reporting, intuitive data dashboards, and industry-specific, pre-configured options through the SuiteSuccess implementation methodology, all making your business information as relevant as possible. And that's along with the typical benefits you should expect from the better ERP systems, including advanced inventory management.
NetSuite Drawbacks
That's not to say, however, that NetSuite isn't without its drawbacks. When we said NetSuite isn't lacking in technical documentation, we meant it. But understanding that documentation is another story, especially during the implementation and migration phases.
Although we'll dive deeper into migrating your data from QuickBooks in just a moment, the high-level takeaway is this – there's a level of expertise required that most companies, even larger ones, don't usually have in-house.
So while your IT team might be willing to give it the ol' college try, we recommend bringing in experienced specialists from a reputable professional services firm who know their way around a migration and implementation. There's simply too much at stake to risk things going sideways on you. But since we're closing out these musings with some key change management tips, we're probably putting the cart before the horse right now.
Optimizing NetSuite for Accounting and Finance
Even after implementing NetSuite, many companies don't scratch the surface of its capabilities, highlighting the need to optimize the system for your specific needs. When it comes to accounting, an optimized NetSuite ERP should be able to:
Isolate, track, and report on key data points and metrics like cost drivers, regional revenue reporting, project profitability, and other nuanced financial data
Layering in controls and approvals for companies with a possible

IPO in the future

Automate critical processes
Streamline your

financial close

Automatically revalue foreign currency
Formalize entries for multiple entity structures
We could go on and on, but you get the idea. It's not just about migrating your data from QuickBooks or even successfully implementing NetSuite. Ultimately, you're going through this trouble to establish a footing that you can build from going forward.
Therefore, optimization and customization are just as critical to the process as migrating your data. If you're not using NetSuite and its many modules in the most beneficial way for your organization – accounting and finance obviously included – then those barriers to growth we discussed are still going to be an issue.
Migrating QuickBooks Data to NetSuite
That brings us to the main event. That said, you may or may not like hearing there really aren't too many ways to migrate your data from QuickBooks to NetSuite. As a matter of fact, it really comes down to two options – extract and load, or extract, transform, and load (ETL).
Extract and Load
This is a two-step process where you extract data from QuickBooks and load it directly into NetSuite. Extract and load requires a custom-built or a prebuilt connector to bridge between the two platforms, meaning there's no point where you can validate the data to ensure things are going smoothly.
Extract, Transform, and Load
ETL is a three-step process that involves either transforming the data in-stream or landing it somewhere between QuickBooks and NetSuite, usually a database, data warehouse, CSV, or Excel file to transform it.
Manually Extracting CSV or Excel Files
Focusing on the CSV or Excel route for a moment, they're the most rigid of the choices, abandoning any ability to audit or change the data through transformation. It's the most unforgiving, manual of the methods but is also the most common given the ubiquity of Excel.
Since you won't be able to validate the data until you upload it into NetSuite, once it finds its new home, you'll want to be extremely diligent in running reports in NetSuite in search of errors, gaps, and the like.
From there, with the assistance of either NetSuite's team or an outside NetSuite expert, you should continually test the functionality of the NetSuite data and native tools through the first few periods as well as your initial financial close.
Automated Extraction
Alternatively, if you pull the data down into a warehouse, you can clean up or manipulate the data before loading it into NetSuite, all without affecting your source data.
The migration itself is moving information from one schema into another, in this case, QuickBooks to NetSuite. Since NetSuite's schema is more complex than QuickBooks' – with additional labels, categories, and all the other ways NetSuite organizes information – mapping your move from system to system is essential for a smooth migration.
Yes, this approach might take a bit longer depending on the nature of your data, perhaps two to three weeks. However, it also helps ensure a smooth transition rather than attempting to transform the data in-stream. It also provides the opportunity to build out and customize your chart of accounts if QuickBooks didn't allow the level of detail you would prefer.
Choosing the Best Route
We know what you're thinking – all of these moving parts sound expensive. That's just not the case, however, as most of the tools needed for the three-step ETL process are quite cost-effective, even free in many cases.
Where companies run into trouble is with labor and opportunity costs. For example, asking someone in leadership to export reams of spreadsheets or CSV files from QuickBooks to prepare for the migration is nothing but a waste of time, effort, and innovation. What could that person accomplish for your enterprise with the untold hours they spend performing that manual, arduous task?
Instead, it makes more sense to hire a consultant with expertise in the migration process, probably works at a far lower rate, and frees your people to innovate and grow your company. By using that third-party solution provider, you're saving money while ensuring a far more effective migration, all while allowing your employees to create value rather than become short-term data jockeys.
Migration Best Practices
Although we've peppered in quite a few tips and tricks up to this point, there are a few other best practices we want to discuss before we wrap up.
Like any initiative, you want to prepare as much as possible before setting sail. If you're already accustomed to the concept and processes behind a finance transformation, then you know there are a few critical boxes to check off before proceeding.
Get buy-in across the organization, from stakeholders and leadership down to the people using the NetSuite system.
Establish a project management office, either someone in-house that has a solid grasp on the process and what's involved, or an experienced third-party that can fill the role for you.
Define your desired future state, including everything you want to accomplish with the migration, the functionality you want to establish within the accounting system, and the procedures you will use once you migrate the data and are up and running with NetSuite.
Set a budget and stick to it, using it to dictate what migration approach would work best for your needs.
Use the migration as an opportunity to build out the reports upper management wants to see from your financial data to drive better decision-making.
Establish KPIs that will help you gauge the success of the migration and NetSuite implementation, including different business insights, timeliness of your financial close, and others.
Go through the different NetSuite module add-ons available and decide which ones would benefit you, whether that's software for your

FP&A team

, multi-currency functionality, or any of its several financial management modules.
Acing the Change Management Side of Your Migration
As promised, we didn't want to let you go before addressing an often overlooked but absolutely essential component of a successful move to NetSuite – effective organizational change management (OCM).
Too many companies get caught up in the implementation side of the process – which is obviously crucial – but even the smoothest implementation won't matter if the result doesn't suit your end users well. That's why it's so important to have your people involved in the process from the very beginning.
Otherwise, it's like building a custom house for a family without asking what they want beforehand – the finished product might look nice from the outside, but probably won't meet their specific needs. And failing to show them how everything works just makes it worse, creating a classic no-win scenario that leaves everyone with an unyielding frown on their face.
In fact, there are countless instances where a move to a new system or platform actually impedes workflows rather than streamlines them. Fortunately, you don't have to fall into that miserable category thanks to a fairly straightforward OCM process you can apply to your migration – or any transformation initiative, for that matter. And we're going to detail it for you right now.
Start with Stakeholder Analysis
Who are the people that will be using NetSuite once it's up and running? And what will they be using it for? To state the obvious, these stakeholders are essential to both your initial and ongoing success with NetSuite. Therefore, it only makes sense to start your change management strategy with them.
Remember the project manager we mentioned in our migration best practices? That person's the key to the change management castle, beginning the stakeholder analysis by figuring out who's impacted by the move and how it affects them. Put another way, you're on a fact-finding mission to find answers for some critical questions:
Who does this affect?
Does it affect everyone? Or just certain departments, like accounting and finance?
How comfortable are the impacted people with the change?
Do they understand why you're making the change?
What do you need to do, especially with your training, to help them understand?
These questions will serve as a barometer on your people and whether or not you have buy-in from them. Remember, these are the folks that will be using NetSuite everyday, so without them embracing the change and participating in the process, the odds of reaching your ideal future state are nil. The bottom line – if your people don't understand why you're going through this change, they're going to mentally check out, particularly when they feel their current tools work just fine.
Once the stakeholder analysis is complete and you have a solid gauge on where you stand with the upcoming initiative, you can use that information to inform the next two steps of the OCM process – your communication plan and training strategy.\
Building a Communication Plan
Change can be scary. Without the right approach, it can rattle cages, hurt engagement, and limit your ultimate success from the change initiative – in this case, your migration to NetSuite. So how do you keep your people from becoming organizational Chicken Littles and thinking the sky is falling? By communicating with them, of course.
You want to keep your people updated every step of the way to eliminate any surprises. Likewise, you should consistently remind them of the logic behind the move and the potential value it can bring to them individually, their teams, and the enterprise itself. Mention any upcoming milestones, others that have passed, and what the road ahead entails.
Further, with a project like your NetSuite migration, outside parties could also be involved, including vendors. Therefore, you want to take a similar approach with them, always keeping them up to speed on how the migration will affect their own operations. Sometimes it's as simple as a new place to input their product or PO numbers. Still, consistent communication will keep everything humming and people smiling.
Developing a Training Strategy
A thorough stakeholder analysis will also inform your training strategy, helping identify areas where you should focus your efforts. Who needs training? And in what areas? These types of questions will help you shape your approach to NetSuite training for your people.
Now, when it comes time to establish a definitive gameplan, we suggest starting with tools you already have in place. For instance, many organizations now rely on a learning management system (LMS) for training both current employees and onboarding ones. You can çreate new LMS modules to educate your people on NetSuite and specific areas of need. Just remember, different levels of end users will have different levels of needs, so a one-size-fits-all approach could be undertraining some while going overboard with others.
Also, be sure to track progress as your people go through the NetSuite training modules. This way, you can ensure everyone that needs training receives and completes it. Likewise, post-training follow-ups will identify any areas where people still struggle, shining a spotlight on what you need to improve in the training. We also suggest asking how comfortable and confident people feel in the training, another useful way to identify needed improvements.
Day One Support Structure
The final stage of the OCM process fast forwards a bit, to the point where NetSuite goes live. Naturally, no matter how thorough you were in your training, people are still going to need help. This is an area that demands some foresight and thought since there are a few directions to go with day one – and ongoing – support.
A support contract with an outside specialist
Purchasing support services from NetSuite
In-house support
Whichever path you choose, make certain to include the cost into your implementation expenses. Otherwise, you're leaving another hefty bill that leadership must approve. And if they don't, it'll result in slower workflows and really nice software that no one knows how to use, something that reflects poorly on leadership as well as the entire enterprise.
Also, while we labeled this OCM stage Day One Support Structure, it actually extends anywhere from three weeks to two months out from going live. This is yet another area you must plan ahead for, especially if you're handling this critical support in-house. Naturally, you must first have the necessary expertise on your team to provide support. Then you need to make sure those in-house specialists have sufficient bandwidth to help their co-workers while still handling their regular day-to-day responsibilities.
In the end, it's essential that you rely on genuine expertise for each component of the migration, including the project and change management. From the holistic planning side of things and technical concerns, to employee training, module rollouts, and ongoing support, there are several areas where true specialists can make or break your move to NetSuite.
Here at Embark, our business transformation team is not only experienced in several of these different areas but, perhaps most importantly, know how to quarterback your QuickBooks data migration from beginning to end, no matter what audibles might come our way. So let's talk.